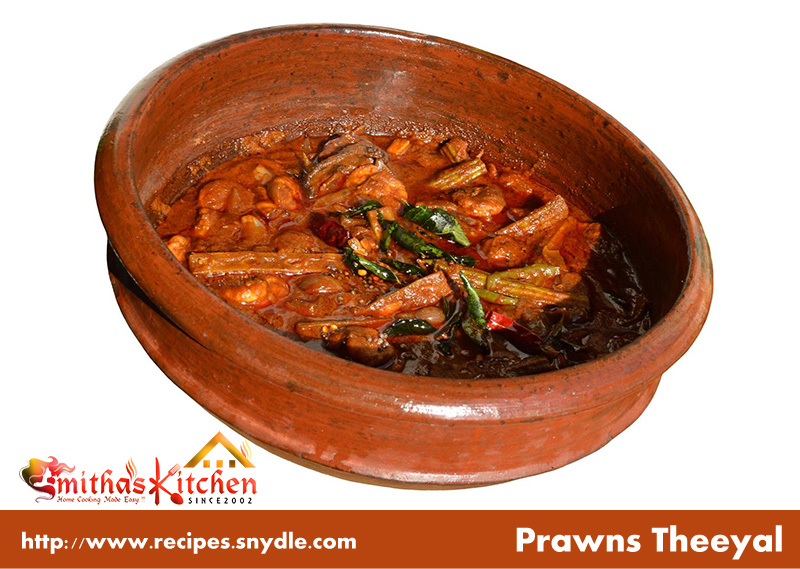 Here is an authentic recipe of Prawns Theeyal cooked with roasted coconut masala gravy and is a good accompaniment with boiled rice.
INGREDIENTS:
Prawns – 250 gm, cleaned
Grated Coconut – 2 cups
Drumsticks – 2 nos, cut into 3" long size
Shallots – 20 nos, thinly sliced
Green Chilli – 2 nos, slit
Curry Leaves – 2 sprigs
Chilli Powder – 3 tsp
Coriander Powder – 2 tsp
Turmeric Powder – ¼ tsp
Kudampuli – 3 pcs
Mustard Seeds – ½ tsp
Dry Red Chilli – 2 nos
Coconut Oil – 2 tsp
Coconut Chunks – 2 tbsp
Water – 2 cups
Salt – as required
METHOD OF COOKING:
Clean, devein and wash the prawns and keep aside.
Heat a non-stick pan and dry roast the grated coconut stirring continuously on low-medium flame until become golden brown color.
Turn the flame to low, add red chilli powder and coriander powder into it and stir well for 2 more minutes. Remove from the flame and let it cool.
Grind the roasted coconut masala mix into a fine paste using an electric mixer grinder without adding any water.
Wash the kudampuli in 1 cup of water and keep aside.
Heat oil in a pan, preferably in an earthen pan or pot and splutter mustard seeds. Add curry leaves, dry red chilli, shallots, drumsticks, coconut chunks and saute well until the shallots turn translucent.
Add the ground coconut masala paste, salt, kudampuli, 1½ cup water and combine well. Close the pan and boil it for 5 minutes on medium flame.
Add prawns, mix well and close the pan. Continue cooking for another 8 to 10 minutes on medium-low flame. Adjust the consistency by adding water. Do not overcook the prawns as it may become rubbery.
Switch off the flame, mix it well and again keep close the pan for another 5 minutes to set the flavor before serving with rice.