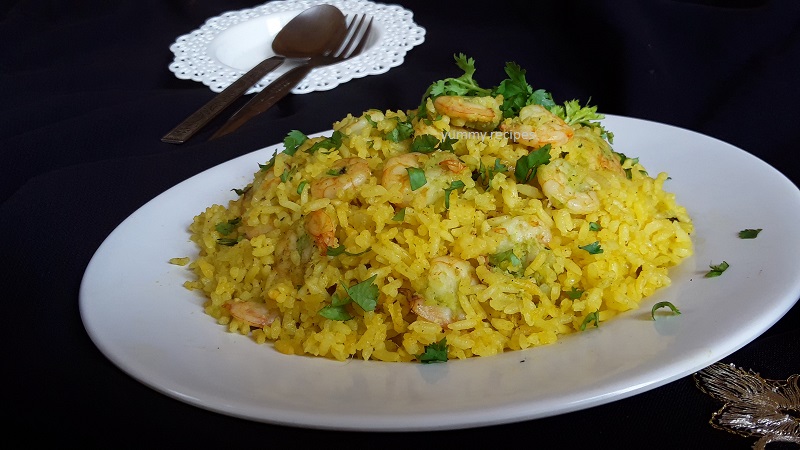 Prawns pulao is the dish that made by cooking rice in its stock and in coconut milk. This is my own version to make prawns pulao. Seafood is me and my family's favorite food. . Prawns are very easy to cook and they don't take much oil or spices to cook them.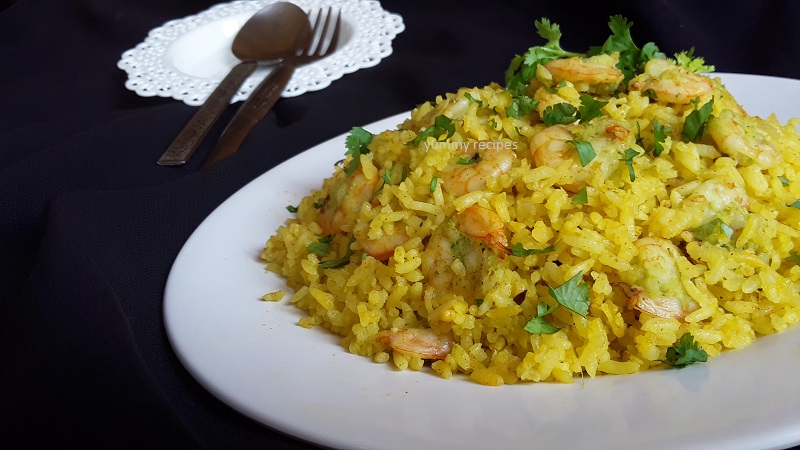 Prawns are a good source of unsaturated fat; it helps to control cholesterol levels. The simple steps to make a tasty prawn's pulao in very simple steps. Enjoy cooking with yummy recipes.
Ingredients for making prawns pulao
Rice 1 cup
Prawns ½ cup
Grated coconut 3 table spoon
Garlic 4 or 5 cloves
Ginger 1 small piece
Coriander leaves ¼ cup
Green chili 1
Cumin seeds ½ teaspoon
Cardamom 1
Cloves 3
Cinnamon 3 small pieces
Onion 1 finely chopped
Turmeric powder ½ table spoon
Red chili powder 1 teaspoon
Hot water 1 ¼ cup
Coconut milk 1 cup
Lime juice 1 teaspoon
Cumin powder ½ teaspoon
Oil 2 table spoon
Salt to taste
Method for making Prawns pulao
In a blender add 3 to 6 ingredients, grated coconut, garlic, ginger, coriander leaves and green chili and make a fine paste, keep it aside.

Heat oil in a pan adds cumin seeds and allows it to splutter.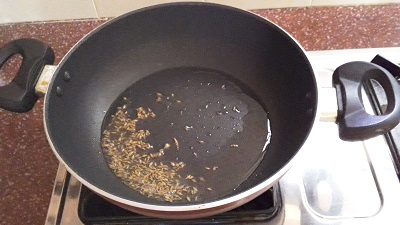 The cumin seeds start splutters add cardamom, cinnamon and cloves in it.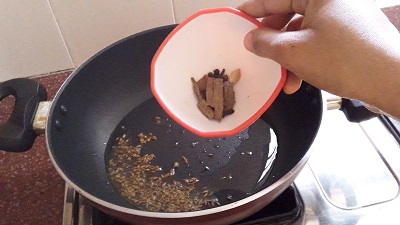 Add finely chopped onion and add ½ teaspoon salt. Saute well, untill the onions are transparent.

Add turmeric powder. Red chili powder and saute it for 2 minutes in low flame.

Put washed and drained rice, saute for 3 minutes in low flame.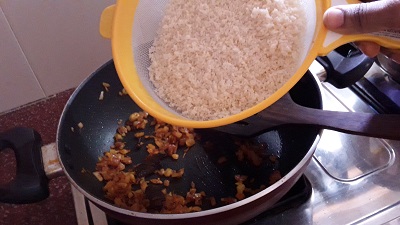 Add hot water and coconut milk.

Add salt to taste, allow it to boil. The coconut milk starts boiling put flame in low.

The water completely evaporated from the rice, it's cooked well, keep it aside.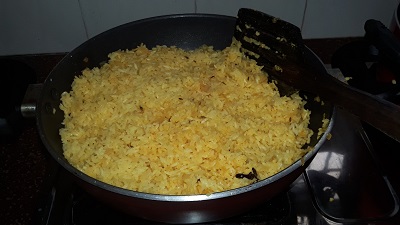 Heat a kadai; add 1 tablespoon oil and sauté the coconut coriander leaves paste. Sauté it well for 2 minutes.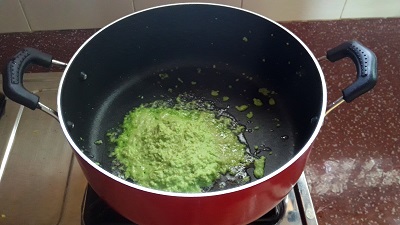 Add cleaned and washed prawns in it, add very little salt. Combine well.

Add 1 table spoon lemon juice, close the lid and cook for 3 minutes in low flame.
After 3 minutes open the lid and add cooked rice in it, combine well.

Sprinkle ½ table spoon garam masala, its optional.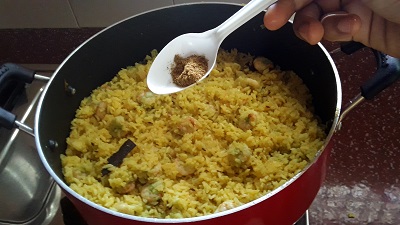 Prawns pulao
Remove in to a serving bowl. Enjoy cooking with yummy recipes.