Egg molee with idyappam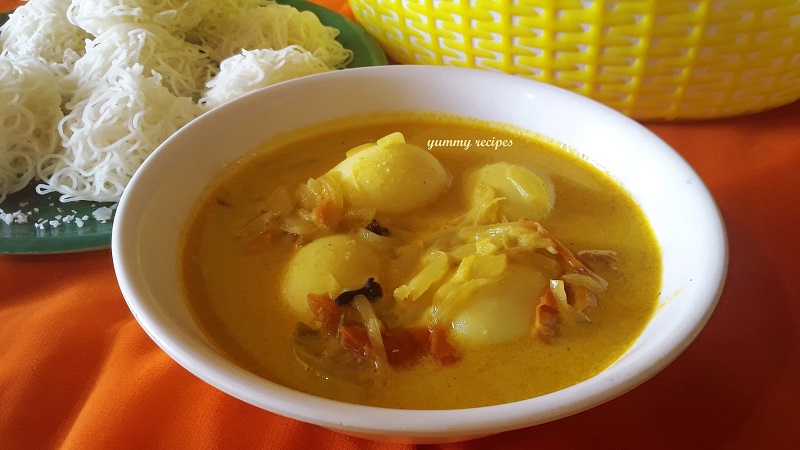 I think everyone heard about fish molee, chicken molee etc. Today I am sharing a simple egg molee recipe for you. This is very simple and that I cooked eggs in coconut milk, so that it's a healthy food. Egg molee is the best combination with idyappam and appam.
Egg molee with idiappam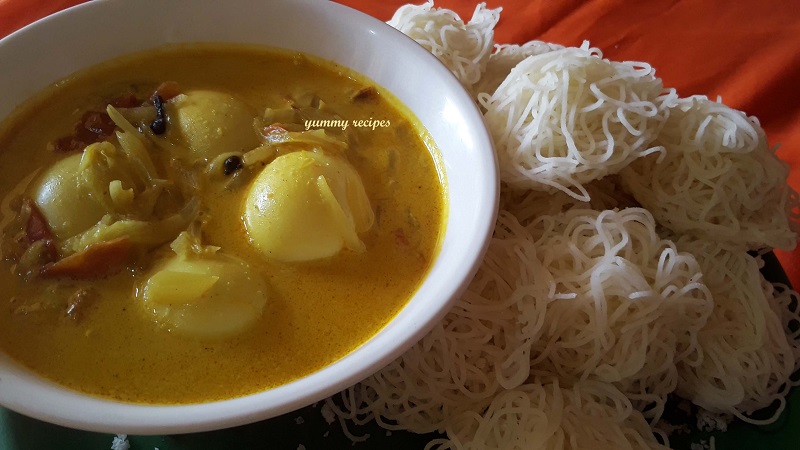 Eggs are a very good source of inexpensive, high quality protein. The whites are rich source of selenium, vitamin D, B6, B12 and minerals. Egg yolks contain more calories and fat. Egg yolks and whole eggs store significant amounts of protein and choline.  Use eggs for in breakfast it could helps to lose weight.
You can see the detailed recipe bellow with step by step images.  Now lets see the making of egg molee.
Ingredients for making  Egg molee
Boiled egg 5 no.s
Cardomam 1
Cinnamon 3 small pieces
Cloves 3
Ginger ¼ table spoon chopped
Onion 2 medum size sliced
Tomato 1
Green chili 1
Turmeric powder ½ teaspoon
Garam masala ¼ teaspoon
Thin coconut milk 1 ½ cup
Thick coconut milk ¾ cup
Oil 2 table spoon
Salt to taste
Method
Heat oil in a pan and adds cinnamon, cardomam and cloves. Saute for 1 minute in medium flame.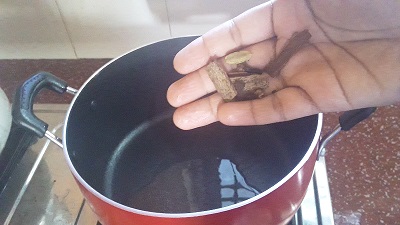 Then add finely chopped ginger and green chili in it sate it well.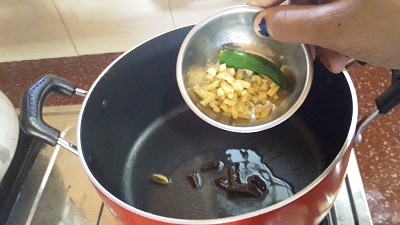 Add sliced onions and little salt in it. saute the onions till its transparent.

Now add chopped tomato and cook for 3 minutes.

Once the tomatoes almost cooked add turmeric powder. Saute for 1 minute.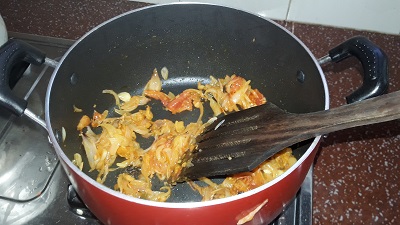 Add thin coconut milk and water in it, allow it to boil.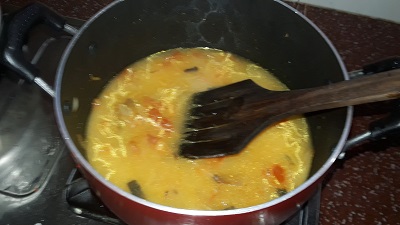 Once it starts boiling add salt to taste and close the lid, cook for about 5 minutes in low flame.

Then open the lid and add boiled eggs. Cook for 1 minute.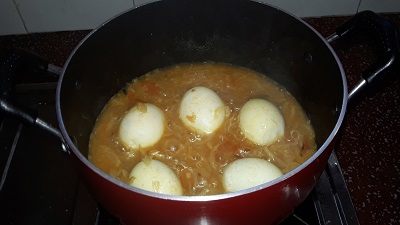 Add thick coconut milk,( put heat in low flame). Then sprinkle very little garam masala powder.

Egg molee with idyappam
The tasty delicious egg molee reasdy to serve, enjoy cooking