Today's recipe is an extremely delicious prawns biryani .  Usually I make biryani in Kerala style but today, I wanted to try something different.  I started browsing for recipes and definitely I got many wonderful recipes out of which this one caught my attention.  The biryani is made using pressure cooker – a very easy to make one pot meal.  Final result was an extremely tasty, flavourful biryani.  Now to the recipe…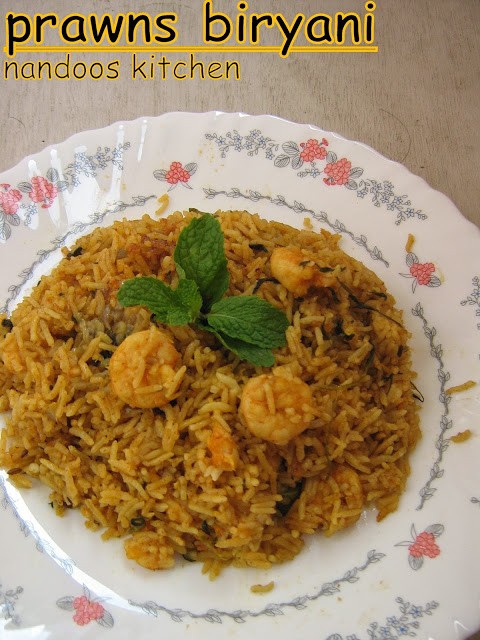 Ingredients required
To marinate
prawns  – 1/2 kilogram
yogurt – 2 tablespoon
ginger garlic paste – 1 teaspoon
red chilly powder  – 1/2 teaspoon
turmeric powder  – 1/4 teaspoon
lemon juice – 1 tablespoon
salt – to taste
Other ingredients 
basmati rice – 2 cups
oil  – 2 tablespoon
ghee –  2 tablespoon
fennel seeds  – 1/2 teaspoon
cloves  – 4 – 5
cinnamon  – 1 piece
cardamom – 4 – 5
bay leaf  – 2
star anise  – 1
onion   –  1 (big)
green chillies  – 2
ginger garlic paste  – 1 teaspoon
mint leaves – one handful
coriander leaves – one handful
red chilly powder  – 1/2 teaspoon
coriander powder  – 2 teaspoon
turmeric powder  – 1/4 teaspoon
salt  – to taste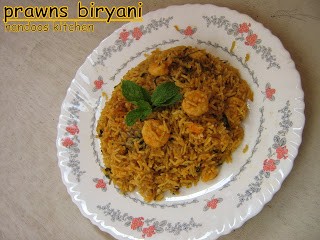 Method
Method
1.  Marinate the prawns with the ingredients given under " to marinate" and keep it aside for 30 minutes.
2.  Wash the rice in clean water and soak it for 20 minutes. Drain it and set it aside.
3.  Heat a teaspoon of oil in a pan, add the marinated prawns and sauté them till they change their colour. Keep it aside.
4.  Add remaining oil and ghee in a pressure cooker, add fennel seeds, bay leaf, cinnamon, cloves, cardamom, star anise and fry for a second.
5.  Now add chopped onion, and slit green chillies.  Saute them till onion turn translucent.
6.  Then add ginger garlic paste and sauté again for some more time. Now add chopped coriander leaves, mint leaves and little salt. Saute again.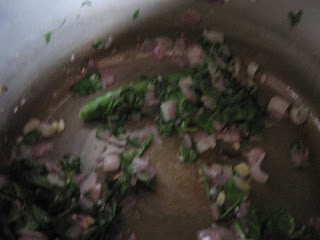 7.  Then add coriander powder, turmeric powder, chilly powder and the marinated and sautéed prawns.  Let every thing get combined.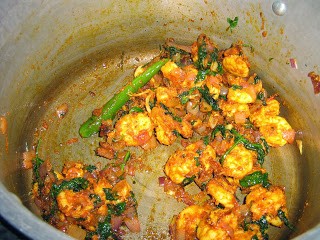 8.  Next step add the strained rice sauté it once again. Add 3 cups of water, stir gently. Check the salt once more at this stage and if necessary add more water.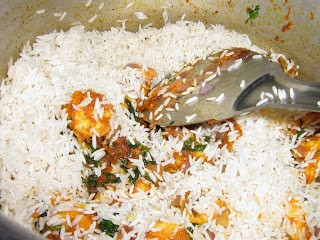 9.  Close the lid of the pressure cooker.  Pressure cook in medium heat for 1 whistle and then cook in sim for another 5 minutes. Turn off the heat.
10. Let the pressure subside,  Gently, fluff it up with a fork and serve it hot.