Potato omelette is a quick and easy dish made with eggs, potatoes and cheese. This egg dish can be served for breakfast, lunch or dinner. I love omelette, so every morning I tried to come up with new filling. There's nothing fancy about this potato omelette recipe, just lots of goodness from pan fried potatoes and cheese.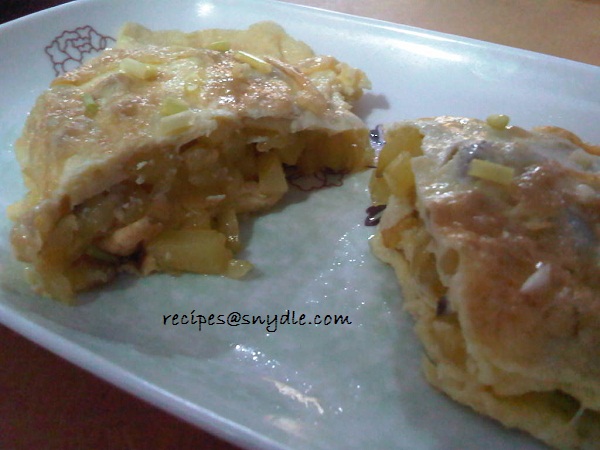 If you are looking for a new omelet style dish to serve every morning, I suggest you try this potato omelette. It is a full meal by itself, as you have potatoes, eggs and cheese in one dish. Potato omelette is best paired with bread or rice, whatever you want. I love eating omelette with rice.
Here's my quick and easy potato omelette recipe, enjoy cooking!
Potato Omelette
Ingredients:
2 medium size potatoes, peeled and chopped into small cubed
3 eggs
Spring onion (optional)
Cheese (optional)
Salt
Direction: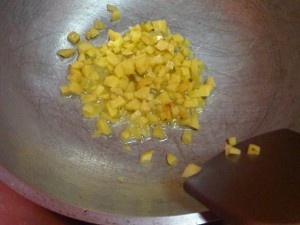 In a medium size pan, heat oil over medium high heat. Place the potatoes in the pan and cook for about 5 – 8 minutes or till done but not brown.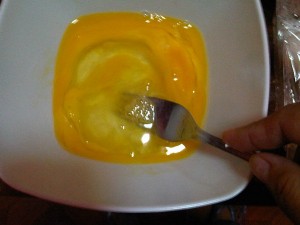 While the potatoes are cooking, beat egg and seasoned with salt. Set aside.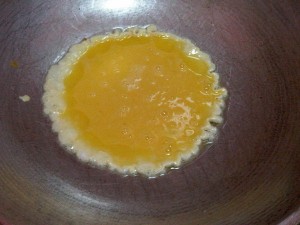 In another pan, Pour the beaten egg and cook for 1 to 2 minutes or till it starts to form a shape.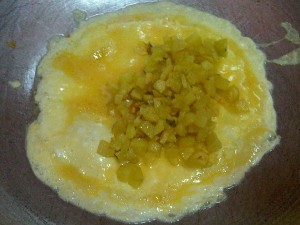 Next, place the potatoes on top of the egg and fold the side up till the potatoes surrounded. Flip the omelet to cook thoroughly then turn off the heat.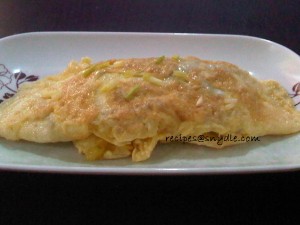 Transfer the omelet to a serving plate and garnished with chopped onion springs and cheese. Serve with rice or toasted bread. Enjoy!
This egg dish is a must try, so don't forget to bookmark this page to save the recipe on your computer. I love hearing from my readers, feel free to drop me a line or two about what you think of my potato omelet recipe.
Thank you for dropping by and checking out this dish. Don't leave without visiting my other recipes. Have a nice day and enjoy cooking!