Kurma is a coconut based vegetable stew that is very popular across South India and is served as a side dish along with chapathi.  You will find vegetable kurma being served as a chapathi side dish in most of the hotels.  Potato kurma is a tasty side dish made with potatoes which can be served along with chapathi.  It can also be served along with rice.  This is very easy to make.  The roasting of the spices makes the curry aromatic.  This is a special Tamil Nadu style kurma recipe which like the normal kurma, does not make use of tomatoes.  At home dinner is chapathi on most of the days and among all the side dishes that I make, kurma is the one which is most demanded and loved by kids .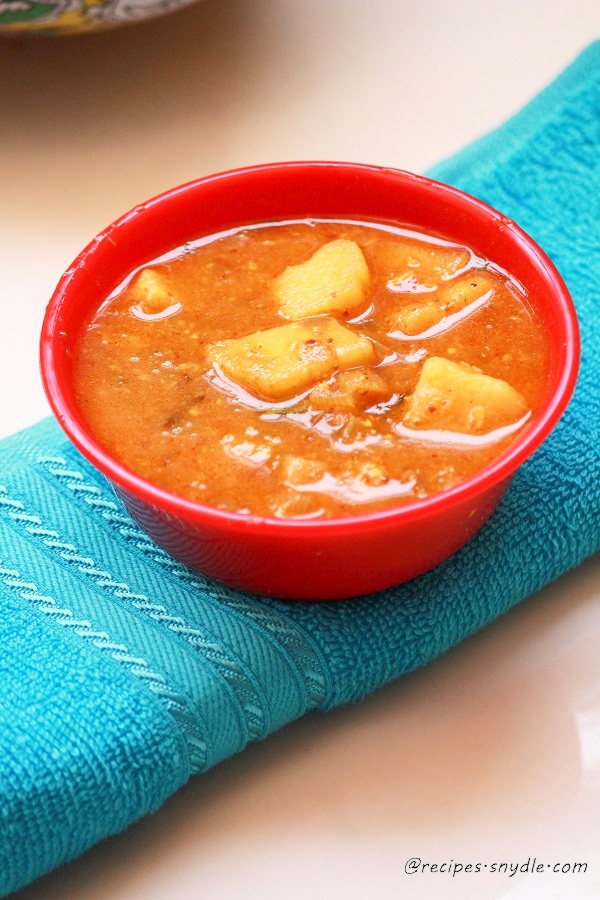 Ingredients required
potatoes  – 1/2 kg
ghee / oil  – 1 tablespoon
bay leaf  – 1
cloves – 2
cinnamon – 1/2 inch piece
onion  – 1 (medium sized – finely chopped)
turmeric powder – 1/4 teaspoon
salt – to taste
curry leaves – few
for spice paste
cashew nuts – 3 – 4
oil  – 1/2 tablespoon
poppy seeds – 1 teaspoon
coriander seeds – 1 teaspoon
fennel seeds – 1 teaspoon
dry red chilly – 2 – 3
roasted bengal gram – 1 teaspoon
ginger – 1/2 inch piece (finely chopped)
coconut (grated)  – 2 tablespoon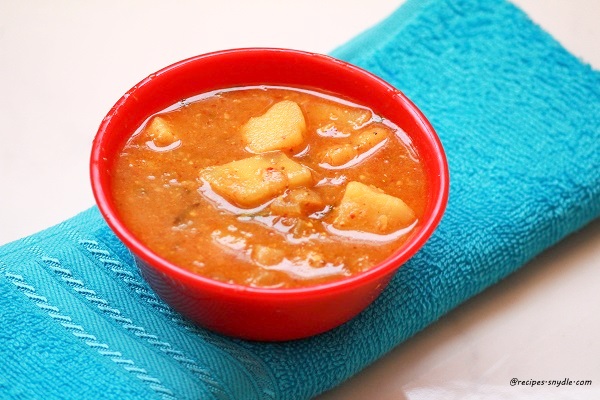 Method
1.  Wash potatoes, cut into cubes, keep it immersed in water to prevent discoloration.
2.  Soak cashew nuts in 1/4 cup of hot water for 15 – 20 minutes.
3.  Heat 1 teaspoon of oil.  When oil is hot enough, add poppy seeds, coriander seeds, fennel seeds and red chilies and fry it till it becomes fragrant.  Turn off the stove.

4.   Add the roasted ingredients to a mixer jar, add soaked cashew (without water), grated coconut, ginger and roasted bengal gram.  Grind to a smooth paste, adding 2 – 3 tablespoons of water.  Keep it aside.
5.  Heat ghee / oil in a pan, (keep flame in medium heat).  Add bay leaf, cloves and cinnamon and saute for a minute.
6.  Then add chopped onion and saute it till it becomes golden brown color .
7.  Then add the spice paste and fry for 3 – 4 minutes on low flame.  Keep stirring continuously.

8.  Next add potatoes, turmeric powder, curry leaves and salt.  Mix well.  Add 2 1/2 cups of water.  Bring it to boil, then lower the flame and cook for 10 minutes.  Keep stirring frequently and cook till the potatoes are tender.
9.  Garnish with coriander leaves.

10.  Potato kurma is ready and can be served with roti, paratha or puri.