I love potato balls! I first tried them at Tokyo Tokyo and they were great. I know it is easy to make just didn't have time to make them. I am pregnant and craving for potatoes, its like potatoes are all I wanted to eat. So, I finally decided to make my favorite potato balls from my favorite Japanese fast food restaurant.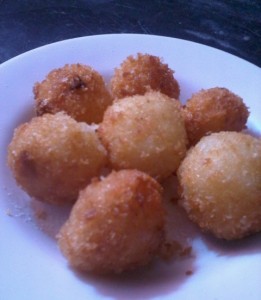 Potato balls are made of mashed potatoes. So, they are carbs and loaded with carbs, my comfort food. These potato balls are tasty and wonderful as snacks and appetizer. They are also easy to make.
Mashed potato balls are great for thanksgiving and Christmas too! In fact, if you have lots of leftovers from the holidays, you can make them into potato balls.
This potato balls is my own recipe, it is not Tokyo Tokyo's potato balls recipe. But, I think they taste the same. I think! Anyway, let me know what you think as I love hearing and learning from other people.
Here's my potato balls recipe, enjoy cooking!
Potato Balls
Ingredients:
1 large potatoes, mashed
1/2 cup dry bread crumbs
Oil
1 egg
How to Make Potato Balls
Direction:
Boil potatoes and set aside to cool down.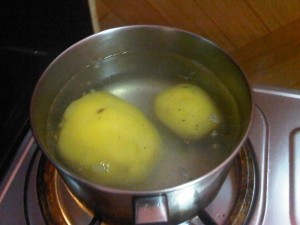 In a large bowl, mashed potatoes and let stand at room temperature for about 30 minutes. In another bowl, beat the egg. Set aside.
Get a spoonful of mashed potatoes and shape into balls. Dip in egg and roll in bread crumbs and set aside. Let stand for at least 15 minutes.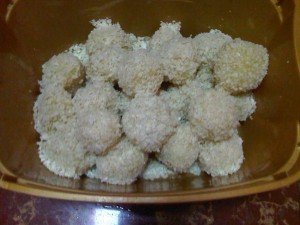 In medium size frying pan, heat oil. Fry potato balls, just a few at a time for at least 2-3 minutes or until golden brown. Remove with the pan then transfer to paper towels to drain.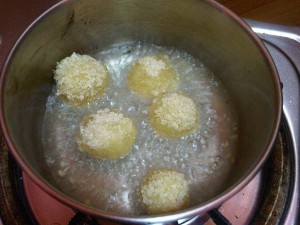 Serve hot or warm with mayonnaise or whatever sauce you like.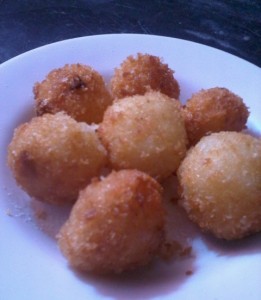 I hope you find the step by step procedure easy to follow. Please don't forget to bookmark this page to save the recipe on your computer. Thank you for dropping by and checking out my potato balls recipe. Have a nice day!