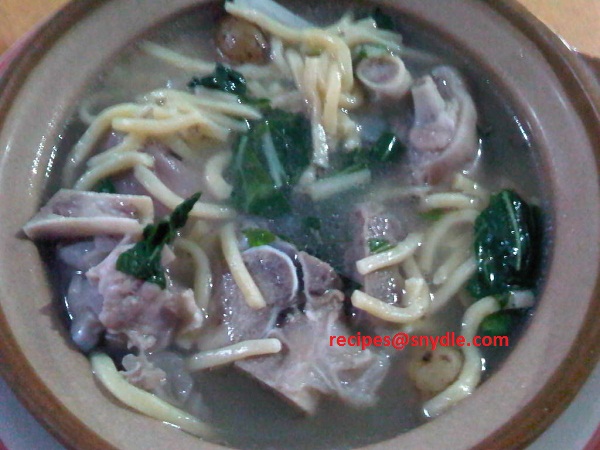 Looking for ideas about how to cook pork hocks or what recipe to use them in? Pork hocks are often used for soup and other pork dishes. Hock is attached to the hog's leg, the end of the leg bone. When cooked slowly and long the hocks meat becomes very tender while the broth extremely flavorful.
Take note, hock is below the knee and just above the foot which makes this part ideal for curried ham or soup. This inexpensive part of the hog is a tough piece of meat but when cooked until tender, almost to the point the meat are falling off the bones you cannot resist eating it to the bones.
The hock's flavorful broth, tasty meat is the reasons my husband loves cooking this dish. Pork hocks with thick noodles or pancit lomi is one of his specialties. This dish is often accompanied with pork steak, another wonderful pork dish to try. Yup! You guessed it right my husband is a certified meat eater. He really loves all kinds of meat that is cooked long and slow.
By the way, my husband has been making this dish for as long as I know him. The first time he made this dish, I was reluctant to give it a try. But, after tasting the flavorful broth this pork dish captured by heart and tastebuds that I ask him to teach me how to make pork hocks with thick noodles.
Tips to Clean Pork Hock
Oh, before I proceed to the recipe, do you now how to clean pork hocks? Cleaning pork hock is very easy. All you need to do is rinse the meat with water before placing in a pot to boil until tender. When boiling the hock, don't forget to remove any skunk that floats on the surface of the pot.
Pork Hocks Soup with Thick Noodles
Ingredients:
1/2 pork Hocks, chopped
6-8 cups water
1 pork broth cube
1 teaspoon whole peppercorn
Fish sauce or patis (optional)
1 whole pechay, cut in half
10 pcs potato marbles or 2 pcs large potatoes
1 small onion, chopped
1/2 thick noodles or pancit lomi
How to Make Pork Hocks Soup with Thick Noodles
Direction:
In a large pot or pressure cooker, boil pork hocks. Once tender add the chopped onions and potatoes. Cook until the potatoes are tender. (It takes about 30 to 40 minutes to make the pork tender using a pressure cooker) Don't forget to remove the skunk, if there is any.
Furthermore, adding the potatoes and onion gives the broth added flavor.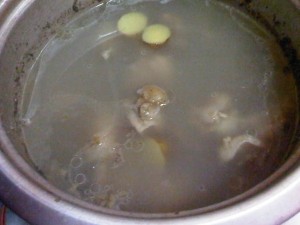 Once the meat is tender, throw into the pot the pork broth cube and thick noodles. Stir and simmer for 5 minutes.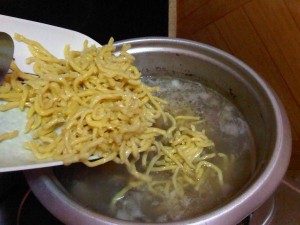 Add the pechay then season with peppercorn and patis. Stir and cook for 2 minutes.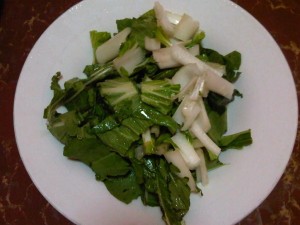 Transfer to a serving dish.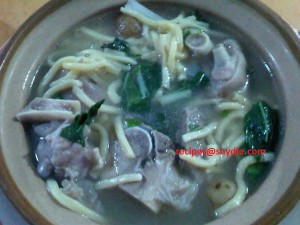 Serve hot with rice.
P.S:
For this dish, my husband always use thick noodles or the ones used for making lomi soup. The thick noodles is more tastier but if you prefer other noodles, feel free to use whatever you want for the soup.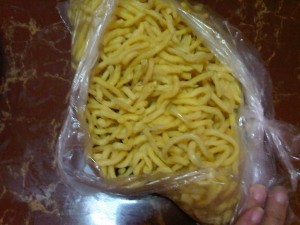 I hope you will try this recipe for it is easy to make and delicious, but most importantly this recipe is budget friendly. With this recipe, you have a pork dish that each member of the family will surely love to eat.
Pork hocks with thick noodles is perfect for rainy days and whenever you are feeling blue. There is no doubt the flavorful broth will lift your spirit.
Don't forget to bookmark this page if you want to save the recipe on your computer for future use. Thank you for dropping by and please check out my other filipino recipes that are just waiting to be discovered. Happy cooking and have a nice day!