Pepper rasam is a very popular South Indian delicacy.  Though I am not a big fan of rasam, nor do I prepare it very often, but this is one such dish which tastes great with steamed rice.  Pour a teaspoon of ghee and it tastes yumm… Moreover this is a best medicine to cure cold and fever.  I usually grind the masala for rasam in mortar and pestle, but you can coarsely grind it using mixer jar also.  I served this rasam with some egg burji.  Now to the recipe..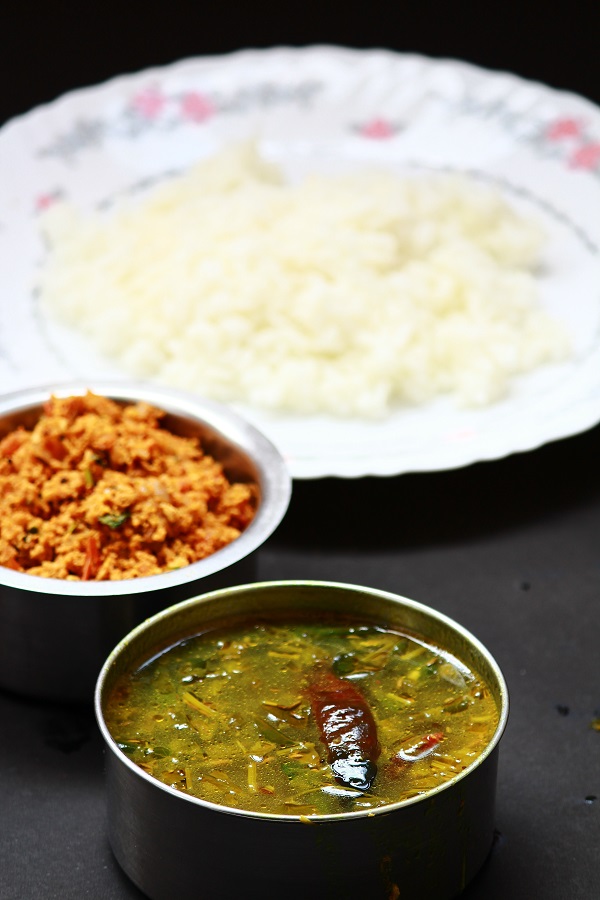 Ingredients required
pepper  – 1  1/2 tablespoon
dry red chilly  – 1
garlic – 8 – 9
cumin seeds – 1 teaspoon
tamarind – gooseberry sized ball
salt  – to taste
For seasoning
oil  – 1 teaspoon
mustard seeds – 1 teaspoon
curry leaves – 1 sprig
asafoetida  – a pinch
Technique
1.  Wash tamarind, soak it in hot water for some time, extract the  juice, strain it and keep it aside.
2.  Crush dry red chilly, pepper, jeera, garlic using a mortar and pestle.  (You can also crush it coarsely using a mixer jar also.)
3.  In a kadai / pan, heat oil.  When oil is hot enough splutter mustard seeds.  Then add the other ingredients given under the heading "for tempering".
4.  Next add half of the crushed pepper mixture, and saute for few seconds.
5.  Now add tamarind extract, water and bring it to boil.  Next add the remaining half of the crushed pepper mixture, salt and bring it to boil.  Don't boil for a long time (or it will get bitter).  Turn off the flame.
6.  Serve with rice and poriyal.