Pavakka mezhukkupuratti is a typical Kerala dish and one which I don't prefer a lot.  But I think bitter gourd is one healthy vegetable.  Today, I am sharing a recipe that is prepared in my family.  Here I have added twice the number of onions as it will reduce the bitterness to an extend and also when you add tamarind extract, the bitterness again gets reduced.  Now to the recipe..
Pavakka Mezhukkupuratti (kaipakka upperi)
Ingredients required
bittergourd – 1
onion – 2
turmeric powder – 1/4 teaspoon
red chilly powder  – 1/2 teaspoon
green chilly  – 1
tamarind  – one small ball
salt  – to taste
oil  – 1 tablespoon
Method
1.  Wash and chop bitter gourd into thin slices.  Keep it aside.
2.  Wash tamarind ball, soak it in hot water for 10 minutes.  (You don't need too much of tamarind extract like we use for sambar, so, take a small ball.)
3.  In a pan heat oil, add onion, sliced bitter gourd, turmeric powder, red chilly powder and salt.  Mix well and saute for 2 – 3 minutes.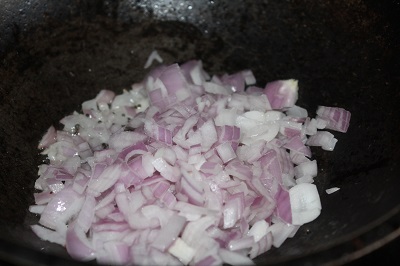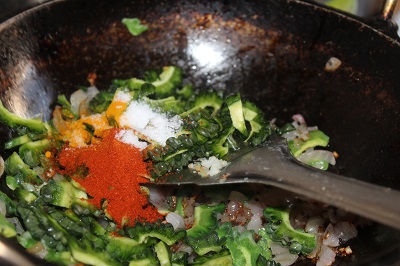 4.  Then reduce the flame, sprinkle water, cover and cook for some time.
5.  Once the bittergourd pieces are cooked well, then add tamarind extract and cook for some more time until the entire moisture gets evaporated and it becomes golden brown.  Turn off the flame.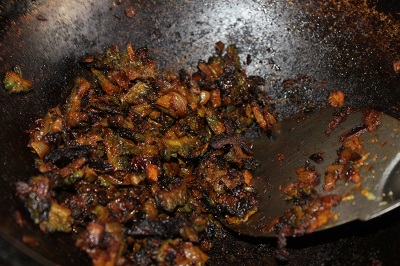 6.  Pavakka mezhukkupuratti is ready.  Serve with hot steaming rice.
BITTER GOURD STIR FRY