Pasta arrabbiata is an Italian pasta dish that is made of garlic, chili peppers and tomatoes. This light red pasta dish comes in several varieties but the most common recipe includes tomatoes, garlic, parsley, onions and red peppers. Arrabbiata which in Italian basically means "angry" is a spicy pasta dish.
As I have said there are several varieties of this pasta dish that is often paired with penne rigate. Penne is the most used pasta for arrabbiata sauce because the small tubular pasta that have ridges could hold the sauce and the small size of the tubes makes them easier to eat.
This arrabbiata pasta recipe is less spicy and paired with white sauce.
Pasta Arrabbiata with White Sauce
Ingredients:
½ Penne rigate
3 pcs tomatoes
1 can of arrabbiata sauce
Tomato sauce
¼ cup olive oil
½ tsp red chili flakes
2 heads garlic, chopped
Basil
Salt and pepper to taste
Iodized salt
Cheese
White Sauce:
Ingredients:
¼ cup butter
¼ cup all purpose flour
1 pack all purpose cream
1 cup water
Salt and pepper to taste
How to Make Pasta Arrabbiata with White Sauce
Direction:In a large pot, bring water to a boil then put in the pasta. Cook according to the package directions. Drain and set aside.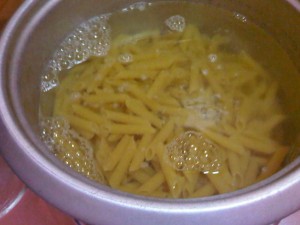 In a skillet saute garlic, tomatoes and red chili flakes. Add the arrabbiata sauce.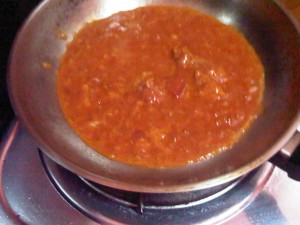 Add the tomato sauce.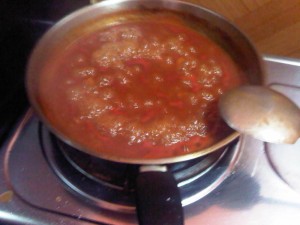 Add the basil and season with salt and pepper. Simmer until the sauce thickens.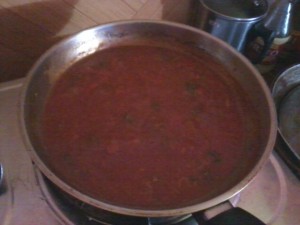 Put in the penne pasta into the skillet. Mix until completely covered with the sauce.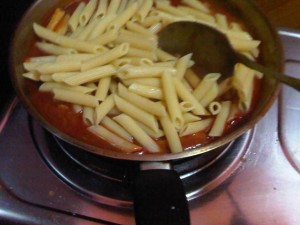 Transfer to a serving plate and pour the white sauce. Topped with cheese. Serve with garlic bread or bread.
How to Make the White Sauce
For the White Sauce:
Direction:
In a small pot, melt butter then add the flour. Mix then add the all purpose cream and water. Season with salt and pepper to taste. Simmer for 3  to 5 minutes or until the sauce thickens.Pour onto of the paste with the arrabbiata sauce.