Across the world, noodles are widely used for different dishes. In fact, noodles are staple food in many countries like Vietnam, China and other Southeast Asian countries. Noodles are made from dough which is then stretched, rolled flat or extruded and cut into several shapes.
This recipe that I am sharing is makes use of thick noodles or egg noodles that one used for pancit lomi soup. This is my husband's creation one of his many out of this world dishes. He loves cooking so much that he just whips out whatever comes to mind. Anyway, I called this dish pancit lomi with fried wonton.
I hope you like this recipe and would give it a try and when you do, please let me know what you think as I love hearing my other people who have tried cooking it. This dish is great to prepare if you have left over deep fried wonton.
Pancit Lomi with Fried Wonton
Ingredients:
1 pack thick egg noddles or pancit lomi noodles
1 cup deep fried wonton, chopped
1 small onion
2 cloves garlic
Oil
Carrots
1 cup water
1 tbsp oyster sauce
Salt and pepper to taste
How to Make Lomi with Fried Wonton
Direction: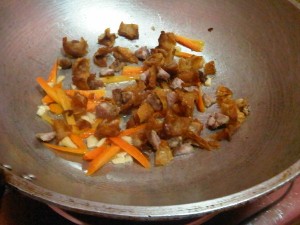 Sautee onion and garlic in hot oil over medium high heat. Add the deep friend wonton and carrots.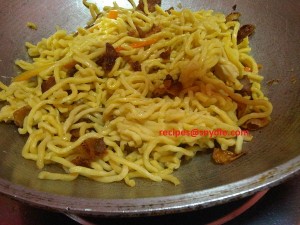 Put in the thick egg noodles or pancit lomi into the pan.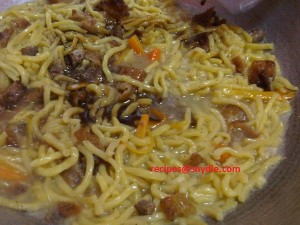 Pour the 1 cup water and oyster sauce.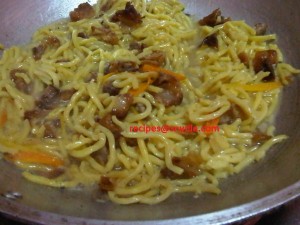 Season with salt and pepper. Cook until the liquid evaporates. Transfer to serving dish.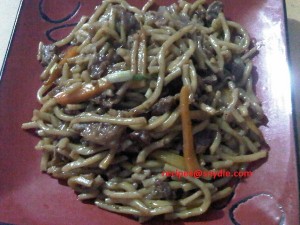 Serve with toasted bread or rice.
The first time I tried this noodle dish, I just love it right away. It is delicious and easy to prepare that I knew immediately that I will try it. Best of all, my kids love it.
If you want to try this recipe, simply bookmark this page to save the recipe on your computer. Thank you for dropping by and feel free to check out my other recipes. Have a nice day and happy cooking!