Today's recipe is Palakkadan sambar.  Sambar is a very imporatant dish in South India.  It is served along with rice, with idli / dosa.  As I have told you before, there are various kinds of sambar available.  Most of them are made with sambar powder, but Palakkadan sambar is one made with freshly ground spices, and coconut which makes it very unique.  You can make use of various kinds of vegetables to make this sambar like ash gourd, lady's finger, drum stick, brinjal and so on.  I have used a combination of vegetables here, but you can make use of a single vegetable also for making this dish.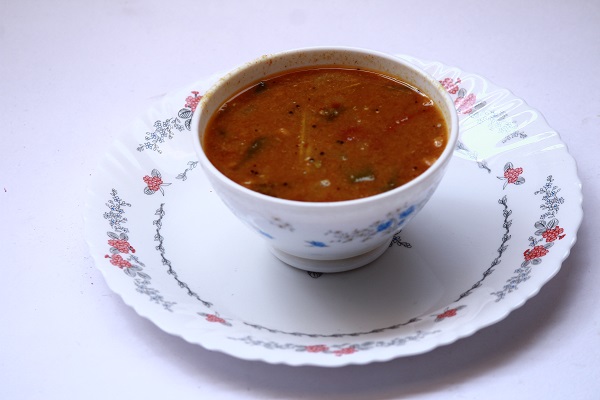 Ingredients required
mixed vegetables  – 1 1/2 cup (I used shallots, white pumpkin, broad beans, drumstick)
tomato  – 1
tamarind – small lemon sized ball
toor dal / thuvara parippu  – 1/2 cup
turmeric powder  – 1/4 teaspoon
salt – to taste
For roasting and grinding 
oil  – 1 teaspoon
hing  block  – a small piece
channa dal – 1/2 tablespoon
coriander seeds  – 1 tablespoon
methi seeds /uluva – 1/4 teaspoon
dry red chilly –  3 – 4
coconut (scraped)  – 1/2 cup
For seasoning
oil – 1 tablespoon
mustard seeds – 1 teaspoon
curry leaves – few
dry red chilly  – 2
Technique
1.  Wash and soak tamarind in hot water for 15 minutes, extract the juice, strain it and keep it aside.  Add 2 – 2 1/2 cups of water to it.
2.  Pressure cook toor dal for 3 whistles, wait till the pressure subsides.  Mash it well.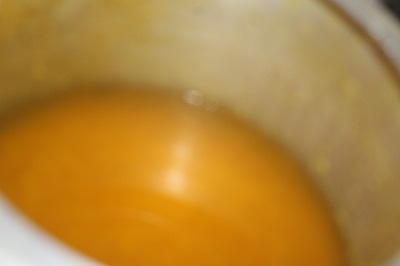 3.  Once the dal is cooked and mashed, add the vegetables, salt , chopped tomatoes. Mix well.  Let it get cooked well.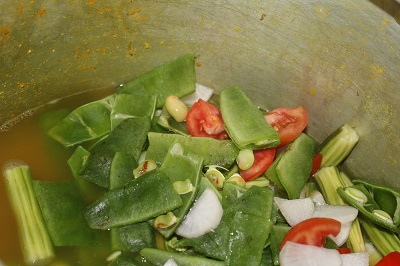 4.  Once the vegetables are cooked, add tamarind extract and let it boil nicely .  (The raw smell of tamarind should go off. )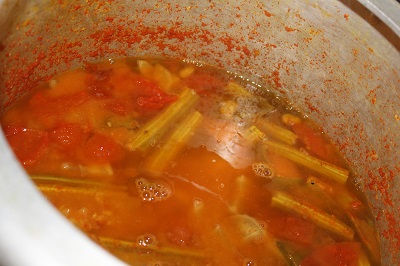 5.  Mean while, heat oil in a pan, add hing and let it get fried.  Then add methi seeds, coriander seeds, channa dal, red chillies and fry till nice aroma comes.  Take care not to burn the ingredients.  Next add coconut and roast till coconut becomes rich dark brown in color.  (Keep stirring the coconut, otherwise it may burn. ) Let it cool.
6.  Now add the ingredients in step 4 into a mixer jar and grind into a smooth paste.  Add little water.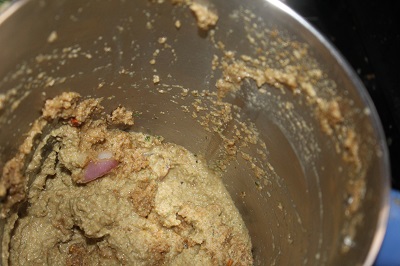 7.  Now add the ground paste and simmer for another 2 – 3 minutes.  Turn off the stove.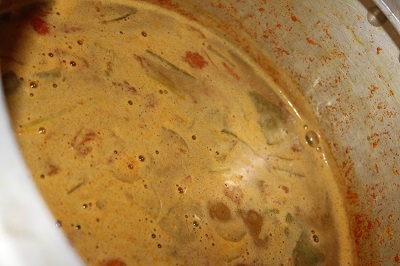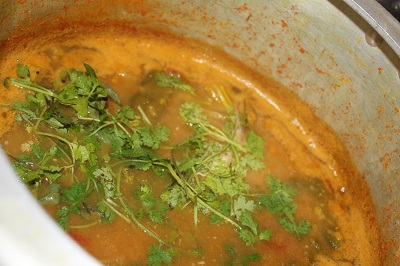 8.  In a pan heat oil, add the items listed under "for tempering".  Add the tempered ingredients to the sambar, mix well.  Garnish with coriander leaves.