Today's recipe is an Andra special dish made with mutton – mutton pulusu.  Andhra dishes are well known for its spiciness. Mutton pulusu or mamsam pulusu is a traditional Andhra style meat curry.  Traditional Andhra style mutton curry uses tamarind but I have used tomatoes here.  Though I cook non vegetarian recipes very often, it is the first time I am cooking mutton pulusu.
This mutton curry is very easy to prepare.  I used a pressure cooker to cook the mutton pieces.  Serve mutton curry with rice, dosa or roti.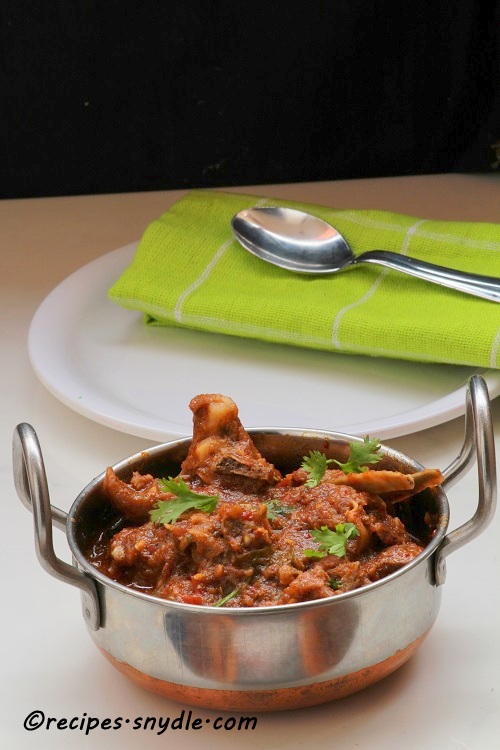 Ingredients:
mutton – 1/2 kg
onion – 1 cup (finely chopped)
tomato – 1 cup (chopped)
red chili powder – 3/4 tablespoon
ginger garlic paste – 1 tablespoons
turmeric powder – 1/4 teaspoon
salt – as required
coriander powder – 1 tablespoon
garam masala – 1/2 teaspoon
green chilies –  4 (slit)
whole garam masala – 1/2 tablespoon
oil – 2 tablespoons
poppy seed powder – 1 tablespoon
curry leaves – few
coriander leaves – 2 tablespoon
How to prepare mutton pulusu
1.  Wash mutton pieces thoroughly and add it to a bowl.
2.  To this add turmeric powder, 1/2 tablespoon red chili powder, 1 tablespoon coriander powder, 1/2 tablespoon ginger garlic paste, 1/2 teaspoon garam masala, 1/2 tablespoon salt, and mix well.
3.  Transfer this to a pressure cooker and cook for 5 whistles.  No need to add water.  Take it off the stove and let it cool.
4.  In a pan add butter and oil, and let it get heated.  Add whole garam masala and saute for 1 minute.
5.  Now add onion pieces, curry leaves, green chilies, and fry for 2 minutes.
6.  Add turmeric powder, salt and saute till the onions turn brownish in color.

7.  Add the remaining ginger garlic paste and saute till the raw smell goes off.
8.  Add chopped tomatoes and saute till tomatoes turn mushy and soft.
9.  Add the cooked mutton pieces along with the water to the sauteed masala and cook for 2 – 3 minutes.
10. Add the remaining red chili powder, garam masala and cook for 5 minutes.  (Add more water if you need more gravy. )
11.  Add poppy seed powder to the curry mix well and cook for 1 minute.  (After adding poppy seeds, the curry should not be cooked for a long time. )
12.  Add coriander leaves, give it a quick stir and then turn off the stove.

13.  Andhra style mutton curry is ready.  Serve mutton curry with rice, dosa or chapati.