Mor kuzhambu is a tasty curry made with buttermilk and vegetables.  It is a very easy to make and tasty Tamilnadu special dish which can be served as a side dish for rice. It is a special South Indian dish made with curd.  Here mor means buttermilk.  It is one dish which is prepared during all the festivals. It has a slight similarity with Kerala style mor ozhicha kootan.  Mor kuzhambu can be prepared using various vegetables like ash gourd, chow chow, lady's finger and many others.  Here I have used ash gourd for making mor kuzhambu.
Mor kuzhambu is an easy to make kuzhambu variety which can be prepared very easily and needs no effort and pre-preparations.  Whenever I have excess of curd, I often make moru curry or this mor kuzhambu.  Any simple vegetable stir fry tastes great with this curry.  You can increase or decrease the spiciness according to your taste preference.
Do not boil for a long time after adding the coconut curd mixture otherwise, the curry would get curdled.  Reduce the flame, keep stirring and cook till it starts boiling.  Immediately turn off the flame.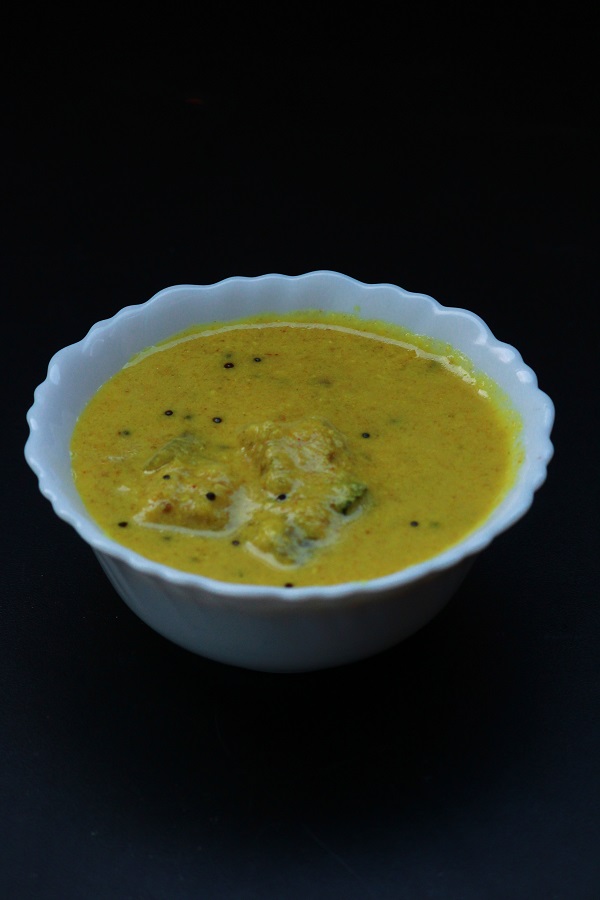 Mor kuzhambu recipe 
Ingredients 
ash gourd or pumpkin – 1 cup
thick buttermilk – 1 cup
turmeric powder – 1/4 teaspoon
salt – to taste
For grinding
coconut – 1/2 cup (grated)
cumin seeds or jeera –  1 teaspoon
green chilies – 4
toor dal – 1 teaspoon
coriander seeds – 1 tablespoon
raw rice –
for tempering 
coconut oil – 1 tablespoon
curry leaves – 1 sprig
mustard seeds – 1 teaspoon
How to make mor kuzhambu recipe
1. Soak coriander seeds, toor dal and raw rice in water for 10 minutes.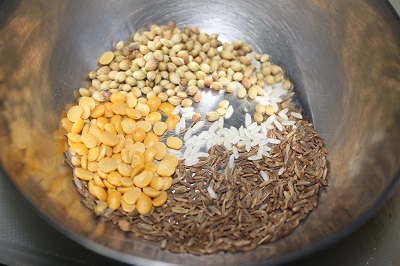 2. Add cubed ash gourd to a pan with enough water and cook until it becomes soft.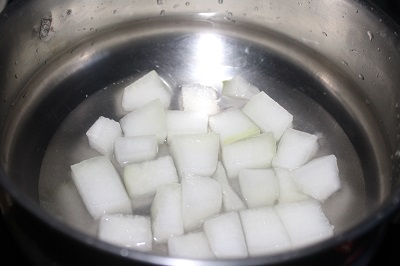 3.  Meanwhile, add grated coconut, soaked coriander seeds, toor dal and rice, along with cumin seeds to a mixer jar.  Add enough water and grind it to a smooth paste.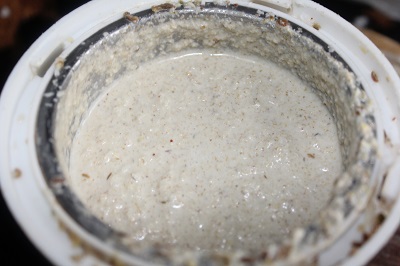 4. In a pan or vessel, take the ground paste.  To this add buttermilk, salt, and turmeric powder.  Mix well.  Keep aside.
5.  Add this ground paste along with the buttermilk to the cooked ash gourd.  Keep the flame low.  Mix well.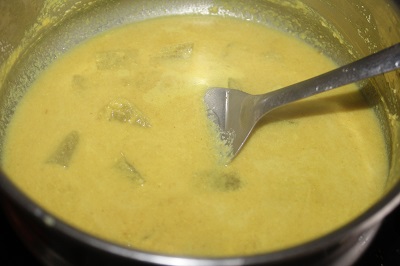 6.  Bring it to a boil.  It should not boil.  When the curry is about to boil, turn off the flame.  Keep aside.
7.  Heat oil in a pan.  When the oil is hot enough, add mustard seeds.  Let it splutter.  Then add curry leaves and saute for a few seconds.  Turn off the flame.
8.  Add the tempering to the curry.  Mix well.  Check salt and add more if necessary.  Keep covered for 10 – 15 minutes.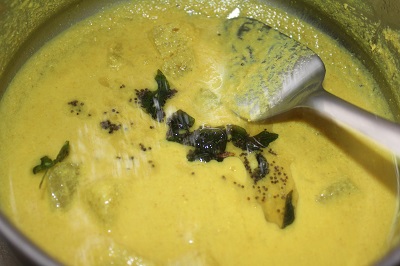 9.  Serve mor kuzhambu with rice.