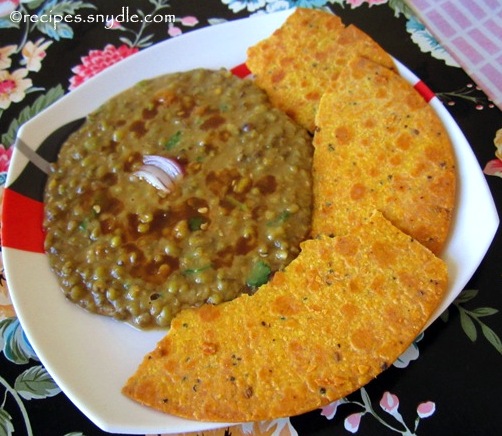 Moong Masala is one of the well-known Sindhi specialties. This dish is subtly spicy and tangy. If you are looking for healthy dinner ideas, do give this recipe a try. Moong Masala is usually served with pakwan, which is a type of crispy, deep-fried flatbread. This time I paired it up with rotis. We also make tamarind chutney because Moong Masala and Pakwan are just so incomplete without tamarind chutney laced with green chilies. I will share the recipe soon.
This dish is it is healthy, delicious, filling and gets ready in minutes. I love the natural flavor of green mung beans so I prefer to use the spices scarcely. You can adjust the quantity of spices as per your palate.
Ingredients
Whole green moong with sprouts- 250 grams
Onion- 1, chopped
Tomato- 2, chopped
Green chilies- 2, chopped
Ginger- 1 inch piece, crushed
Garlic- 7 cloves, crushed
Red chili powder- 1/2 tsp
Turmeric- 1/2 tsp
Coriander powder- 1/2 tsp
Garam masala- 1/2 tsp
Salt- To taste
Cumin seeds- 1 tsp
Oil- 2 tbsp
Water- 400 ml
Cilantro- For garnish, chopped
For tempering
Red chili powder -1/2 tsp
Coriander powder – 1/2 tsp
Dried mango powder or amchur – 1/2 tsp
Onion – 3 tbsp, roughly chopped
Oil- 1 tbsp
How to Make Moong Masala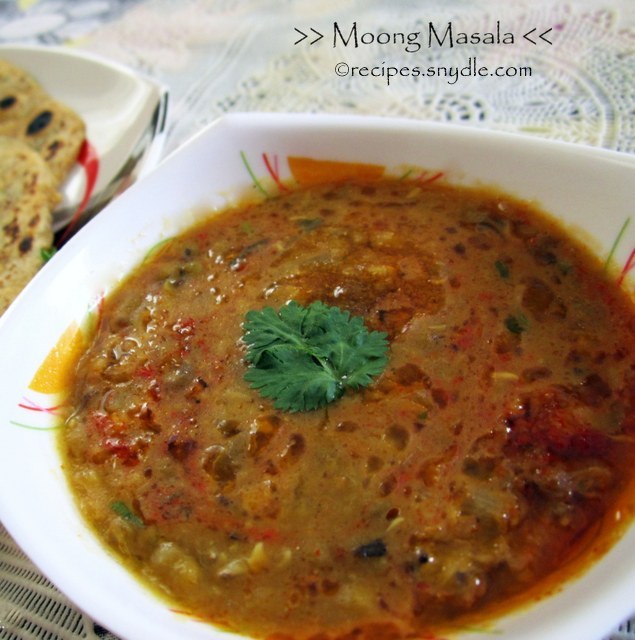 Heat 2 tbsp oil in a pressure cooker and add in the cumin seeds and let them pop. Toss in the onion and sauté them till they turn golden.
Fling in the chopped green chilies and sauté for a few seconds. Add the crushed garlic and ginger and sauté again for a minute.
Add the chopped tomato and sauté till it turns soft. When you see the oil beginning to separate, you know it's time to bring on the spices. Add in the turmeric powder, red chili powder, coriander powder, and garam masala. You might want to add some salt at this stage.
Toss in the sprouted mung beans and cook it for 5-10 minutes. Mung beans have a characteristic raw smell. Sautéing the mung beans with spices will help you get rid of the raw smell.  Add some water every now and then to prevent burning the mung beans.
Add some chopped cilantro at this point for a nice flavor. Pour in the water and adjust the salt. Pressure cook the mung for 5 whistles. When the steam is released, open the pressure cooker. Give the mung a brisk mix. Check if the consistency is fine. It should be moderately thick.
Now it's time for the tempering to add a zest to the mung. Heat 1 tbsp of oil in a pan. Sprinkle dried mango powder, coriander powder, red chili powder and roughly chopped onions on the mung. Pour hot oil over the spices and onion. Immediately cover the cooker with lid to keep the flavors locked in. After a couple of minutes, remove the lid off the cooker. Garnish with some chopped cilantro.
Moong masala is ready! Serve up the moong in serving bowls and drizzle some tamarind chutney over it. Serve hot with roti, pakwan or your favorite bread. You can have it with khakra too. It makes a great healthy snack!