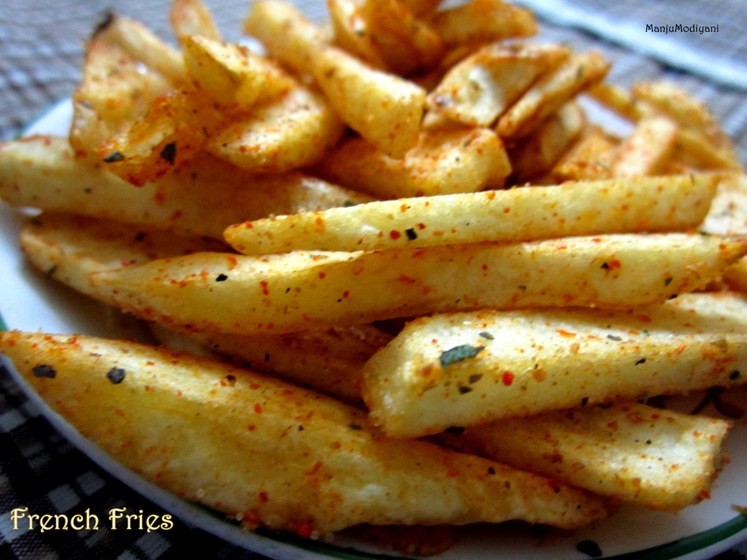 Hello buddies. Hope you are having an awesome Sunday. Exam season is going on and I see kids everywhere trying their very best as they prepare for their finals. Being a student myself until last year, I know how stressful things can get. I remember the part which is about craving for yummy food after the strenuous revision session. So this post is especially dedicated to all those wonderful mommies out their whose kids are preparing for the upcoming battle of brains.
French fries are one of my favorite foods of all times. I used to gorge on these almost every day as I studied. Buying packets of frozen french fries is definitely not a cost-effective option. Besides, those are laced with preservatives too. So why not make wholesome fries at home from scratch? Nothing can beat the charm of rustic homemade french fries. I know you might be thinking that making fries from scratch is a lot of work. But trust me when I say it's not. These fries resemble a lot to what you get in McDonald's, only fresher and no preservatives at all.
This is an easy recipe of french fries. You can store the fries in ziplock bags in the freezer for 4-5 days and fry them whenever you feel like treating yourself with some yummilicious goodness. These french fries didn't even soak a lot of oil
. They were not soggy at all either. They were very crisp.
The key to make good french fries is to choose the right kind of potatoes and following the right technique. Keep a note of these very important things.
Choose the potatoes with low starch content. The new potatoes with flaky skin and lot of soil on them are the new ones. These potatoes are also used to make sun-dried potato chips. Choose long potatoes instead of round ones to get longer fries.
Wash the potato strips well to remove all the starch on the surface.
I fried my french fries twice. This gives it an excellent crisp. You can choose to fry them once only for 7 to 8 minutes if you want to keep it simple.
Parboiling is an important part of the technique. It shouldn't be overdone or underdone, otherwise the french fries will soak a lot of oil and become soggy.
First off, if you are more concerned about the golden yellow color of the McDonald's french fries, you can achieve that by soaking the raw potato strips for 5 to 7 minutes in water to which a spoonful of golden syrup has been added. However, I choose to skip that step. I like the natural light golden color of the fries.
The seasoning I made is a combination of Italian herbs and Indian spices, which is an awesome fusion. You can prepare your own seasoning too. Now let's get started with the crispy french fries recipe, which serves yields 4 to 5 servings. 6 large potatoes might sound like a lot. But the fries shrink and become very light and crispy. So those really aren't too many potatoes.
Ingredients
For the French Fries
Low starch new variety of potatoes – 6 large, oval and long
Salt – 1 tbsp
Water – As required
Canola or sunflower oil – for deep frying
For the Seasoning / Masala
Pizza mix – 1 and 1/2 tsp (I used Snappin' brand)
Paprika – 1 tsp or to taste (Can be substituted with red chili powder)
Salt – 1 tsp or to taste
Chaat masala – 1 tsp
Jeera powder / Roasted cumin powder – 1/2 tsp
Cinnamon powder -1/4 tsp
Dried ginger powder – 1/4 tsp
Powdered sugar – 1/3 tsp
How to Make McDonald's-Style French Fries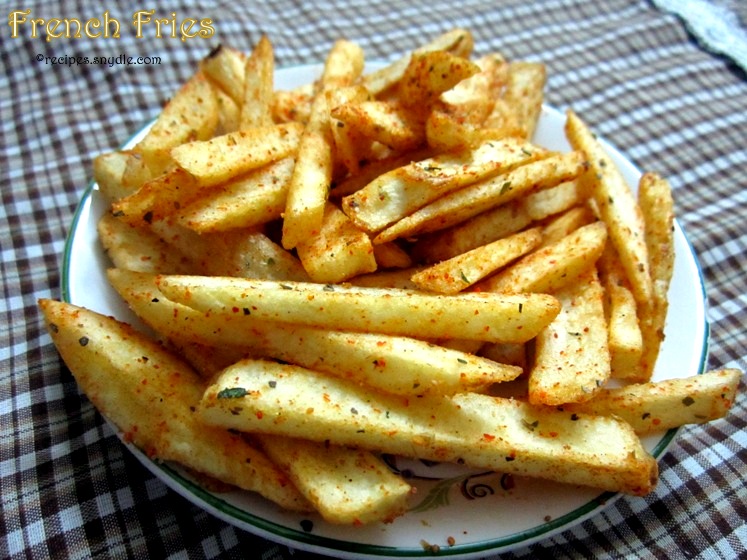 Prepare the seasoning by mixing together in a small bowl the pizza mix, paprika, salt, cumin powder, chaat masala, cinnamon powder, dried ginger powder and powdered sugar. Keep aside for later use. You can alter the quantity of seasoning ingredients to suit your taste buds.
Peel the potatoes. Cut them into french fry like shape as shown in the pictures.
Wash the potato strips thoroughly 4 to 5 times to get rid of all the starch. Or hold them in a colander under the running water for 2 minutes. This is very important.
Take a large, wide pot and fill it with lots and of water. Do not skimp on water at all. Heat it till the point where its just about to boil. We don't want the water to actually rolling boil. Add the salt. Carefully add in the fries and keep the heat on high. Stir the fries every 30 seconds. You will need to parboil the fries for about 5 to 6 minutes.
Don't overcook the fries. You can test by bending a parboiled fry. It will bend without breaking. Try eating one. It will be easy to bite into yet raw.
Remove the parboiled fries carefully into a colander using a slotted spoon. Handle them with care so that you don't break them.
Allow the fries to cool till the room temperature. Make sure there is absolutely no water on them. Pat the fries dry with paper towel if need be. Spread them on to a plate or pack them in ziplock bags and keep them in the freezer at least for an hour before frying.
Heat sufficient oil in a skillet. When the oil is hot, take the fries out of the freezer. Carefully put the cold fries in hot oil. I fried 50-60 fries at a time, because my skillet was small. Do not overcrowd the skillet or the temperature of the oil will drop and the fries will absorb a lot of oil.
Fry on high heat for about 5-6 minutes, stirring it often, till the fries have shrunk a bit and turned light golden. Remove them onto a paper towel. Allow these fries to cool a bit before we fry them again. In the meanwhile, fry another batch in the same way.
Now it's time to re-fry the fried fries we took out earlier on the paper towel. Keep the heat between high to medium and fry the fries again for 4 to 5 minutes till golden and crisp, by constantly stirring them. Remove them on a paper towel. Re-fry the remaining batches in the same way.
Take the ready and hot french fries in a large bowl and season them with as much or as little seasoning mix as you want. Toss well and serve immediately.
Masala french fries are ready to be enjoyed!