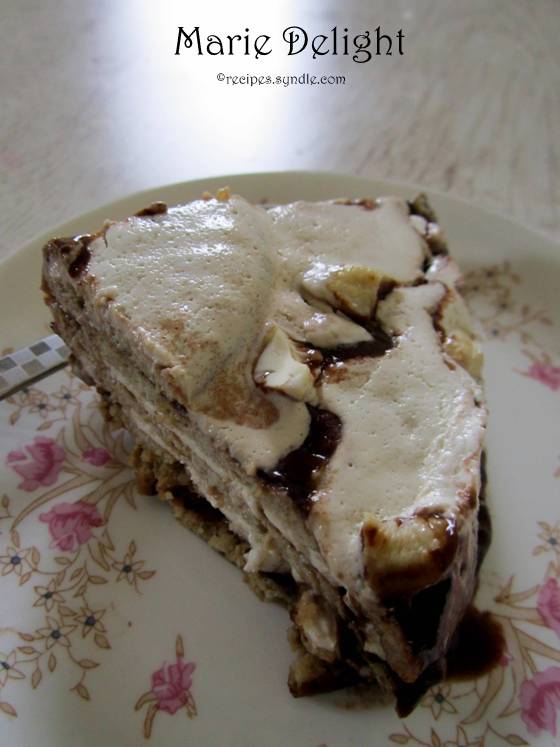 Hello buddies. I am back with  a very easy dessert recipe. It is called Marie Delight. This one is my Mom's recipe that has been relished at our place since several years now. You can say that it is a no-bake Marie biscuit cake.
There are several recipes of Marie biscuit cakes that I have come across and by far this one is the best. The mélange of cocoa and coffee and silky whipped cream is very rich, warm and comforting. Make sure you use premium quality coffee and cocoa powder to make Marie Delight. This recipe calls for roasted walnuts. Also, the whipping cream used is unsweetened because the coffee-cocoa sauce is sweet enough. We just need the richness of cream to balance the sweetness from the sauce and the biscuits. However, yesterday when I decided to make it, I didn't have any walnuts, so I used a handful of roasted cashews for crunch. But this dish tastes best with walnuts only!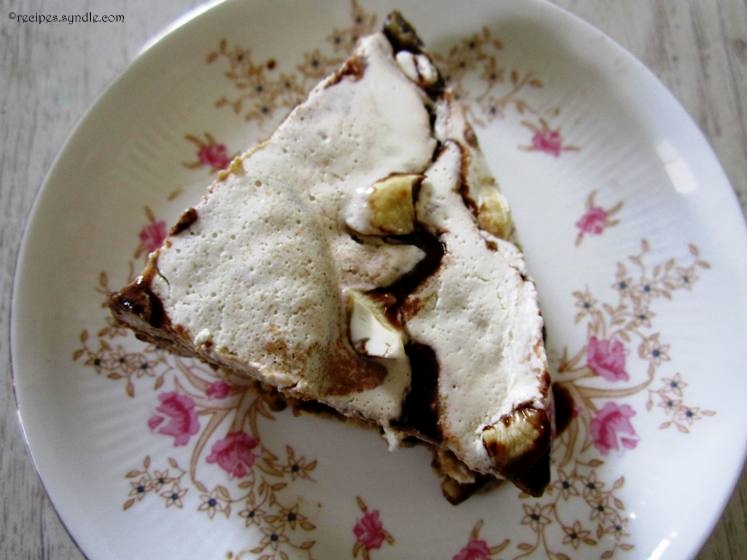 Let's start with the recipe of Marie Delight now. For the purpose of measurement, 1 cup = 250 ml.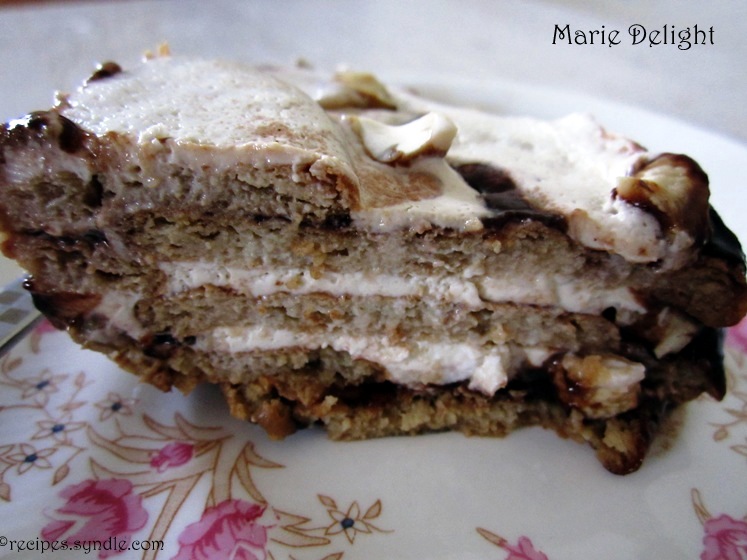 Ingredients
Marie Biscuit – 100 grams pack
Roasted walnuts – 3/4 cup
Golden raisins – 1/4 cup, chopped
Fresh cream with 25% fat content – 1 cup (I used Amul)
To Make Black Coffee Concoction
Water – 2/3 cup
Coffee – 1.5 tsp
To Make Coffee-Cocoa Sauce
Water – 1.5 cups + 1/4 cup
Coffee – 1 tbsp
Cocoa powder – 5 tsp
Powdered sugar – 5 tbsp or to taste
Cornstarch – 1 tbsp
How to Make Marie Delight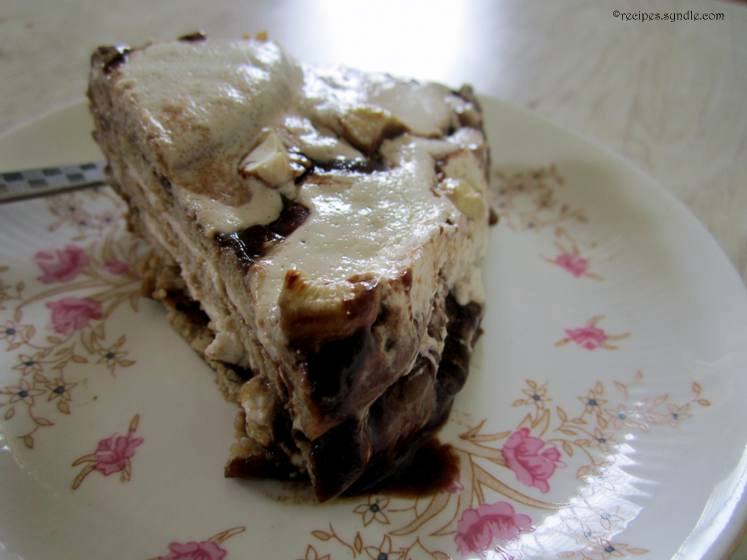 Start of by making coffee-cocoa sauce because it will need time to cool down. Heat 1.5 cups of water in a saucepan and bring it to a boil. Add in the coffee powder.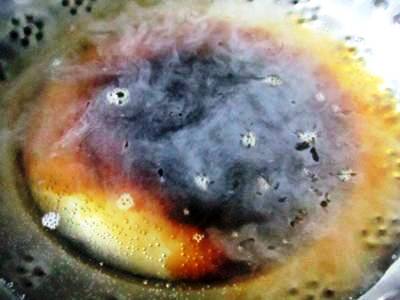 Next, in goes the cocoa powder.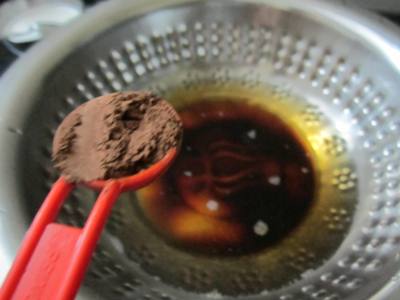 And then the powdered sugar. Stir well to make sure there are no lumps in the mixture. Allow it to simmer for 2 minutes. Taste it to make sure the coffee, cocoa and sugar as per your taste preference.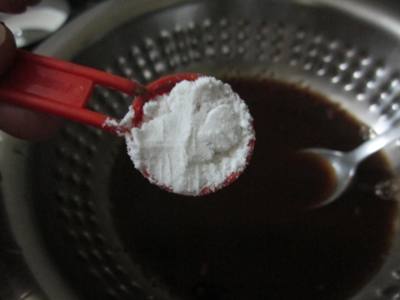 In the meanwhile, prepare a solution using cornstarch and 1/4 cup water.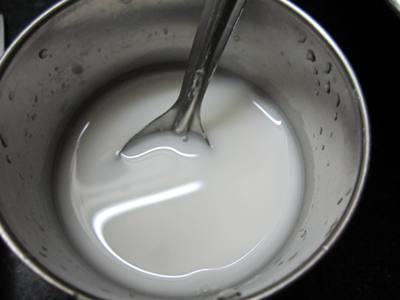 Increase the heat to medium so that the solution boils.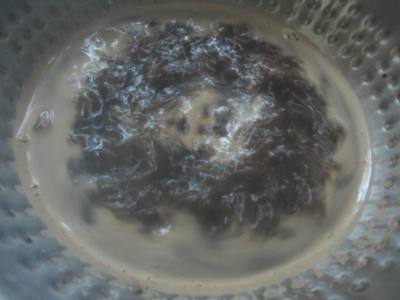 Add in the cornstarch little my little. Stir well. Do not add all the cornstarch at a time or it might thicken the sauce too much. After a minute of stirring and boiling, the sauce should look like this.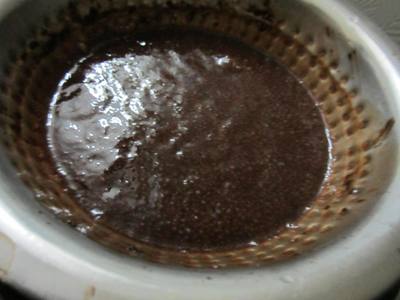 When the sauce cools down, it will become shiny and glossy. Allow the sauce to cool down to room temperature.
Now let's make a coffee concoction. Simply boil 2/3 cups of water and switch off the flame. Add in the coffee and mix well. Allow it to cool down to room temperature.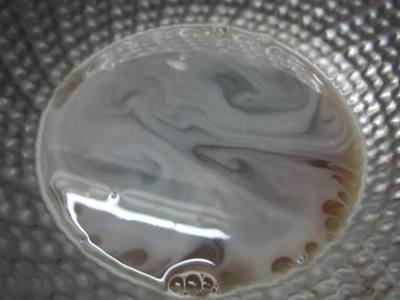 After the sauce and coffee mixture has cooled off, whip the fresh cream for a minute to make it slightly fluffy. Place ice-cold water underneath the bowl of cream.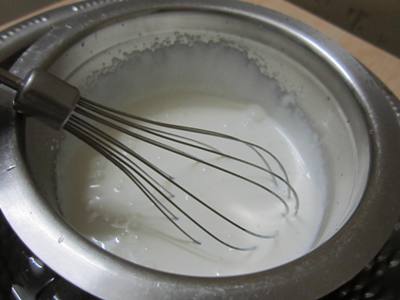 Let's start with making Marie Delight. We will make three layers so the biscuits, sauce, cream and nuts need to be divided into 3 parts.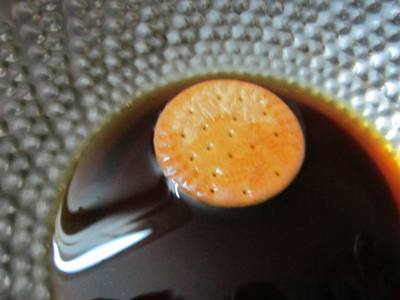 Dip the Marie biscuit in the coffee concoction for about 5-7 seconds till it softens slightly. Place it in a cake pan or just a simple flat-bottom bowl, like I did. You can use a glass bowl too, it looks very pretty.
It took me 6 biscuits to form a layer like this.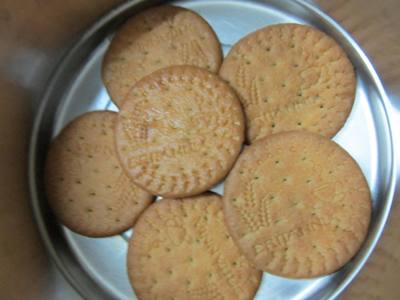 Then pour the coffee-cocoa sauce.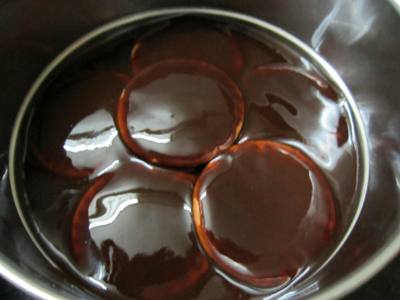 Sprinkle roasted walnuts and raisins.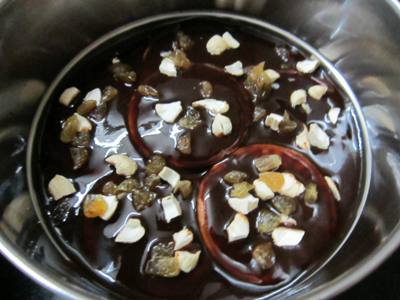 Pour a layer of fresh cream using a spoon to spread it evenly.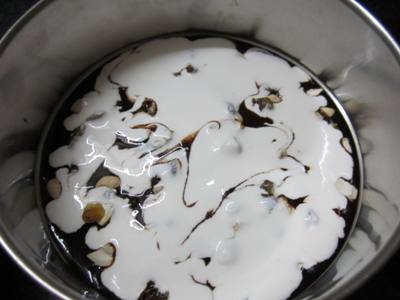 Repeat the process till you end up making 3 layers and use up all the sauce and cream. Cover the bowl and keep it in the fridge for the next 8-10 hours, till everything sets well. Cut the Marie Delight into pieces and serve immediately.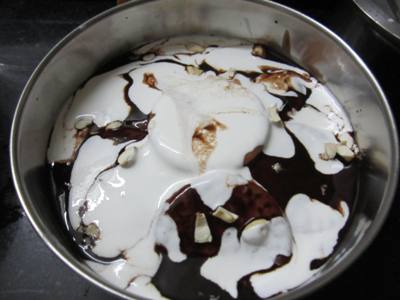 The cream tends to melt so, this needs to be served right away after it is taken out from the fridge. You keep the remaining Marie Delight in the fridge and have it whenever you want. It stays fresh for 2 days. Enjoy!