Kerala BEEF ROAST / Kerala Style Beef Pepper Roast Recipe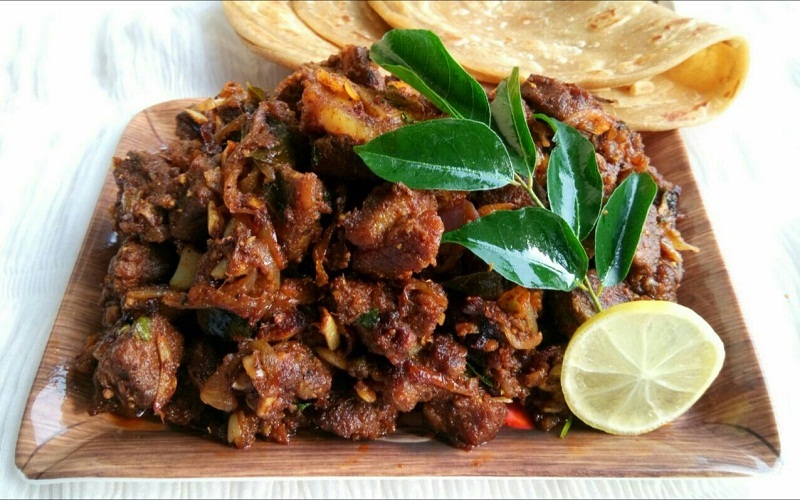 Hai to all,  Today's our recipe is one of the traditional beef item of Kerala, which can be cooked easily. Powdered or crushed fresh black pepper corns gives extra taste and aroma to this dish. Those who like more spicy dish can add more pepper powder as per their taste. This dish is an excellent combination with all types of Appams, rotti, chappatthi , even with rice also. So let's start to make our special Kerala Beef Pepper Roast…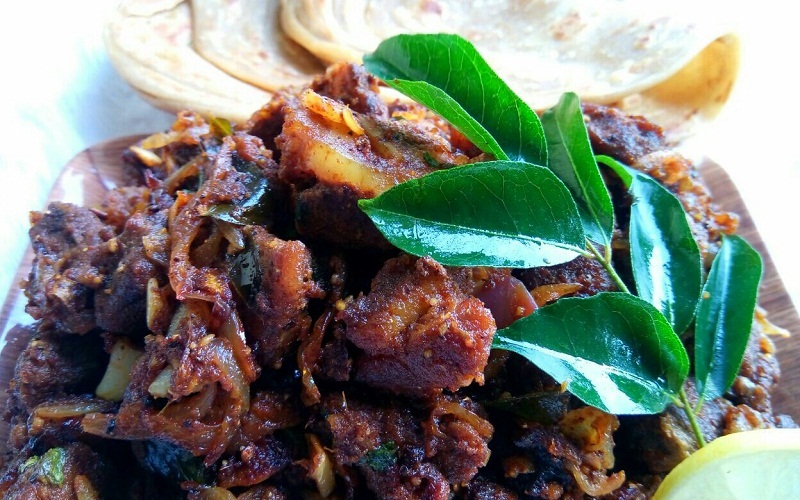 How to Make Kerala Beef Pepper Roast
For marinating the beef:
1. Chilly powder -2 teaspoon
2. Meat masala ( any brand) – 1 teaspoon
3. Coriander powder – 1 teaspoon
4. Green chilly – 2
5. Curry leaves – as per own taste
6. Salt – to taste
Other ingredients :
1. Beef – 500 gm
2. Onion chopped -3
3. Ginger crushed -1 teaspoon
4. Garlic crushed -1 teaspoon
5. Chilly powder – 1 teaspoon
6. Termeric Powder – 1 teaspoon
7. Jeera powder – 1 teaspoon
8. Pepper powder – 2 teaspoon
9. Lime juice – 1 teaspoon
10. Oil – 3 tablespoon
11. Salt – to taste
12. Curry Leaves, coriander leaves – for garnishing
Method of making :

Cut beef in to small pieces. Add all ingredients given under the marination and mix all things very well. Pressure cook marinated beef till beef is cooked.

Now heat oil in a pan add onion in to it, saute it for a few minutes. Add ginger, garlic,and curry leaves in to it and saute it again.

now add chilly powder, turmeric powder in to the pan and saute until it lost the raw smell.

Add pepper powder in to the pan and mix it, saute it for two or three minutes.

Mix beef in to the pan, which we cooked earlier and pour lime juice in to it. Mix all ingredients along with the beef.

Put enough salt, chopped curry leaves and coriander leaves then mix it well. Turn off the heat and serve it hot..