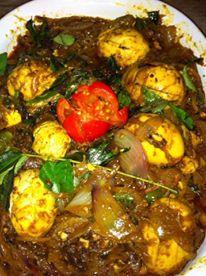 Ingredients
Bold egg gashed – 4 Nos
 Onion sliced (thin long slices) – 4 Nos
Ginger garlic paste – 1 teaspoon
Green chilly (whole slitted) – 4 Nos
Curry leaves – a few springs
Oil- 4 tbs
For Masala
Chilly powder – 1 table spoon
Coriander powder – 1 table spoon
Garam Masala– ¼ teaspoon
Pepper powder – ¼ teaspoon
Salt – taste.
Make the powdered masalas and salt in to thick paste with water. Smear a table spoon of masala in to a boiled egg. Fill up the gashes with masala sauté the eggs in table spoon of oil and keep aside.
For Seasoning
Mustard seeds – 1 teaspoon
Dried red chilly- 2 Nos
Curry leaves – a few
½ cup thick coconut milk optional.
How to cook Egg Roast
Head a pan with oil, season add ginger garlic paste.
Once it changes colour add sliced onion sauté for 5 minutes. Now add reaming ingredients masala, green chilly and salt to taste. Saute well when the onian absorbs most of the masalas add masalas smeared sauted egg and combine well. At this point you may add ½ cup of thick milk when the gravy dries up garnish with lot of curry leaves.