Here I have made this curry in the way I usually make kadai paneer.  But I have added potatoes also along with this as potatoes are rich in starch and since this dish is prepared for kids, I had a feeling that more the usage of vegetables, much better it would be and potato is one veg which is liked by most of the kids.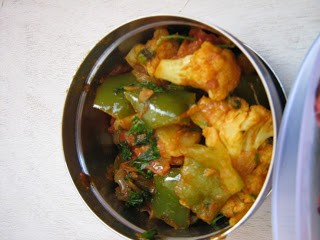 Ingredients required
cauliflower –  1 (small)
green chilly  –  2
ginger  – 1/2 teaspoon
garlic – 1/2 teaspoon
cumin seeds  – 1/2 teaspoon
capsicum  – 1
onion  – 1
potato  – 1 (small)
tomato – 1
oil  – 2 tablespoon
coriander leaves (chopped)  – few
For paste
chilli powder – 1 teaspoon
coriander powder – 1/2 teaspoon
garam masala – 1/2 teaspoon
turmeric powder – a pinch
curd – 2 tablespoon
Hing – 2 pinches
Technique
1.  In a pan, boil enough water and cauliflower and blanch it for some time.
2.  Drain it and keep it aside
3.  In a pan heat oil, crack cumin seeds, then add the diced onions, green chillies and crushed ginger, garlic and sauté for some time.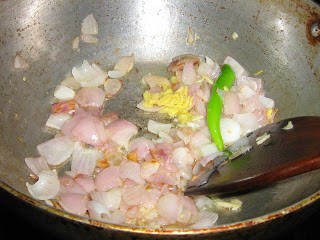 4.  Add tomatoes and sauté again for few more minutes.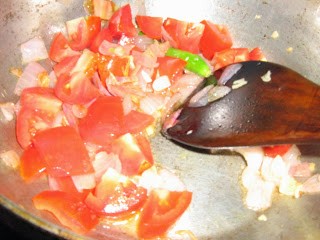 5.  Add the prepared masala paste, and sauté it for some more minutes till the oil gets separated.
6.  Then add the diced capsicum pieces sauté it again.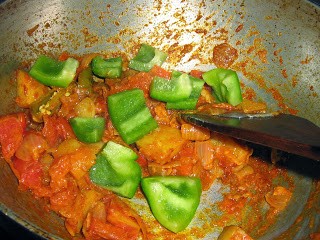 7.  Now add the cooked potatoes and cauliflower pieces.  Saute it well.  Cover with a lid and cook till the cauliflower pieces get cooked and oil starts separating.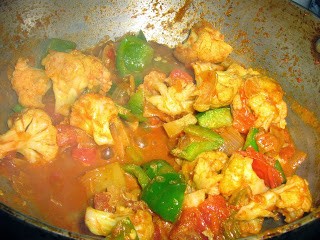 8.  Garnish it with coriander leaves.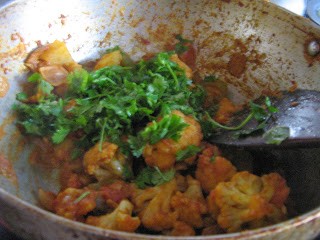 If you find this post useful, I would be happy if you can share it with your friends in google+, facebook or twitter.  All you have to do is click the corresponding button.