Cheera is a Malayalam word for spinach.  This dish is an easy to make side dish for rice which has spinach, dal / lentils, coconut and cumin seeds as the main ingredient.  This is a very comfort dish which can be served with rice or with roti.  In this recipe, I have made use of palak, you can make use of other spinach varieties also.  Dal with palak is a very good combination.  Be careful while cutting leafy vegetables.  Take a wide mouthed bowl with water.  Discard the stem and damaged leaves.  Place spinach leaves in water and stir it with your hands.  Some dirt will be removed.  Leave the leaves in water for some time.  You will find the dirt settling at the bottom of the vessel.  Then take the leaves out, remove the leaves and keep it in a colander.  Clean the vessel and repeat the same steps again till you get clean water.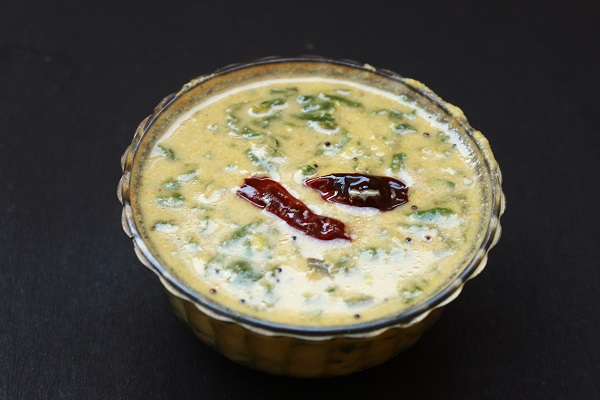 Ingredients required
Moong dal  – 3/4 cup
spinach – 2 bunches
green chilly  – 2
turmeric powder – 1 teaspoon
chilly powder – 1 teaspoon
salt  – to taste
For grinding
coconut (scraped)  – 1/2 cup
cumin seeds / jeerakam – 1 teaspoon
For tempering
oil  – 1 tablespoon
mustard seeds – 1 teaspoon
dry red chilly – 2 (broken)
curry leaves – few
shallots – 4 – 5 (finely chopped)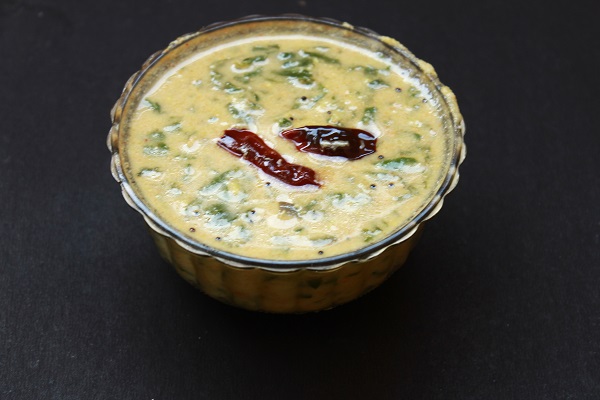 Technique
1.  Wash and clean palak, chop finely.
2.  Grind the ingredients given under the heading "for grinding".  Add enough water and grind to smooth paste.
3.  In a pan, add moong dal and water, cook till moong dal becomes soft.  (You can also pressure cook dal for 1 whistle)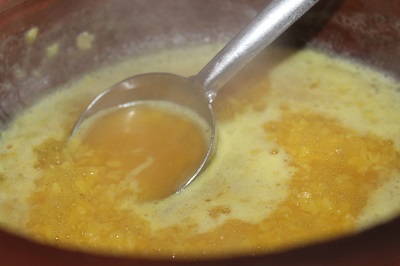 4.  Once moong dal is cooked well, then add chopped palak, turmeric powder, red chilli powder, green chillies, salt and allow it to cook.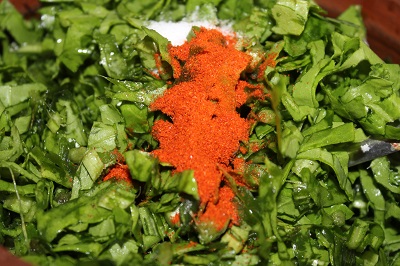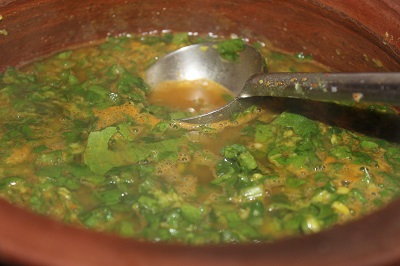 5.  Once palak is cooked well, then add the ground paste to it, keep the gas in sim and allow it to boil.  Don't boil too much or else it will curdle.  Turn off the flame.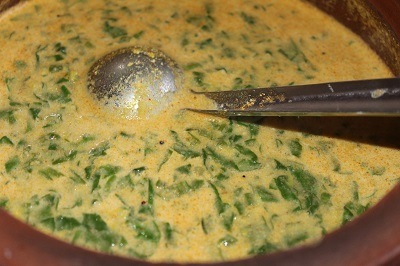 6.  In a pan, heat oil, add mustard seeds.  When it splutters, add curry leaves, dry red chilly, chopped shallots and fry till it releases nice aroma.  Turn off the flame and add the tempering to the curry.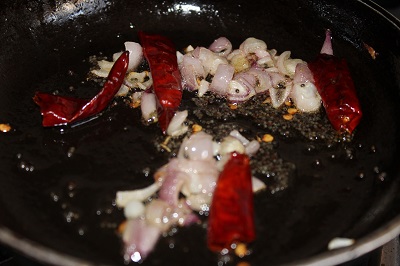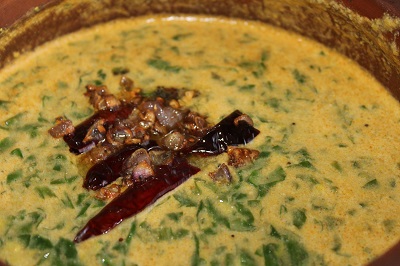 7.  Serve with rice .