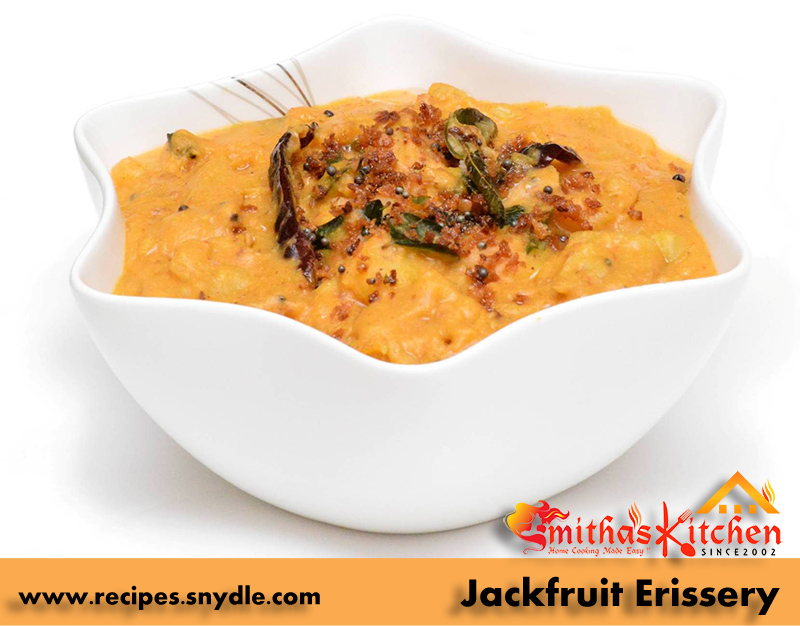 Erissery is a traditional and very popular dish in Kerala. A variety of erisseries can be prepared by substituting different vegetables, pulses or a combination of both. Here is the recipe of an erissery using raw jackfruit as the main ingredient.
INGREDIENTS:
Raw Jackfruit flesh, deseeded – 500 gm
Coconut – 1 no, grated
Cumin Seeds – 1 pinch
Turmeric Powder – ¼ tsp
Black Peppercorns – 5 nos
Garlic clove – 1 no (optional)
Red Chilly Powder – 1 tsp
Coconut oil – 2 tbsp
Mustard seeds – ½ tsp
Dry Red Chilly – 3 nos
Salt – to taste
Curry leaves – a few
METHOD OF COOKING:
Wash and drain the jackfruit flesh, roughly chop them and cook in 2 cups of water adding turmeric powder, red chilly powder and salt.
Keep aside 1 cup of grated coconut for frying and seasoning.
Grind together the rest of the grated coconut, cumin seeds, black peppercorns and garlic to a medium fine paste. Make sure it doesn't become smooth paste.
When the jackfruit flesh gets fully cooked, add the ground coconut mixture and combine well. Cook on low flame for next 5 minutes and switch off the flame.
Heat oil in a pan, splutter mustard seeds and add dry red chillies, curry leaves, one cup grated coconut and sauté well till the grated coconut turns light brown color.
Add the above seasoning into the cooked jackfruit and mix gently.
Jackfruit erissery is ready and serve hot with brown rice.
SK Recipe No. 349