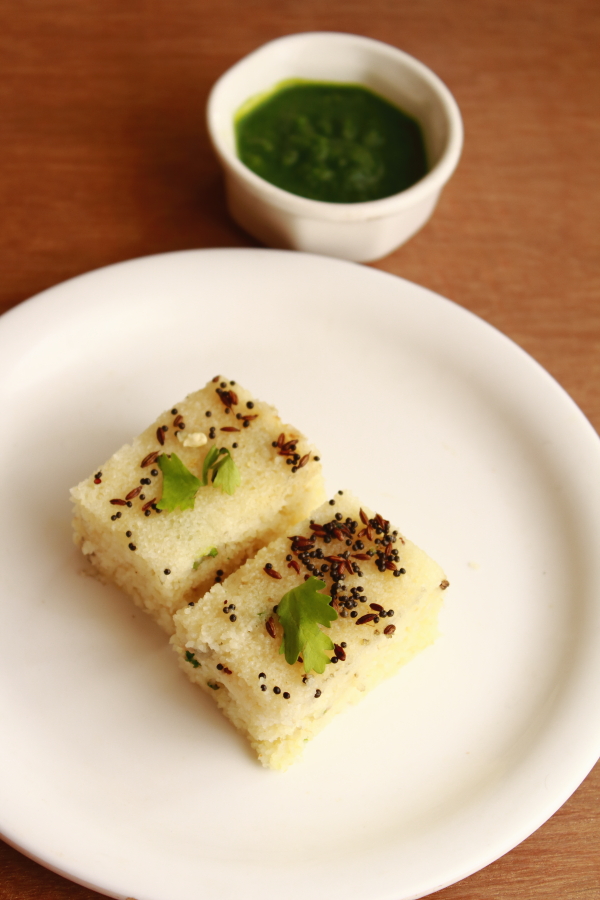 dhokla is a traditional Gujrati dish.  It is made using chana dal or bengal gram and rice.  The traditional method of preparing dhokla needs a long time, including soaking, grinding and fermentation.  Today, I am sharing an instant dhokla recipe made with rava or sooji.  It is very easy to make, and tasty.
For making this instant rava dhokla, we need very few ingredients which are readily available in all Indian kitchens namely, rava, curd, green chilies, ginger, coriander leaves and few spices.
Rava dhokla can be served for breakfast or as an after-school snack.  In both ways, it is healthy and tasty.  But follow the steps carefully to get a soft, spongy dhokla.
Rava dhokla can be served with green chutney.  It can also be served plain as such.
instant rava dhokla
ingredients
rava – 1 cup
besan or gram flour – 1 tablespoon
rice flour – 1 tablespoon
curd – 1 cup
water – 1/3 cup
sugar – 1/2 teaspoon
ginger green chili paste – 1 – 1 1/4 teaspoon
eno fruit salt – 1 teaspoon
lemon juice – 1 teaspoon
salt – to taste
for seasoning
oil – 1 tablespoon
mustard seeds – 1/2 teaspoon
asafoetida powder or hing – a pinch
curry leaves – few
for garnishing 
coriander leaves – finely chopped
coconut – grated
how to make rava dhokla recipe
1.Add ginger green chili to a hand mortar and crush it well.  Keep aside.
2.  Add rava, besan, rice flour, salt and sugar in a bowl.  Mix well.
2.  To this, add water, little by little and mix well without lumps.  You will find that the mixture is thick.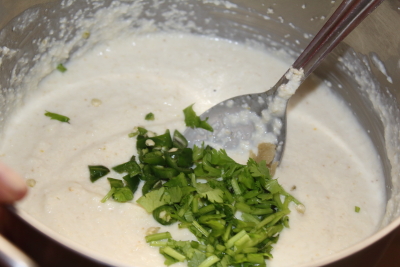 3.  Now, add 1 cup of curd, mix well.  The batter will be little thicker than the idli batter.  Take care that there should not be any lumps in the batter.  Add crushed ginger green chili, chopped coriander leaves, mix well.
4.  Leave the mixture aside for 10 – 15 minutes.
5.  Add enough water to a steamer and bring it to a boil.
6.  Meanwhile, grease a round baking tray or any plate.  Keep it aside.
7.  When the water starts boiling, take the batter, add eno fruit salt or baking soda, lemon juice, mix gently. Don't mix too much or else the air bubbles will escape and your dhokla will become hard.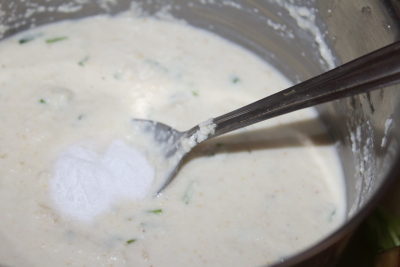 8.  Immediately pour the batter into a greased tray and place inside the steamer.  Steam cook on medium flame for 10 – 15 minutes or until a toothpick inserted comes out clean.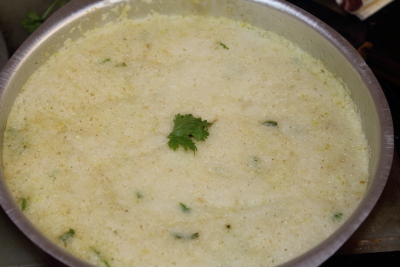 9.  Once cooked, take the tray from the steamer, let it cool and then flip the dhokla to a plate.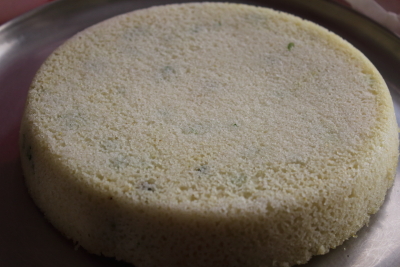 10.  Heat oil in a pan.  When the oil is hot enough, splutter mustard seeds, add curry leaves, asafoetida powder, saute for a second.  Add 2 tablespoons of water and bring it to a boil.  Turn off the flame.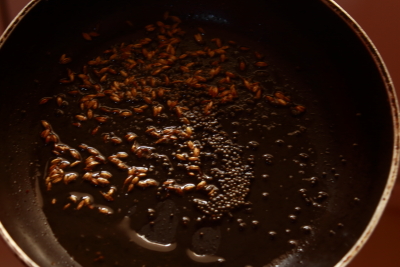 11.  Pour the tempering over the prepared cake.
12.  Rava dhokla is ready.  Cut into pieces and serve with green chutney.