Curd rice is a very popular South Indian meal.  It is a very easy to make rice recipe which can be made even by a layman.  The method of making curd rice is very simple – cook the rice, mash it, mix it with milk, curd, butter and salt.  Finally temper the ingredients and add it to the rice mixture.  Ready.  Tasty curd rice is ready to be served.  Apart from being an easy to prepare meal, it has got various health benefits also.  Curd is known to be a cooling agent for our body.  Also it has got high calcium content which is good for bones and teeth.  The next ingredient which is added to this is curry leaves which again has high nutritional value, and is believed to be good for hair.  Also you have green chillies in this which is a power house of calcium and then ginger which helps in digestion.  Potato roast and mango pickle will be a great side dish for this recipe.  Now to the recipe..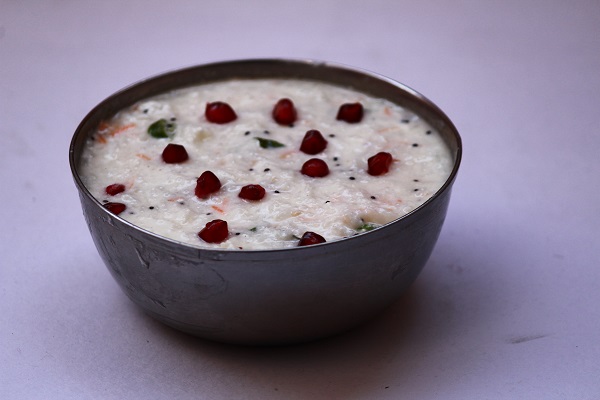 Ingredients required
Raw rice  – ½ cup
Thick curd  – 1 cup (for immediate consumption – ½ cup would be enough)
Milk  – ¼ cup
Butter  – 2tsp
Carrot  – 1 ½ tbsp. (optional)
Coriander leaves  – ½ tablespoon (chopped)
Salt – to taste
To temper
Oil  – 2 tsp
Mustard seeds – 1tsp
Urud dal – ¾ tsp
Green chilli  – 1 chopped
Hing – a pich
Ginger – 1 tsp
Curry leaves – few
Method
1.   Clean rice and pressure cook with 2 cups of water for 4- 5whistles or till the rice gets cooked well.  Once the pressure releases, spread it on a wide plate and allow the rice to cool a bit.  Then mash the rice nicely with the back of ladle.
2.  Then add  butter and milk. Again mash it well with the help of the ladle.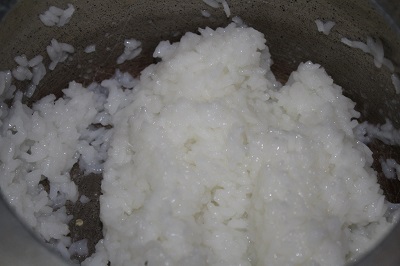 2.   Mix well, then add curd, mix to form a creamy mixture.  Sprinkle little water if you want.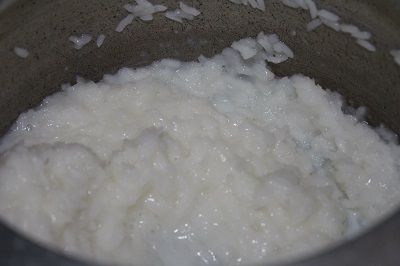 3.  Then heat oil in a kadai, then add the ingredients listed under 'to temper'.  Let it splutter.
4.   Then add the tempered items to the curd rice mixture. Add carrot, coriander leaves, ginger, salt and give a quick stir.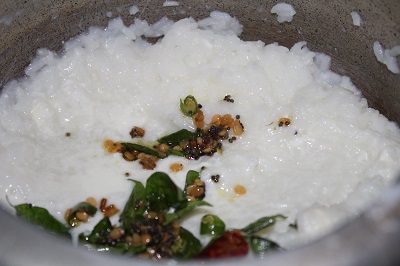 5.  Serve warm or chilled as per your wish. This can be served with potato roast and pickle.
6. Finally garnish with coriander leaves.  You can also use pomegranate seeds, grapes (halved without seeds) or carrots for garnishing.