I love longanisa but I prefer Vigan's longanisa. The first time I tried Vigan's longanisa is when I went to Ilocos Norte for familiarization tour of Pagudpud and Fort Ilocandia. We stayed one night in Vigan and in the morning had breakfast in a local restaurant that serve longanisa. Ever since I tasted their longanisa, I never tried any other longanisa because for me, it is the best.
The smell of garlic is evident in the longanisa and when dipped in Ilocano vinegar, wow heaven. I always buy a kilo of Vigan's longanisa whenever I'm craving for a longa meal in the morning. The other day, I want to eat longanisa badly. I have ground pork in the fridge just waiting to be cook and have tons of garlic. So, I decided to make my own Vigan inspired longanisa.
I don't have yet the traditional casing for longanisa which is made of large intestine but I do have plastic for ice candy. So, its skinless Vigan longanisa but next time, I'll use the traditional casing for longanisa.
Here's my longanisa recipe, let me know what you think.
Vigan Longanisa Recipe
Ingredients:
½ kilo ground pork
1 tablespoon onions, minced
2 tablespoon garlic, crushed
½ cup soy sauce
1 tbsp vinegar
1 tsp black pepper
Direction: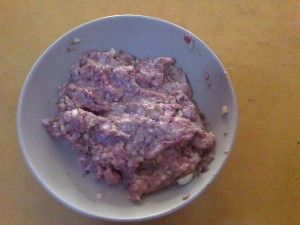 In a bowl, combine all ingredients and mix until well blended. Stuff the mixture into the casing or ice candy plastic and tie the end.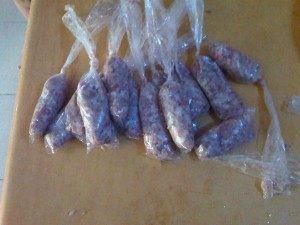 Using a fork, prick each plastic then hang under direct sunlight for atleast 2 hours to allow the liquid and fat to drip and dry. (Take note: if you have used casing sausage hang for 4 hours)
To cook longanisa, in a skillet or pan, heat 1 tablespoon of oil and put in the longanisa (minus the plastic). Cook until all sides turned brown.
Serve with fried rice, sunny side egg and sliced tomatoes.
Take note: When cooking longanisa in a traditional sausage casing put in the pan and add water. Cover and cook over low heat or till the liquid evaporate. Prick each longanisa with fork to get the remaining juice out. Once all liquid has evaporated add a bit of oil and fry till brown.