Four Indian Bhaji you love to try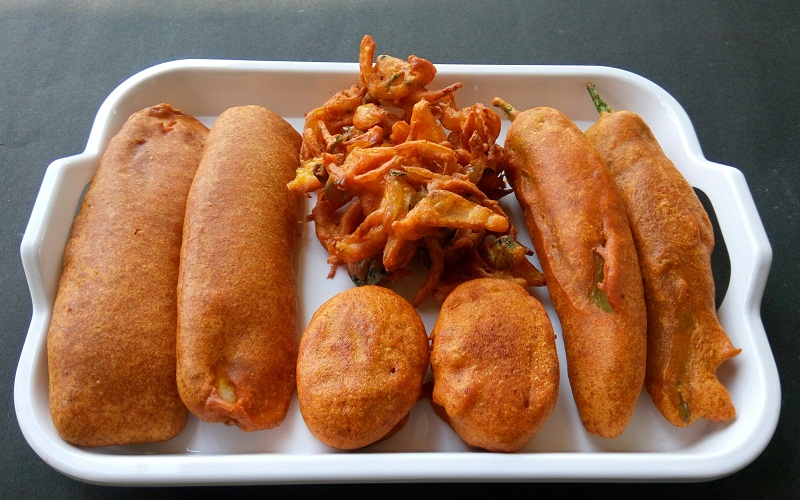 Hai all. Today I am sharing the recipe of Four Indian Bhaji you love to try, which is also known as Pakoras. Bhaji or pakoras are the best combination which most of the Indians like to have with tea or coffee. Bhaji is a kind of deep fried fritters which sere as a starter or snack in Indian meal. There are various varieties of bajis in Indian cuisine. Onion Bhaji or Onion pakora is one among them which is easy and tasty.
Here I am sharing the method of making the basic bhaji batter recipe by which you can easily make any type of bajis like Onion Bhaji egg bhaji, chilly bhaji and plantain bhaji. Which is also known as Vazhakkai bajji, egg pokora, onion pokora, and milagai bhaji. In different countries these dishes are in different names and variations, but it's all time favorite snack which served with salads and assorted chutneys and dips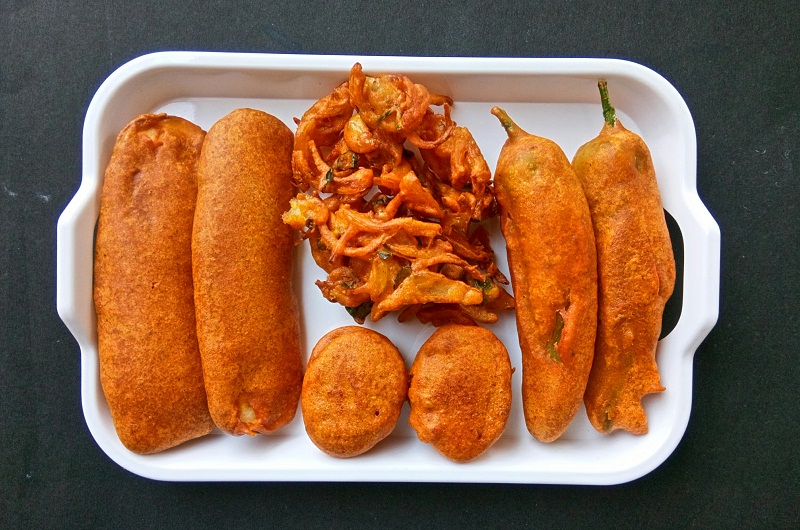 Ingredients for making
For making bhaji batter :
Gram flour ( beasn or kadalai mavu) – 1 cup
Corn flour or rice flour – two tablespoon
Chilly powder – two teaspoon
Termeric powder – half teaspoon
Geera powder – half teaspoon
Garam masala – 1/4 teaspoon
Baking powder or baking soda- 1/4 teaspoon
Salt – to taste
These are the ingredients for basic bajji batter.
Other ingredients :
Oil – two cups
You can use any type of vegetables which you like to make bhaji here I am going to make Four Indian bhaji you love to try.
Method of making bhaji batter

In a large bowl take gram flour add rice flour or corn flour into it.

Add chilly powder, turmeric powder, geera powder, garam masala and baking powder into it. Add enough salt to this bowl.

Pour enough water and mix it nicely, this batter should not to be too thick or nor watery when we dip the vegetables it should coat the vegetables well.
Divide this bhaji batter in to four potions , pour it in separate bowls
Onion Bhaji – venkaya bhaji ( flitters)or ulli bajji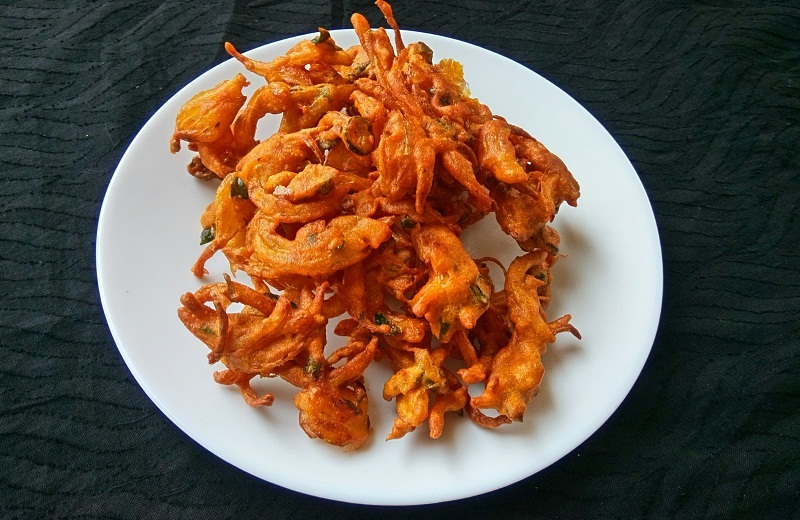 Method of making

Choppe one onion one green chilly and curry leaves and coriander leaves, if you like you can add half teaspoon of ginger also. Put these ingredients in to the batter and mix it well.

Drop spoons full of this onion bhaji mix batter into the oil. Fry them in batches for three to five minutes until they cooked and turn into golden brown colour. Remove the Onion Bhaji from oil and allow them to drain on a plate.
Kaya bajji – raw banana bhaji or Vazhakkai bajji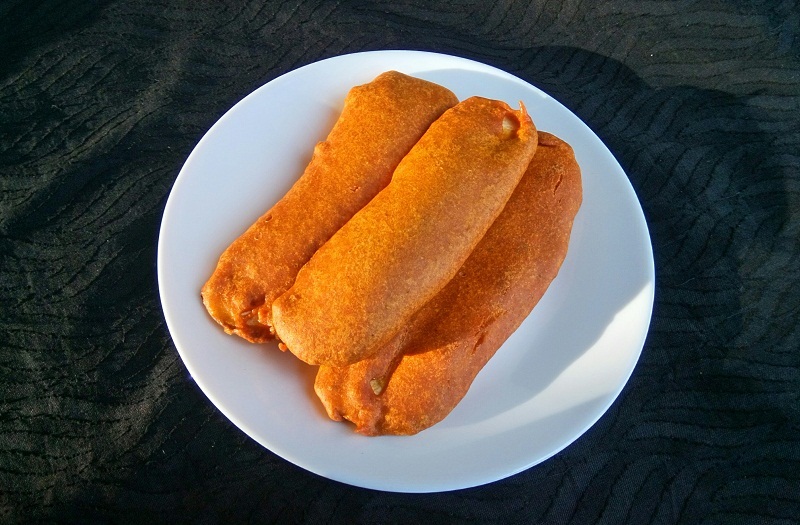 method of making

Peel off the skin of raw banana with a peeler and slice them thin and medium trick pieces.

Heat oil in a pan, dip it into the batter and slowly drop it into the oil

Fry them both sides until golden brown cook it in medium flame and ensure that the bajjis get cooked inside.
Mulaku bajji – mirchi bhaji or millakayi bajji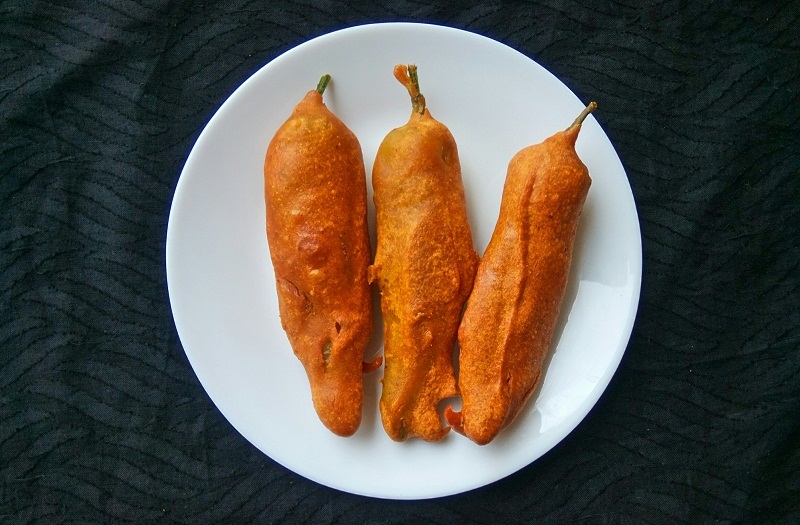 method of making

Wash chillies and make a slit in it, remove the seeds from the inside of it. Did chillies one by one into the batter

Drop batter coated chillies into the oil and fry it remove it when cooked and changed the colour into brown.
Egg bajji – egg bonda or egg pokora

method of making

Boil eggs and remove its shell, then cut it into half. Dip the egg pieces into the batter.

Drop batter coated eggs into the oil and fry it until it change the colour in to brown.
So, here is the recipe of Four Indian Bhaji you love to try, hope all of you will definitely try this.