I love chicken feet since I was a kid. My mom doesn't cook chicken feet, but when we dine at Chinese restaurants they always order a small bowl of chewy cartilage, bones and skin. In the Philippines, chicken feet more popularly known as adidas (shoe brand) are marinated in a unique blend of spices and grilled. Filipinos also use chicken feet for adobo. But I prefer the Chinese way of cooking chicken feet even though I love grilled chicken and adobo.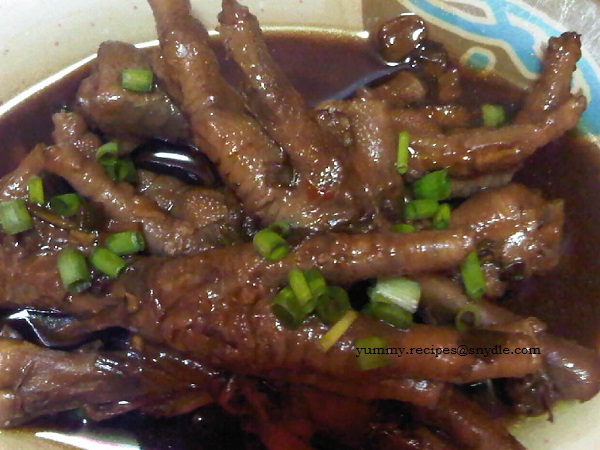 Not all Filipinos know how to cook braised chicken feet because they are often grilled. Plus! making chicken feet is not easy for this is not a simple dish. It is safe to say that making chicken feet is a labor of love because of the time involved in making this dish.
My chicken feet recipe is similar to what the Chinese restaurants served. The chicken feet are deep fried then simmered in a flavorful sauce until the skins are soft and the meat tender or chewy. The sauce flavored with oyster sauce, sugar and fermented beans. When you make braised chicken feet at home, you will need to spend 2 hours on your kitchen but the reward is a satisfying homemade chicken feet.
Chicken feet are usually served as snack, pulutan (beer snack), appetizer and main dish.
This chicken feet recipe that I will share to you does not include fermented beans. But feel free to add fermented beans to the ingredients to give your sauce added kick. I didn't include it because my son hates them, but I usually include fermented beans just not this time.
Chicken Feet Recipe
Ingredients:
1 kilo chicken feet
¼ soy sauce
¼ oyster sauce
Garlic, minced
Ginger, minced
3 cups water
½ cup green onions
1 tablespoon brown sugar
Cooking oil
siling labuyo (optional)
Direction: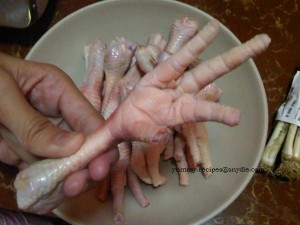 Clean chicken feet by cutting the nails using a knife or scissor then wash and drain. Pat dry the chicken using a kitchen paper towel and to get out the any remaining water, squeeze chicken.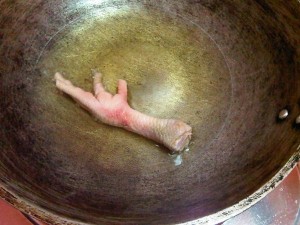 In a medium sized frying pan, heat oil.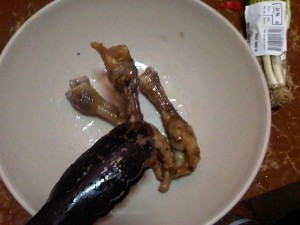 Fry the chicken until golden brown. Remove chicken once done then set aside.
In a pot, pour 3 cups of water then put the chicken inside the pot. Boil for 30 minutes. Remove from heat and drain. Set aside the chicken stock.
Note: Boil the chicken feet for 30 minutes when you don't have a pressure cooker.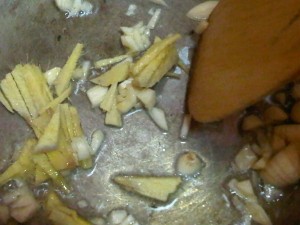 In a large pot, heat oil over medium heat then sauté garlic and ginger.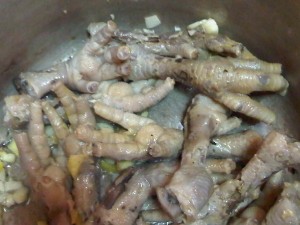 Next, add the chicken feet that you have boiled earlier into the pot with saute ginger and garlic.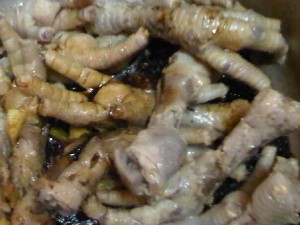 Pour the soy sauce into the pot,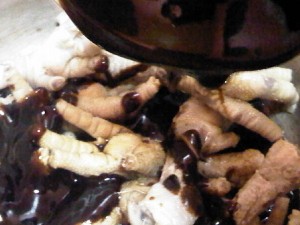 and then the oyster sauce and brown sugar,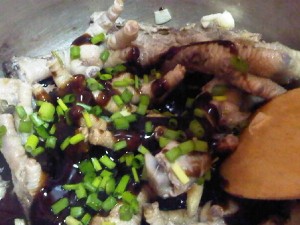 Add the spring onion,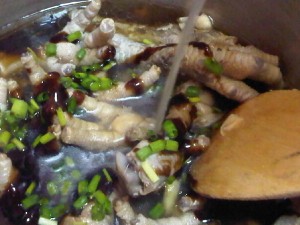 then the chicken stock. Cover the pot and cook for 30 minutes.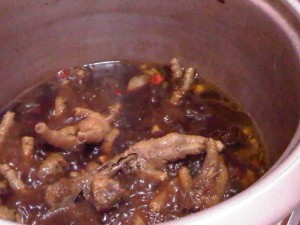 Throw in some chili or sili once the sauce start to thicken. continue cooking until the sauce thickens.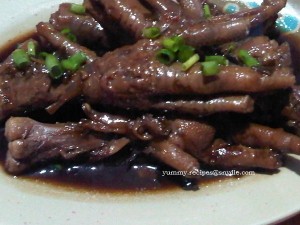 Serve immediately and enjoy!
P.s: I don't have a pressure cooker, which is why I boiled the chicken in 3 cups of water after deep frying to make them tender. In case the water dries out, just add more water. If you have pressure cooker, you can skip the process of boiling chicken feet after frying and just braised the chicken immediately.
If the sauce didn't thicken, you may also add cornstarch mixed with water. But I didn't add any because it's no longer necessary as the sauce thickened already. I hope you find my chicken feet recipe helpful, don't forget to bookmark to save this recipe for future use. Have a nice day!