DEVILED EGG RECIPE / SIMPLE AND EASY BLOOD RED DEVILED EGGS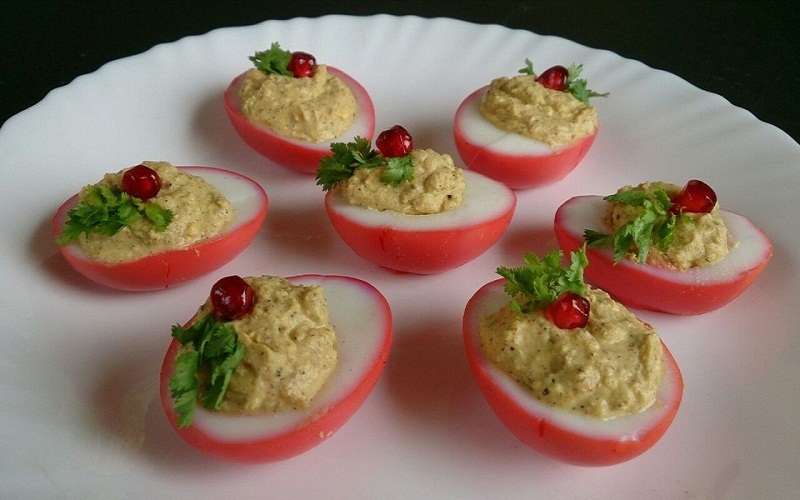 DEVILED EGG which is one of the favorite item of kids. Eggs are very good source of high quality protein. The egg whites are rich source of Vitamin, Minerals, Iron and Copper. This is the only one food item by which we get these much benefits with out spending too much money. The people who do not like eggs also love this recipe because the colour and taste of these eggs. In some countries they prepare this dish occasionally, it is a must food item for them. I hope you all will try this and inform your feedbacks in the comment box, so let's start to prepare our dish.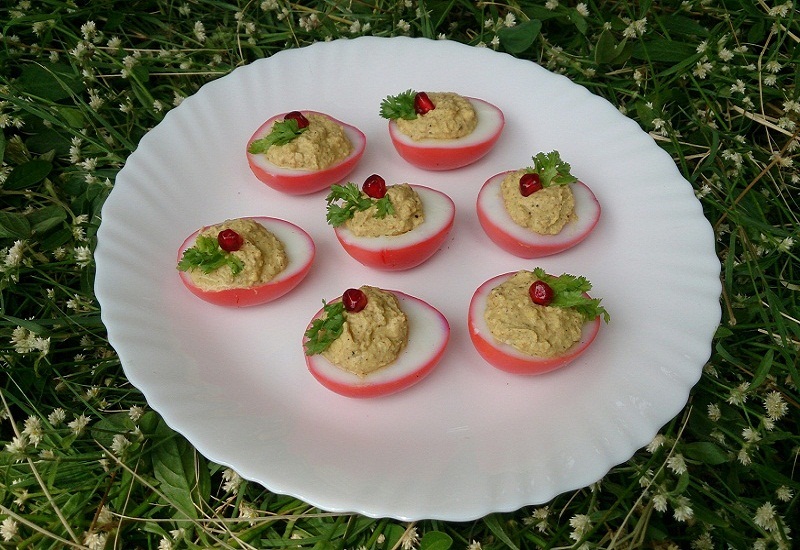 Ingredients :
1. Egg – 5
2. Beetroot chopped – 1/4 cup
3. Vinegar – 1/2 teaspoon
4. Mustered paste – 1 teaspoon
5. Mayonnaise – 1 table spoon
6. Pepper powder – 1 teaspoon
7. Meat masala (optional) – 1/2 teaspoon
8. Coriander – for garnishing
Method of making :

Take 5 eggs and wash it well, place it in a large pan add water and enough salt and boil it for ten minutes. Take beetroot and cut it in to small pieces.

Heat a pan pour two cups of water and add beetroot, little bit salt and boil it. Add vinegar in to it and boil until the water change its colour in to red after that you can remove the beetroot pieces from the water.

Remove the shells from the boild eggs put it in to the pan and boil the eggs for five minutes in the beetroot water and keep it twenty minutes in it.

After cooling take the eggs out from the beetroot water and cut it in to half and remove the yoak in to an another bowl.

Add mustered paste an pepper powder in to the bowl and mix it with the egg yoak

Now add mayonnaise and if you like add meat masala also, it is optional add enough salt and mix all things together make it a smooth paste.

Now take a full spoon of egg yoak mix and refill it in to the egg white from where we removed the yoaks. Garnish with coriander leaves and serve it. Enjoy your Deviled Eggs….