CRAB MASALA / IN COCONUT MILK GRAVY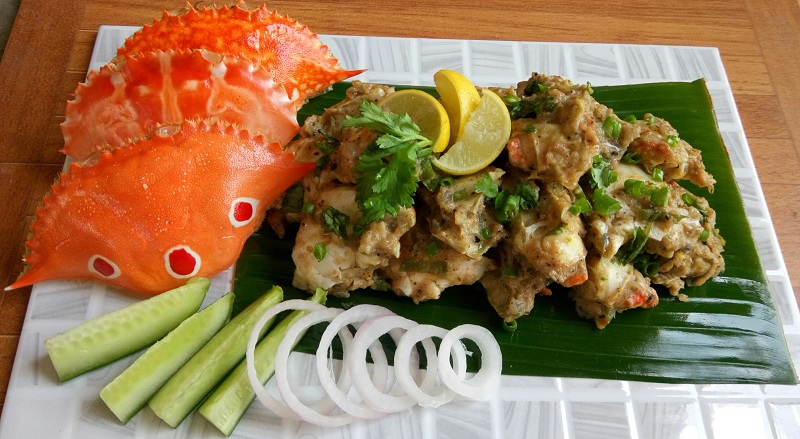 Hi Dears…,  I am Farzana.  Today our special item is Crab Masala – cooked in Coconut Milk. Crab available in different types and size which do not take too much time to cook. It is used in a number of dishes such as curries, appetizers, salads, soups, snacks etc…. Crab meat is high in Protein, Omega 3,  Vitamins and Minerals. It is good for those who are diabetics and it also helps to increase the amount of good cholesterol in the body. It's little bit tricky to get the flesh out from the shell, but surely all of you will love this recipe because of the soft texture and sweet taste of crab meat.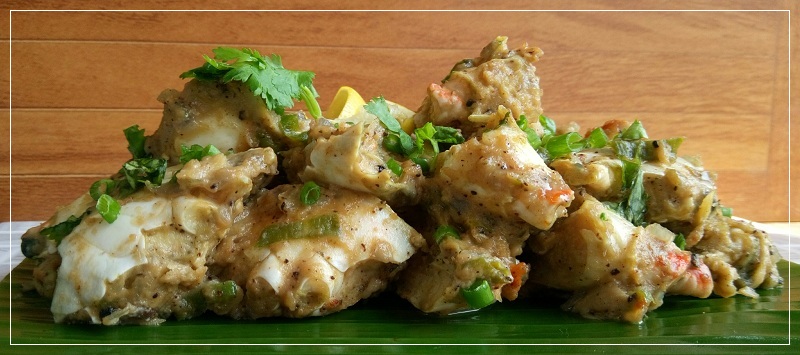 Ingredients:
………………..
1. Crab -1/2 kg
2. Onion chopped -2
3. Garlic crushed – 1 teaspoon
4. Green chilly chopped – 2
5. Pepper powder – 1.1/2 teaspoon
6. Coconut milk – 1/2 cup
7. Cashew paste -4 teaspoon
8. Lime juice – 1 table spoon
9. Butter – 2 table spoon
10. Coriander leaves – for garnishing
11. Spring onion – for garnishing
12. Oregano( optional)  – one pinch
13. Salt – to taste
Method of preparation:
…………………………………

Heat two table spoon of butter in a pan, then add chopped onion and saute it for two or three minutes

Now add crushed garlic and chopped chilly and saute it until it lost its raw smell,  then add pepper powder and mix it.

Now add the crab in to the pan and mix it with the masala for few minutes

Add coconut milk in to the pan and mix the crab with coconut milk,  cook it until it become dry.

Add cashew paste and salt to the crab masala mix and stir it for two three minutes,  then finish the cooking and turn off the heat and pour one table spoon lime juice to the crab masala mix.
Garnish with coriander and spring onion and sprinkle a pinch of Origano for a better smell,  serve it hot and enjoy…..!