Today, I am sharing another easy chutney recipe.  Coconut chutney is a tasty South Indian side dish which is served with idli, dosa, uttappam and also with vadas.  Coconut is one of the most sought after ingredients especially in a Kerala kitchen since it is used in almost every recipe made in Kerala.  It is also rich in vitamins and minerals.  Coming to chutney, it is a vital side dish for any breakfast item especially idli or dosas at in my family, it is a must.  There are varieties of chutney's prepared each one being tasty and flavorful.  So today, I prepared another chutney which is made with coconut and curd / yogurt.  It was very tasty and I served it along with dosa.  Now to the recipe..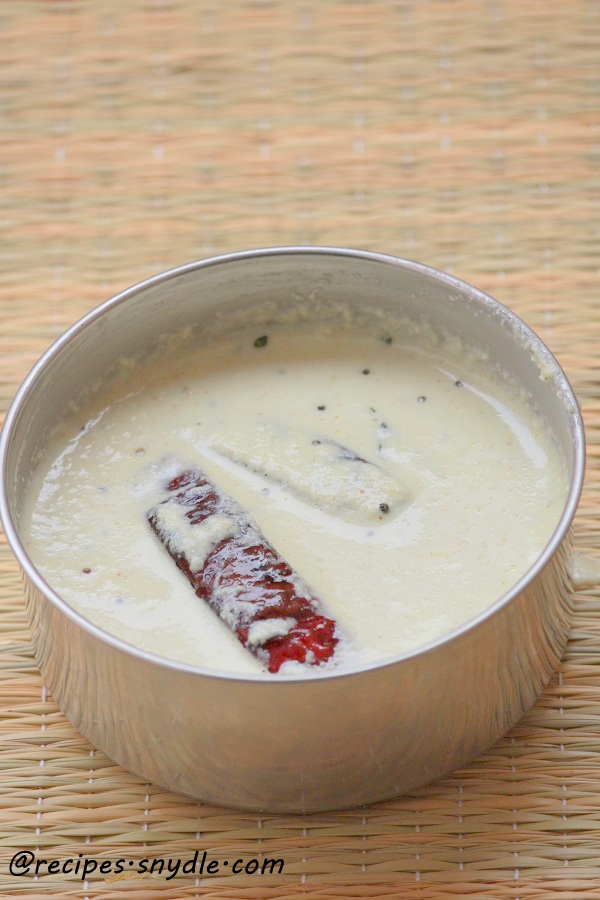 Ingredients required
coconut (grated)  – 1/2 cup
roasted chana dal  – 3 tablespoons
green chilies  – 2
ginger – one small piece
curd / yogurt – 4 tablespoons
water – as required
salt – as required
For seasoning
coconut oil – 1 tablespoon
mustard seeds  – 1/2 teaspoon
urud dal  – 1/2 teaspoon
curry leaves – few
asafoetida powder – one pinch
dry red chilies – 2
Technique
1.  Whisk curd well till it becomes smooth.
2.  In a mixer jar add coconut, green chili, chana dal, ginger, add little water and grind into a smooth paste.

3.  After grinding, add the whisked curd to the chutney, add salt and mix well.

4.  Heat oil, splutter mustard seeds.  Then add urud dal, curry leaves, dry red chilly and saute till urud dal turns golden brown.

5.  Add the tempering to the chutney, mix well and serve with idli / dosa.