Tinolang manok or Chicken Ginger Stew with Vegetables is a kind of a chicken soup filled with green papaya, malunggay leaves, chili plant leaves and/or sayote. The juice from a simmered chicken with ginger, garlic and onion makes the soup more interesting to consume. It makes the soup richer in flavor and natural. It's good and so flavorful; the ginger gives a distinct flavor in this food making a big difference from other chicken cuisine. Eating it with rice will surely perfect for mealtimes.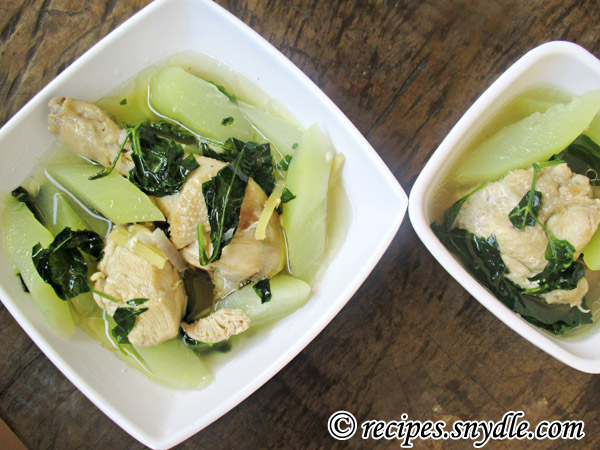 This kind of food is exotic and just mostly found in the Philippines sometimes called as "Sariling Atin." It keeps us to remind that Filipino can also make delicious foods as well as the other countries. You know, Filipinos are such good cooks. Now is the time to see your own self as a good one. Make a big difference in your life and if you're not sure if you can cook, then this is a perfect one for you. It's easy! Just make sure you follow the steps correctly.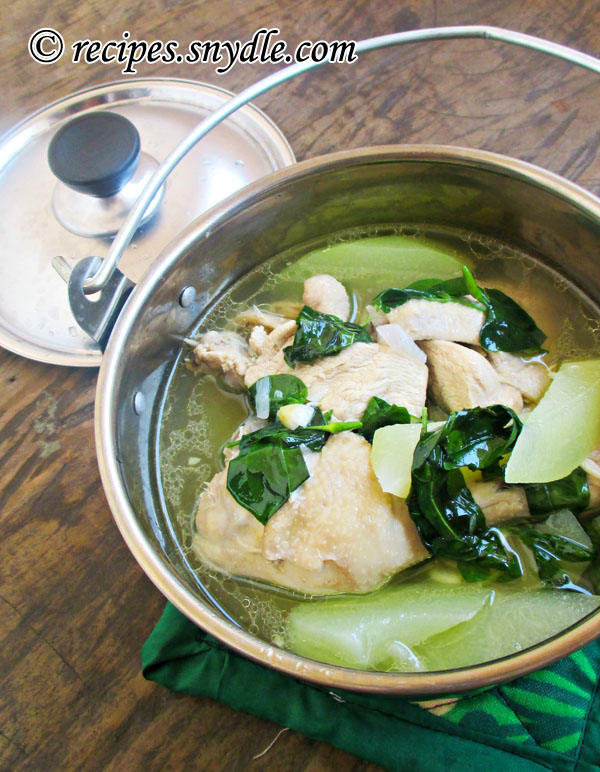 Tinolang Manok
INGREDIENTS
Vegetable oil
1 thumb-sized of fresh stripped ginger
2 cloves of crushed garlic
1 minced onion
1 lb. of chicken which is cut into desired pieces/sizes
2 tbsp. of patis or fish sauce
Salt to taste
4 – 5 cups water or rice wash (the second time of washing)
2 – 3 quartered chayote squash or green papaya
1 cup chili leaves or malunggay
PROCEDURES
Heat the oil. Sauté' garlic and ginger in a saucepan over medium heat. Cook until fragrant.
Add onions too, and then put the chicken pieces and cook for about 5 minutes. Season it with fish sauce and salt.
Pour water (or rice wash) into. Bring to boil. Lower the heat and let it simmer until chicken is half-done.
Add in chayote (or papaya). Continue simmering until the chicken will become tenderand the vegetables are cooked.
Put some chili leaves or malunggay, and then stir to combine until well blended. Remove from heat.
Transfer to a serving plate. Serve hot with rice.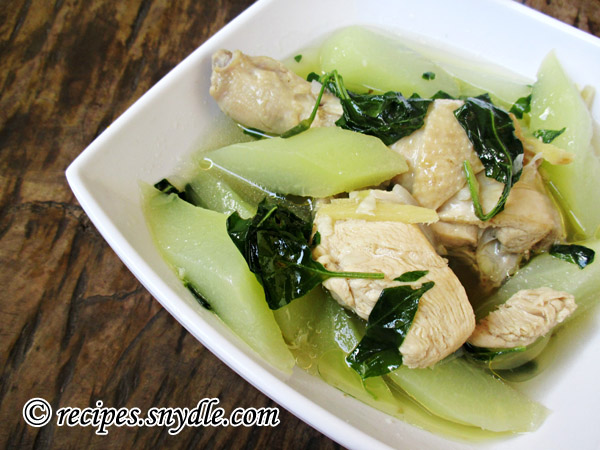 Did you encounter any problems from cooking my recipe? Contact me for more details, tips, and information. I hope you'd like to read my article. Thank you for reading. Stay updated!