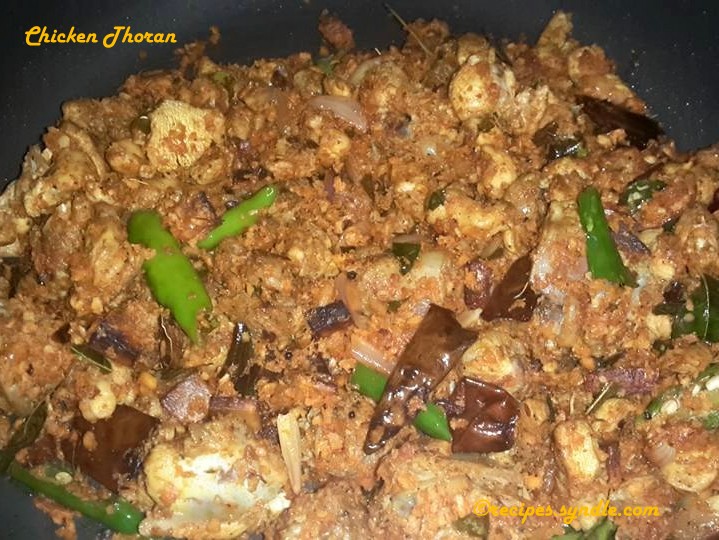 I am Swapna from thiruvananthapuram. Kozhithoran or chicken fried in crushed coconut is very tasty and popular in Kerala. Today I cooked kozhithoran and it came out so yummy and wonderful. So I am sharing the recipe here. If you like my recipe please share it in facebook time line or in facebook groups you love to add.
Kozhi thoran is very yummy and it is a very good combination with cheppathi, puttu etc. This yummy dish is our favorite and is a regular item in our dining table.
Kozhithoran (chicken fried in crushed coconut)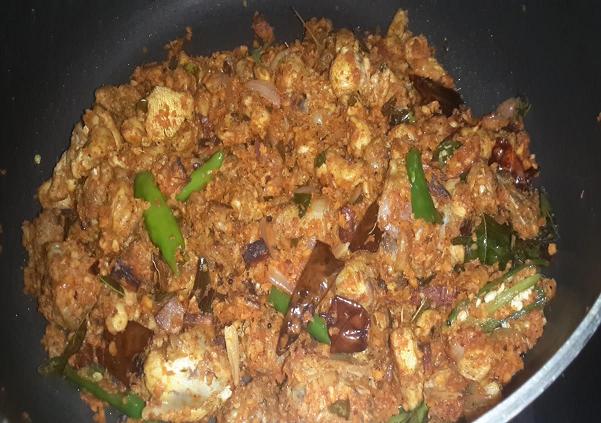 Chicken thoran is one of those dishes from my childhood that aatha (amma's amma used to make). It was not everyday fare because you need boneless Although generally thoran is a Kerala preparation (pretty much any vegetable can be made into thoran using grated coconut, shallots, cumin, and green/red chillies), I am led to believe this is a Reddiar recipe that first originated in Thirunelveli when the Reddiar community was concentrated there. Maybe they decided to call it thoran after moving to Kerala and being introduced to the concept.Either ways, this is a delicious chicken recipe and very easy to make even for beginner cooks. 
INGREDIENTS
Cleaned bornless chicken-1/2 K G
Pepper powder-1 tablespoon
Turmeric powder-1 teaspoon
Vinegar-1 teaspoon
Salt-to taste
Grated coconut-1cup
Cumin seeds(girakam)-1 Teaspoon
Garlic-4 pieces
Shallots-3
Chilly powder-1tbsp
Garam masala-1tbsp
Chopped shallots-7
Green chillies-4 split in lengthwie
Ginger chopped-2 teaspoon
Coconut oil-2 tablespoon
Mustard seeds-1 teaspoon
Dry red chillies-2
Dry chopped coconut-3 tablespoon
curry leaves-15 leaves
How to make Kozhi Thoran
You can go through below pictures and steps. I am sure that these steps will guide you to create a yummy kozhithoran. Cheers
1 Clean and wash chicken. Chop it to very small pieces
2. Add Turmeric salt , vinegar and pepper powder. Mix it very well. Mixing is very important since it help to absorb the aroma to the meat while marinating.
3. Marinate and keep it for 10 minutes minimum. If you keep 30 minutes it is better
4 . After marination cook well in less water and allow to absorb water fully and get dry. Make sure that the heat is properly controlled to avoid the over cooking or burning of the meat locally.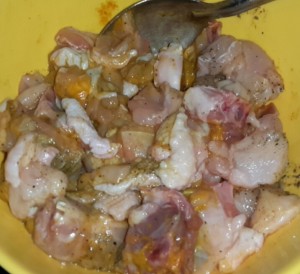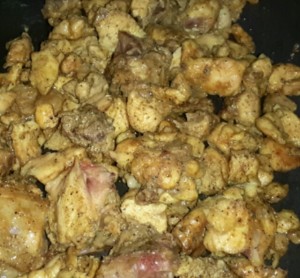 5.Take grated coconut along with garlic , shallots ,Garam masala ,cumin seeds and chilly powder . Crush it in blender (not allow to grind finely)because it's a thoran and keep beside.
6 Take shallots chopped green chilies and chopped ginger. Green chillies must cut length wise to get better appearance and taste
7.Pour coconut oil in a frying pan and heat. Once the coconut oil heated enough add mustard seeds and let it break. Add dry chili powder,curry leaves stir well.
8 Add dry coconut chopped along with frying dry chilly mix and allow coconut to get roasted as on picture  then add chopped green chilly ginger, shallots and add crushed coconut mixture and stir very well  till coconut mix get dry and good smell will come out
Then finally add cooked chicken and stir well ….and serve along with rice chapppathi etc