Hai, today im sharing with my yummy  CHICKEN TERIYAKI RECIPE. Its a main dish in japan. Its very simple to make. The ingredient list is so simple. Japanese dish of teriyaki chicken can easily be made at home with a seven ingredient  and about 30 minutes of your time.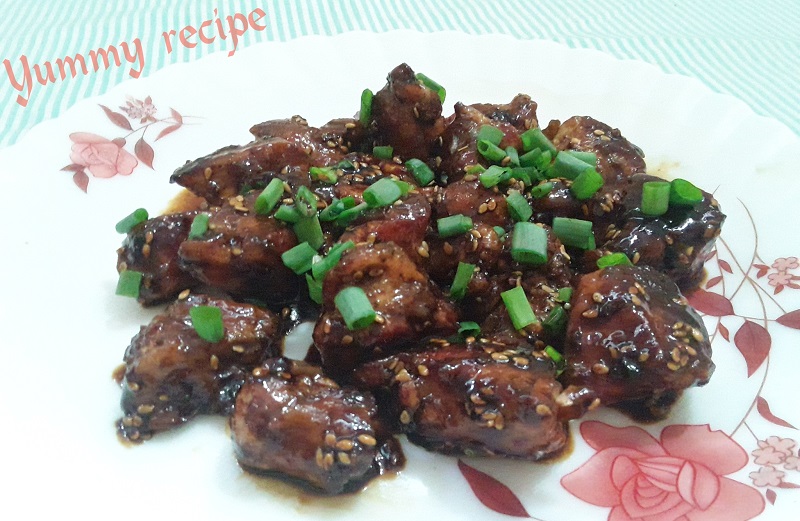 This is not spicy, for this im using here born less chicken. The chicken teriyaki have an amazing taste. I hope all try this Chinese recipe. Let see the step by step recipe now.
Ingredients
Born less chicken           250gm
All purpose flour            4 table spoon
Black pepper powder     3/4 th table spoon
Sesame seeds              1 table spoon
Soy  souce                   1 cup
Ghee                             1 table spoon
Salt    little
Honey                 2 table spoon
Spring onion    for garnishing
Method
1         take chicken pieces in to a bowl, add all purpose flour in to the chicken,  balck pepper powder,salt and Mix it and marinate for 30 minutes


2           Heat ghee in a pan fry the marinated chicken. Fry until both sides are golden brown.

3        Heat a pan, add soy sauce, sesame seeds,black pepper powder and honey. Stir until combined, in low flame


4     Now add the chicken pieces , mix well and switch of the flame

5       Now the yummy and tasty chicken teriyaki is ready. Garnish with spring onions.