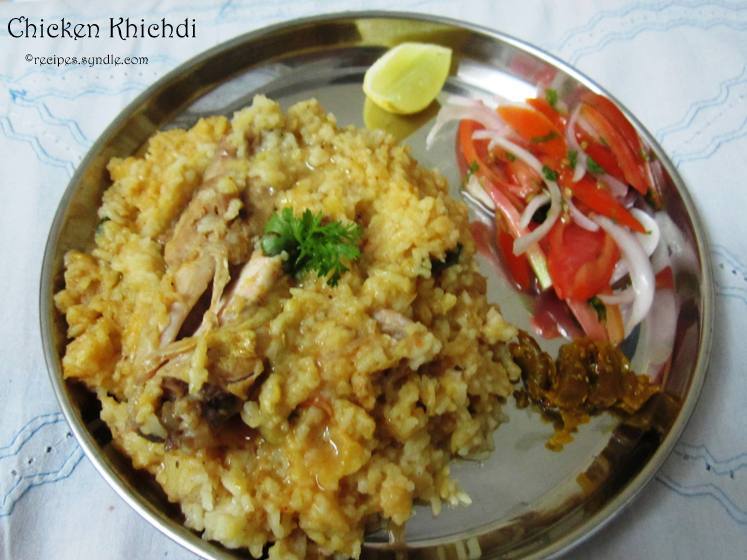 Hello, food fellas. Today I am sharing one of the most unusual yet delicious Chicken Khichdi Recipe .When it's chicken and rice recipes, we often start with chicken biriyani and chicken casserole recipes and stop at chicken fried rice recipe. So I got an idea to mix chicken with my favorite moong dal khichdi. This one pot meal is an ideal recipe for bachelors too.
Chicken Khichdi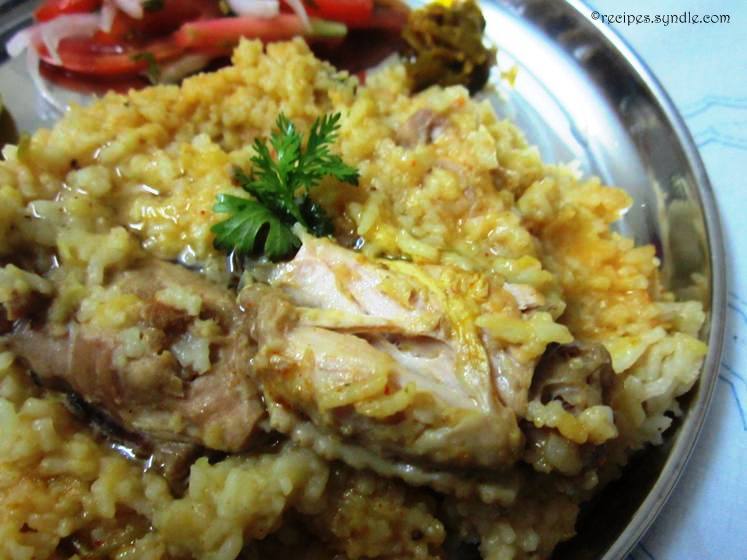 The results are impressive. Aromatic, spicy and comforting; that's how this chicken khichdi recipe turned out to be last night. Let's get started with the recipe of chicken khichdi now. For the purpose of measurement, 1 cup = 250 ml. This recipe yields 2-3 servings.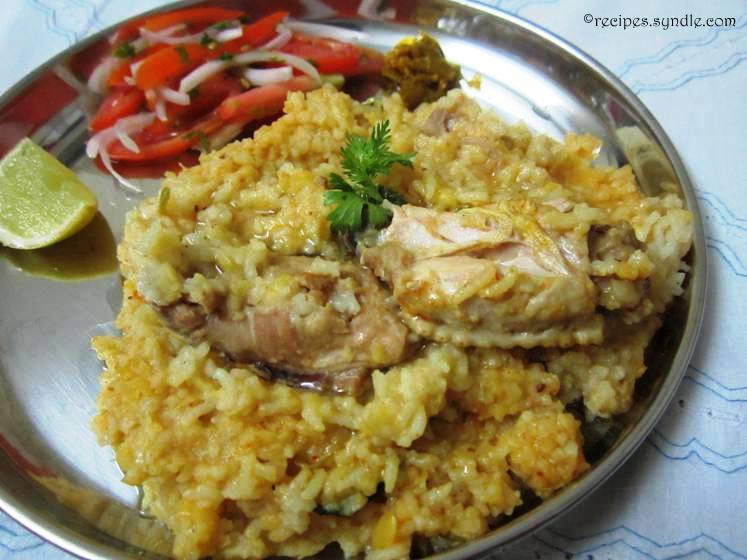 Ingredients
Chicken – 400 grams
Rice – 3/4 cup
Moong dal – 3/4 cup
Onion – 1 medium, chopped
Tomato – 1 medium, sliced
Green chilies – 4 or as per taste, chopped
Ginger – 1/2-inch piece, crush
Garlic – 10 cloves, crushed
Red chili powder – 1 and 1/2 tsp
Turmeric – 1/2 tsp
Garam masala – 1/2 tsp
Mint leaves – a handful, torn with hands
Coriander leaves – a handful, chopped
Oil – 4 tbsp
Cinnamon – 1-inch piece
Star anise – 1/2
bay leaf – 1
Cumin seeds – 1 tsp
Water -2 and 1/2 cups or as needed
How to Make Chicken Khichdi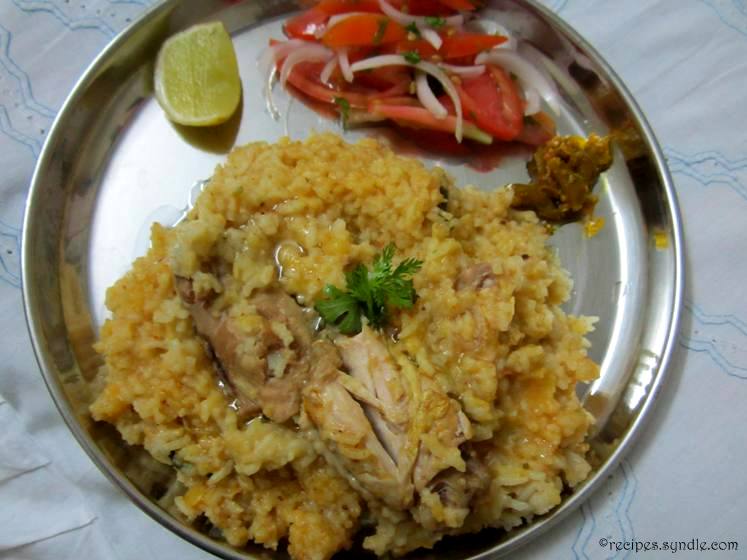 Heat oil in a pressure cooker. Add in the cumin seeds, cinnamon, bay leaf and star anise. Fry for a few seconds till the spices give out a nice fragrance.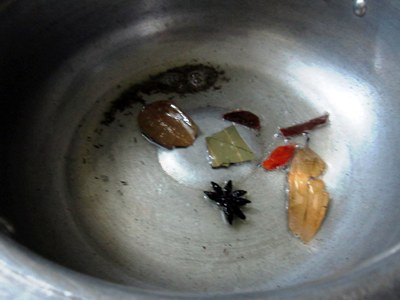 Add in the onion and saute till it turns pink and loses its raw smell.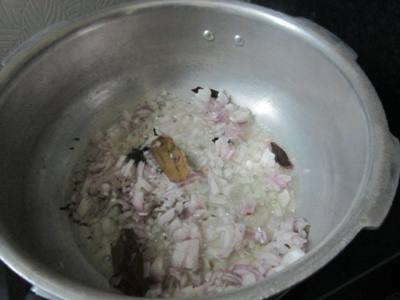 Add in the ginger and garlic and saute for a minute till the raw smell goes away.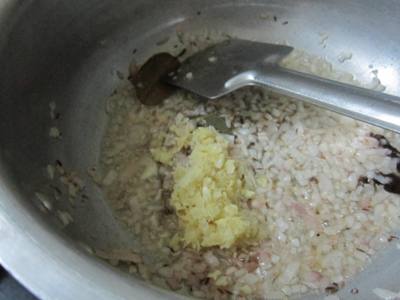 Add in the chicken and roast it on high flame till it changes color. It takes 1-2 minutes.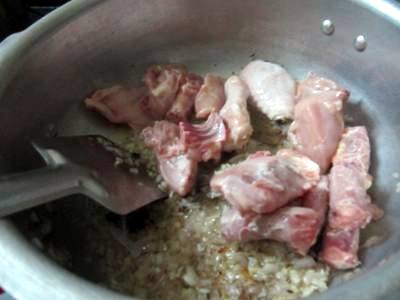 Add the dry spices; red chili powder, turmeric powder, and garam masala. Roast the chicken for another minute or two.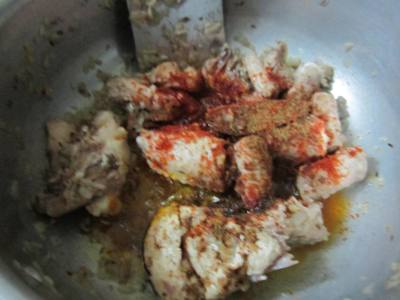 Then add the tomato, mint, coriander leaves, salt and some salt. Cook till the tomatoes go soft.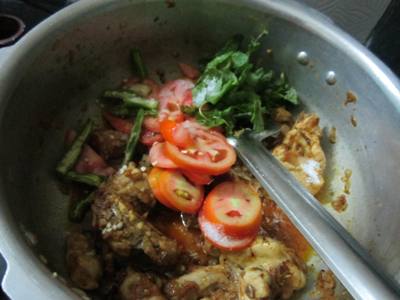 Add in the rice and moong dal. I had a handful of soaked toor dal lying around so I added that too.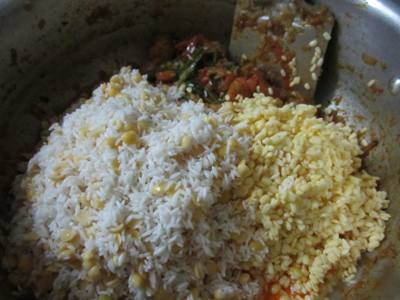 Roast the rice and dal with the chicken and spices for 6-7 minutes. Sprinkle some water if the mixture looks too dry. Add 2.5 cups of water or as needed with your pressure cooker. Check the salt. Cook for 2 whistles and switch off the heat. Allow the pressure to release on its own.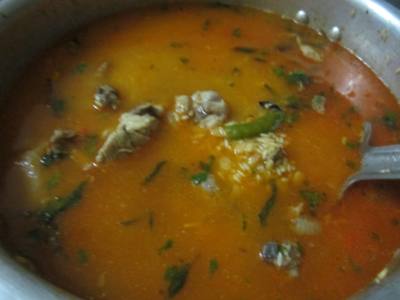 Mix the khichdi well before serving.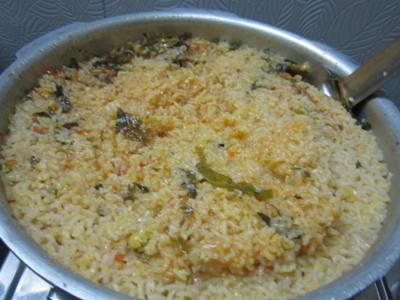 Add a dollop of ghee and some lemon juice to it when you serve it in your plate. Serve hot with raita, salad and pickle.