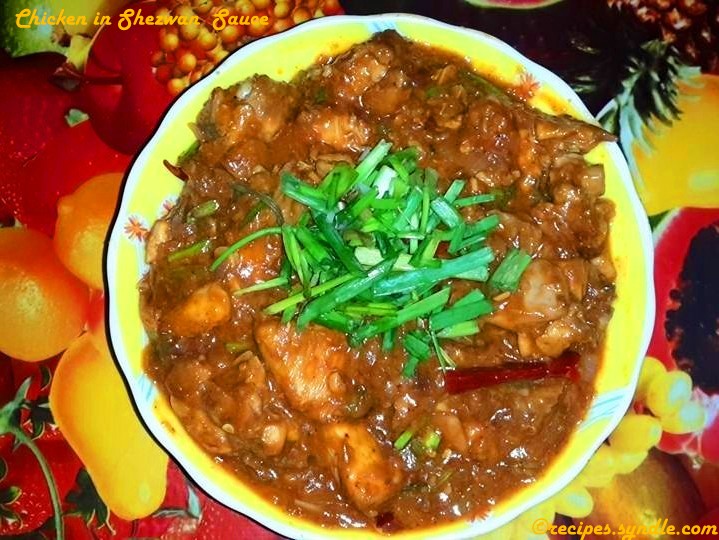 My love for spicy foods have taken over my cooking too. Couple days back i was in a spicy mood, so decided to try out some schezwan cuisine. And i am telling you, this has become one of my favourite foods in the world. Schezwan chicken is one of the popular style chicken appetizers served across the globe. It has orginated from the chinese cuisine but we get to see distinct versions. One such version is the recipe i am sharing today, an indo chinese receipe. Here today i am posting a semi spicy saucy schezwan chicken.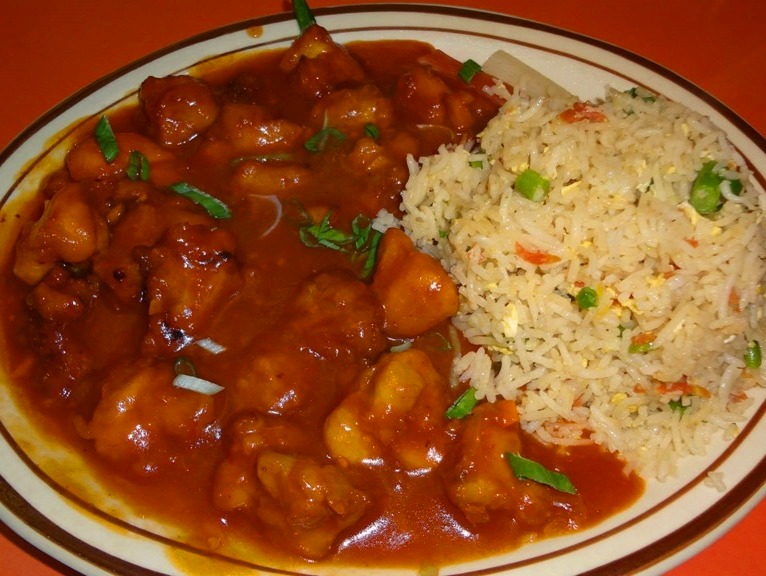 Ingredients
For marrination
Chicken-1/2kg
Ginger paste-1tsp
Garlic paste-1tsp
Cornflour-3tbsp
Egg-1
Maida-1tbsp
Soya sauce-1tsp
Salt-to taste
Refined oil- 3tbsp
For sauting
Onion-1 big,chopped
Cellery leaves-2 tbsp,chopped(optional)
Garlic-3tsp,chopped
Green chillies-3tsp,chopped
Dry red chilly paste-1tsp
Tomato sauce-1tbsp
Soya sauce-1 tsp
Schezwan sauce-1tbsp
Vinegar-1tsp
Sugar-1tsp
Salt-to taste
Spring onions- 4tbsp, chopped
Water-1 cup
How to Make Chicken in Schezwan Sauce
Put the Chicken into a mixing bowl and add the egg, maida, cornflour, salt, ginger, garlic paste, soya sauce, to it. Mix well till the other ingredients form a thick paste that coats the chicken well. If the paste is not thick enough, sprinkle  a little more cornflour and mix well, keep it aside for 30 minutes.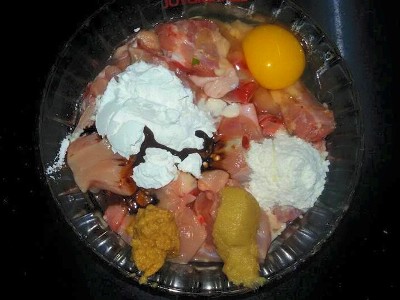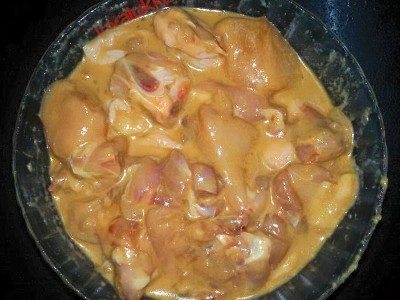 Start to heat the cooking oil for frying chicken, once the oil is hot, gently add chicken pieces and fry till a small colour change to golden yellow. Drain well and remove from the oil. Keep aside on paper towels for later use.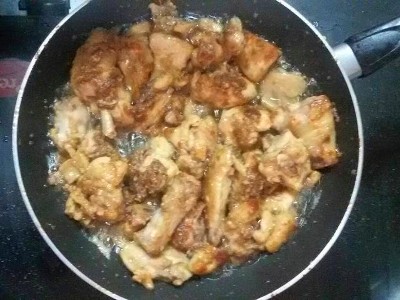 In another pan or wok, heated on high, add 2tbsp oil. When the oil is smokey hot, add the chopped garlic saute it for a minute and add green chillies chopped.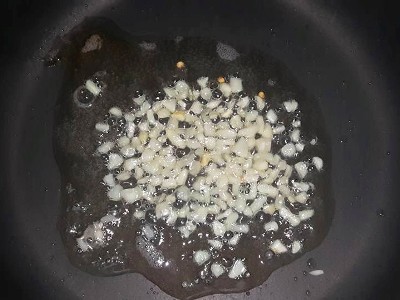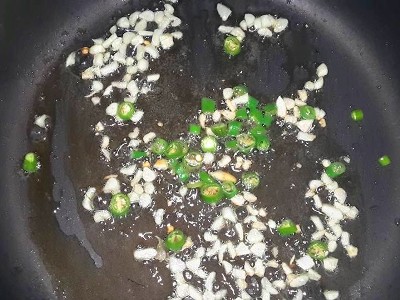 Now add the onion chopped and saute for another 1 minute. And add dry red chillies.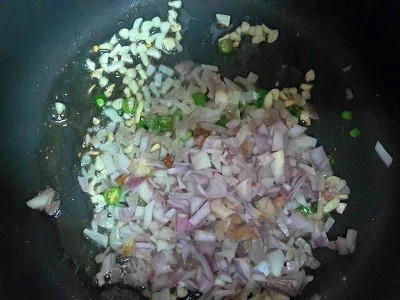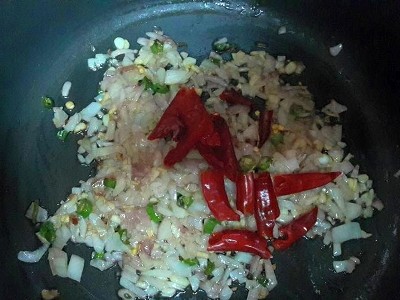 Now add the soya sauce, red chilly paste, schezwan sauce, Tomato sauce,and mix well. Then add vinegar, sugar and salt to salt.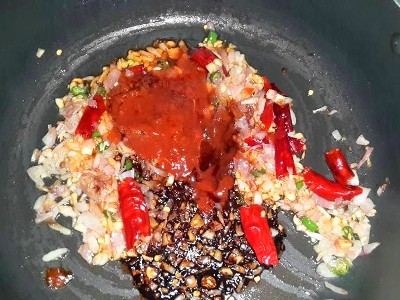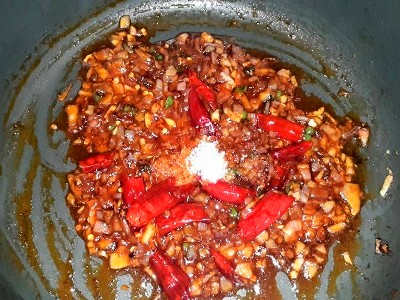 Add one cup of water for a thick gravy and add fried chicken pieces.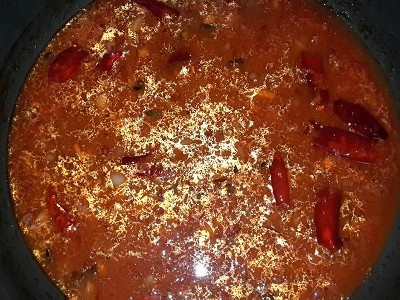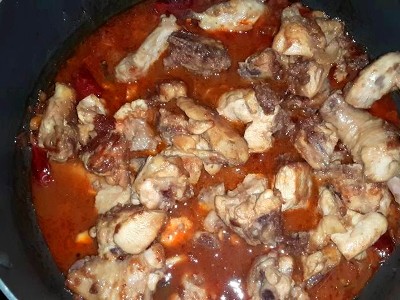 Cook it for 5 minutes in a medium flame and add spring onions chopped.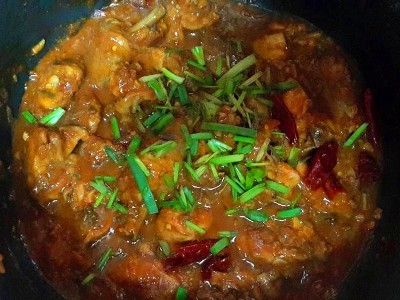 Serve it along with plain rice or flavoured rice. Yummy!!!!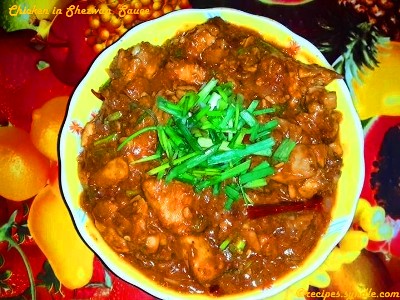 Enjoy!!