Chicken ala king is a chicken recipe consists of chicken breasts, vegetables and cream sauce. This dish usually served with bread or on top of pasta. In my household, we eat ala king with rice. My kids love the richness and creaminess of this dish so I always prepare this dish once a week. My chicken ala king recipe is a version suited for my family's tastebuds, so feel free to adjust according to your taste.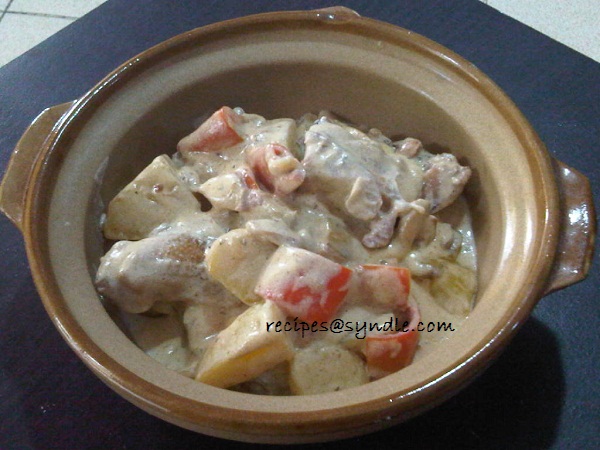 I know some people that are afraid or intimidated to try chicken ala king. They think the cooking process is difficult and the ingredients expensive or hard to find. But no, this dish is very easy to cook and the ingredients are available in all supermarkets. If you are also intimidated by this dish, well, don't be. With a clear and straight chicken ala king recipe which is what I have here, you can easily make this dish.
I have tried eating chicken ala king on top of a bread and rice but never on pasta. So, if you want to try chicken ala king on pasta using this recipe, go ahead. Let me know what you think. Happy Cooking!
Chicken Ala King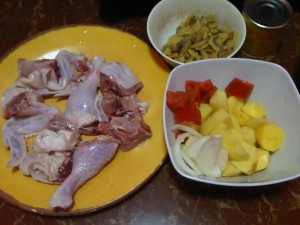 Ingredients:
1 lb whole chicken
1 cup evaporated milk
½ cup all purpose cream or heavy cream
1 cup mushroom, sliced
1 can green peas (optional)
3 pcs potato, cubed
1 pcs red bell pepper, cubed
1 chicken cube
½ cup water
1 pcs onion, sliced
Garlic, minced
Salt and pepper to taste
Direction: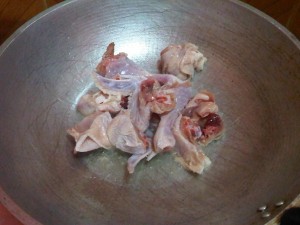 In a large pan, heat oil and sauté onion and garlic then add in the chicken. Cook chicken for 5 minutes.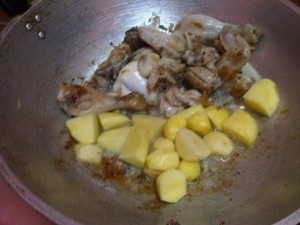 Pour in the water and throw into the pan the chicken cube. Next, add the potatoes and cook for about 3 minutes.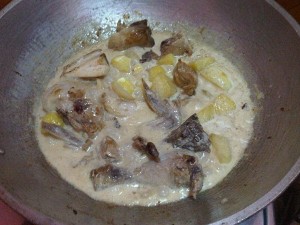 Add the milk and simmer for 3 minutes.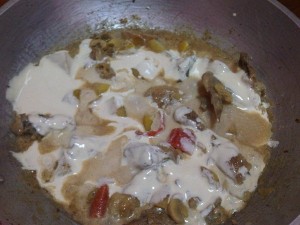 Pour in the all purpose cream then add the green peas, mushroom, red bell pepper and cook until the sauce thickens.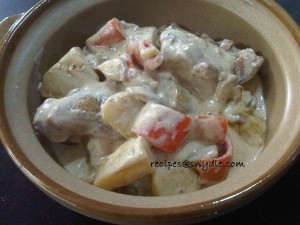 Transfer to a serving dish. Serve and enjoy!
P.S: If you are going to serve chicken ala king on top a pasta or bread, use chicken breasts. Cut chicken breasts into cubed but if not then you can use whole chicken.
By the way, some people also use butter and flour to make the sauce thicken. They also use sherry and pimentos. So, don't be afraid to experiment or add other ingredient that you think will make this dish even more delicious.
This amazing dish was created by a cook named William "Bill" King of the Bellevue Hotel. So, if you love chicken ala king, you have Mr. King to thank for as he created a chicken dish that makes eating a pleasant experience.