Chicken afritada is a popular Filipino tomato based dish. In the Philippines, there are several tomato based dishes that you can prepare for birthdays, wedding, fiesta and special occasions. But, if you want your party to be remembered then it is important to serve a special dish like afritada. Chicken afritada is one of the dishes that your guests and family will remember.
I love cooking different dishes and afritada are one of them. There are many delectable Filipino dishes that you can prepare but if you want easy to prepare food then this dish is your best bet. There is no doubt, you will enjoy cooking this dish and will never tire of eating afritada. This dish has a unique flavor that will make you ask for more.
Chicken afritada is great for lunch and dinner. The ingredients for cooking afritada are easy to buy. You don't need a special seasoning or spices to create an extraordinary dish for your family. By the way, don't be surprised if my chicken afritada is different from what you know or seen online. In the Philippines,  there are several variations of this dish, depending on where and who prepared it. There is an Afritada version made with hotdogs or sausages. Some people even used pork instead of chicken.
Anyway, I like using chicken for afritada than pork. What about you? How do you cook afritada? If you have never tried this dish before and wish to know the recipe, here is my chicken afritada recipe.
Chicken Afritada Recipe
Great Tasting Filipino Tomato Based Chicken Dish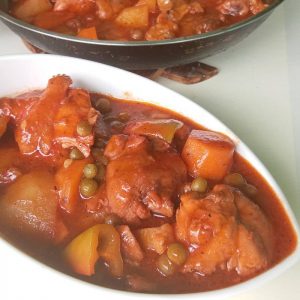 Ingredients
½ Chicken cut into desired portions
1 Pack tomato sauce
2 Pcs Potatoes, peeled and cubed
1 Pcs Medium onion, sliced
2 Cloves garlic, minced
1 Carrots, cubed
1 Can green peas
Ground Pepper to taste
1 Red Bellpepper, cubed
Fish Sauce to taste
Cooking oil
1/2 cup water
Step By Step Procedure with Pictures
In a medium sized pan or pot, heat oil over medium high heat. Saute garlic and onion then add chicken into the pan.
Let chicken cooked for 3 minutes or until the meat is no longer pink in color. Once the meat is slightly browned, pour in the fish sauce.
Next, add in the chili powder and water.
Add in the chicken cube and bring to a boil. Cook for about 10 minutes. Once boiling, reduce heat and pour in the tomato sauce.
Stir a bit, simmer for 10 to 15 minutes.
Add in the potatoes, cook for about 5 minutes.
After about 5 minutes, add in the carrots and green peas. Cook for about 3 minutes.
Next, add in the red bellpepper.
Season with ground pepper, stir and cook for 3 minutes more. Turn off the heat and transfer to a serving bowl.
Enjoy!
I hope you find my chicken afritada recipe easy to follow. As I have said earlier, some versions of afritada have sausages or hotdogs. Feel free to add hotdogs or sausages or whatever to your afritada. Don't be afraid to experiment until you discover the right afritada taste that suits your taste buds. The decision on what veggies to include depends on you, so have fun experimenting.
Chicken afritada or afritadong manok is one of my family's favorite Spanish inspired dish. Afritada is a dish similar to caldereta, so if you love kaldereta then you will also enjoy this dish.
Don't forget to bookmark this page to save my chicken afritada recipe. Have a nice day and thank you for dropping by. Please feel free to share this recipe with your friends and family.