Jack fruit seed is highly nutritious.High in vitamin A ,proteins and high in fiber. This is available in summer.we can clean ,sun dried and preserve for rainy season. since it is easily available and people don't know about the health benefits,all are ignoring this nutritious seed as far as i know. As it is highly fibrous it can prevent constipation ,helps in digestion,thus detoxifying the body. It helps in improving blood circulation and hair health. According to new studies the brown skin helps to fight against cancer.
As it is producing gas people are afraid to use.
Today I am going to make fry with masala.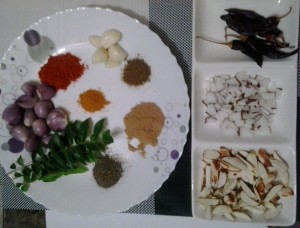 Ingredients
chakkakkuru-20 nos
coconut bits 1/4 cup
red chilly-3
shallots-10
garlic-5 cloves
chilly powder-1/2 tsp
coriander powder-1/2 tsp
turmeric powder-1/4 tsp
curry leaves
garam Salas -1/2 tsp
pepper powder-1/2 tsp
salt to taste
 How to Make Jack fruit Masala Fry
Peel off the outer thin skin.clean it and cut lengthwise .(one seed in 4 pieces)see the picture.
Add some water and put on the flame.
Add masalas and salt.cook well.
Put another pan on the flame. add coconut oil.splutter mustard seeds and curry leaves.crush shallots,garlic and red chilly.saute it till golden brown.
Add cooked jack fruit and make it dry.