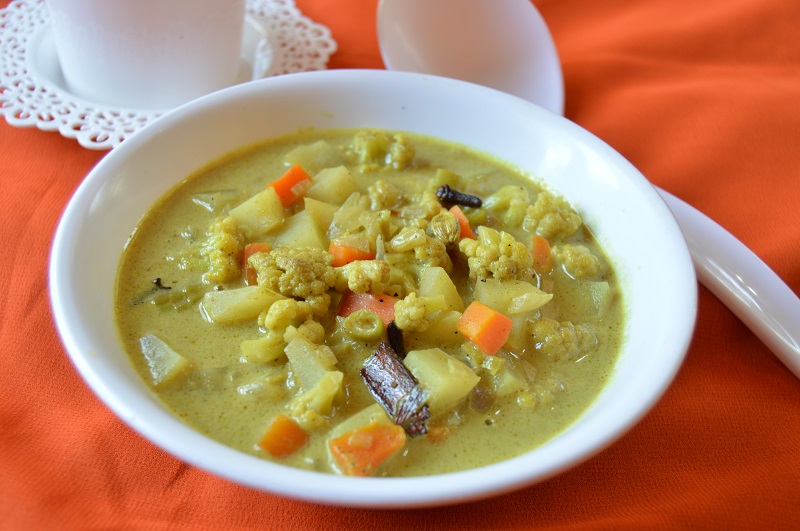 Vegetable stew is kerala style gravy, cooking vegetables in coconut milk. It has a nice flavor and a superb taste. For preparing the vegetable stew I am adding more quantity of cauliflower, so I called it as a cauliflower stew. This is an excellent dish for vegetarians.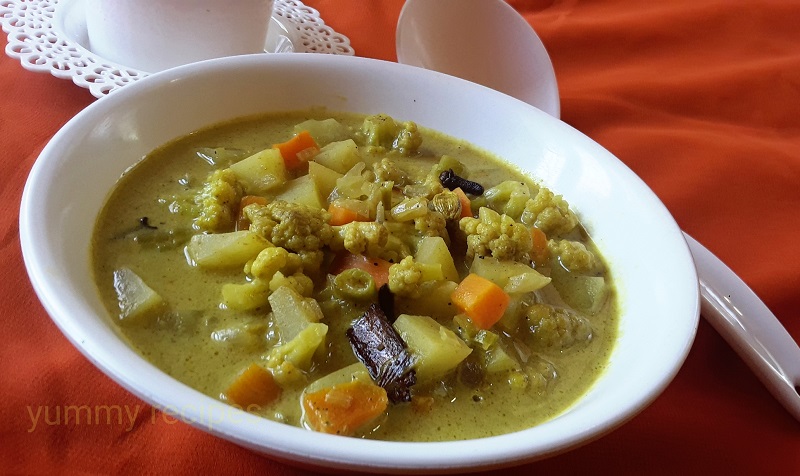 Cauliflower contains an impressive array of nutrients, including vitamins, minerals, antioxidants and other phytochemicals. This curry goes well with chapathi, appam etc. Let's see the ingredients needed and the preparation bellow with detailed images. I hope all are enjoy my recipe and send your feed back in comment box.
Ingredients
Cauliflower 1 ½ cup chopped
Onion 1 chopped
Carrot ¼ cup chopped
Beans ¼ cup chopped
Potato chopped ¼ cup
Pepper powder ½ table spoon
Turmeric powder ½ teaspoon
Coriander powder ¼ table spoon
Thick coconut milk ¾ cup
Thin coconut milk 1 ½ cup
Cardamom 1
Cinnamon 2 or 3 pieces
Cloves 3 no.s
Salt to taste
Oil 2 table spoon
Method
Heat oil in a pan, add cloves, cardamom and cinnamon, and allow it to splutter. Put chopped onions in to it and saute for 1 minute.

Then add vegetables like carrot, beans in it.fry for 1 minute, then add chopped potatoes and again saute in the oil for 2 minutes in low flame.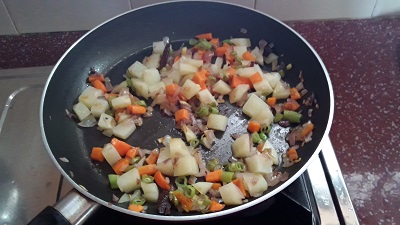 Then add turmeric powder, pepper powder and coriander powder in it. Mix it well, till the raw smell away from the masala.

Add thin coconut milk in to this; also add salt as per your taste.


Along with this add cauliflower in to the pan. Allow it to boil.

Once it starts boiling add cover it with a lid and cook for about 3 minutes in low flame.

Finely add thick coconut milk in to it, mix well. Switch off the flame, don't overcook it.

The tasty and simple cauliflower stew is ready to serve. Enjoy cooking with yummy recipes…….