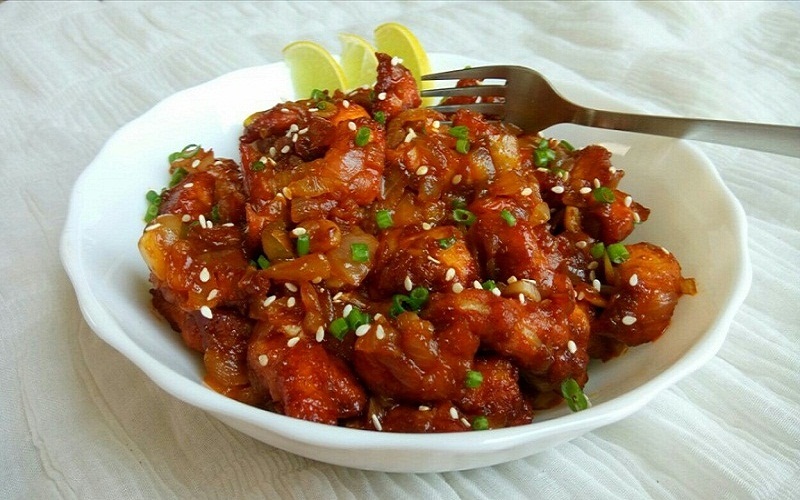 Hello…., dears. I am Farzana. Today's our special recipe is made out of Chicken which is one of the world's most popular food item. Our dish name is "DRAGON CHICKEN ". This is an easy chicken dish which goes well with any main course items. This dragon chicken recipe yields tender chicken bites slightly tangy, mildly hot, also little bit sweet in taste. In this recipe I am adding honey for better taste and look. This is one of the best method to make an easy dragon chicken recipe, so all of you please try it out….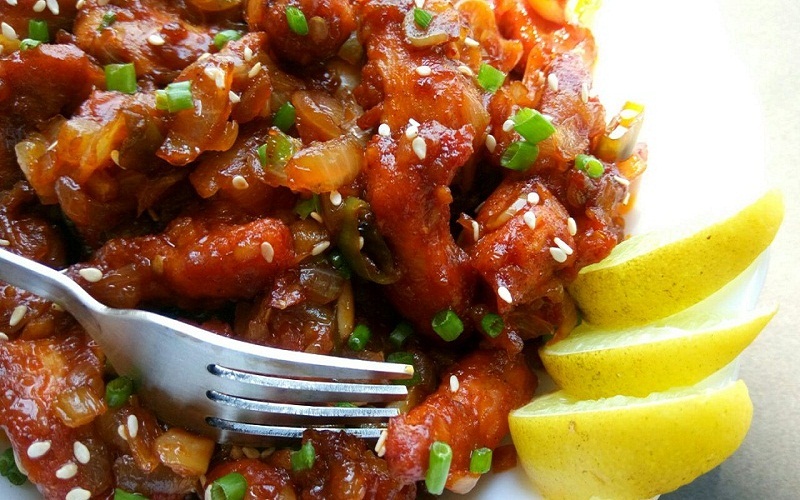 Ingredients :
…………………
To Marinate:
1. Chilly powder -1 teaspoon
2. Ginger garlic paste -1 teaspoon
3. White pepper powder -1/2 teaspoon
4. Lemon juice – 1/2 teaspoon
5. Salt – to taste
Other ingredients :
1. Chicken boneless strips – 300 gm
2. Onion – 2 chopped
3. Green chilly – 2 chopped
4. Ginger crushed – 1 teaspoon
5. Garlic crushed – 1 teaspoon
6. Chilly powder – 1 teaspoon
7. Soya sauce – 2 table spoon
8. Corn flour – 2 teaspoon
9. Lemon juice – 1 teaspoon
10. Honey – 1 table spoon
11. Salt – to taste
12. Oil – as per need
13. Spring onion – for garnishing
14. Sesame seeds – for garnishing
Method of making Dragon Chicken :
Marinate chicken strips with all the ingredients mentioned under " for marinate ", and keep aside for at least one hour. This helps to tenderize the chicken.

Heat oil in a pan add the chicken pieces and fry it no need to fry it in to crispy, just insure that the chicken is cooked enough, and light brown in colour.


Heat a pan, add three teaspoon of oil in to it put chopped onion, chilly, ginger, garlic in to it and saute it until the onion turn in to transparent


Add chilly powder and soya sauce in to the pan and mix it well, cook it until it lost its raw smell.


Add fried chicken in the pan, and mix it for two minutes. Take five table spoon of water and mix the corn flour powder in to it, and mix it . Pour this in to the pan and mix it with the chicken.


Pour lime juice in to the pan and mix it again for one minute. Now add honey in to the pan and mix it well, turn off the heat and garnish the dish with spring onion and sesame seeds. Our dragon chicken is ready, serve it hot and enjoy your dish…..