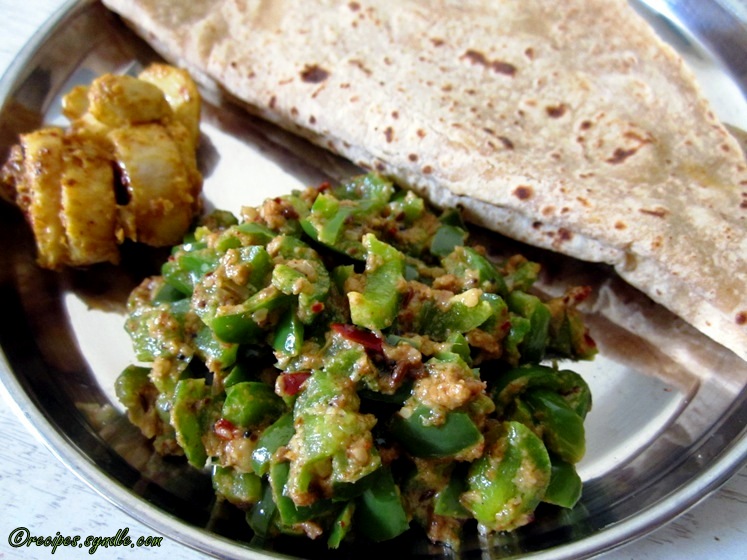 Hello foodies. Here I am again after a week-long break. Today I am sharing with you the delicious recipe of capsicum. It's easy to make and very healthy. As the name suggests, it is made with roasted peanuts/groundnuts. It gets ready in a few minutes.
I paired it up with roti and arbi / taro sabzi, which was boiled and lightly spiced. These things are perfect to be had on summer afternoons since they are so light and healthy. Groundnuts ooze a lot of oil, so I didn't need to add much oil to the capsicum curry.
Let's begin with the recipe now. This recipe of capsicum masala will yield 2 servings. For the purpose of measurement, 1 cup = 250 ml.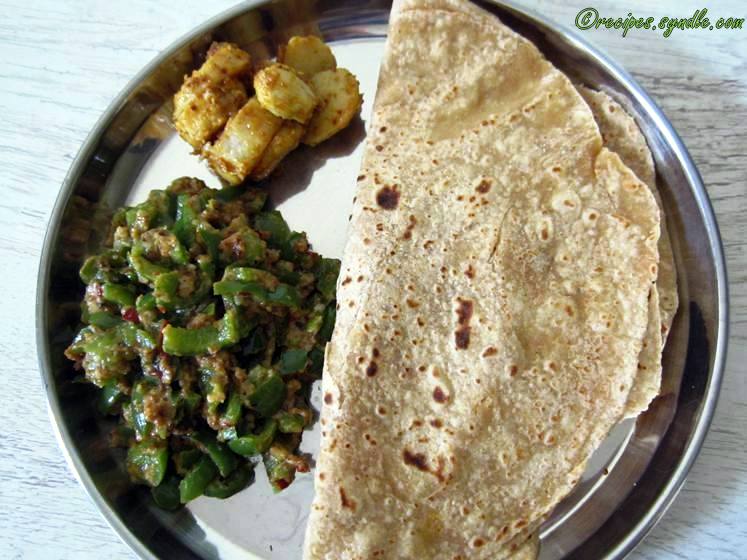 NOTE
Don't choose large, thick capsicums. You get the 'gavthi' variety of capsicums in the market that are tiny, thin and tastier. Adjust the number of capsicums accordingly, since they are tinier.
I didn't have those today. If you don't get them, use medium sized capsicums, like I did.
Ingredients
Capsicum – 3, medium size, cu into small bits
Groundnuts / Peanuts – 1/4 cup
Garlic – 6 cloves
Red chili powder – 1/3 tsp
Red chili flakes – 1/3 tsp or to taste
Green chili – 1, split lengthwise (optional)
Cumin seeds – 1/3 tsp
Mustard seeds – 1/3
Asafetida / Hing – a pinch
Salt – to taste
Oil – 1/2 tbsp
Coriander leaves – 1 tbsp, finely chopped
Water – 3 tbsp
Lemon juice – 1/2 tsp
How to Make Capsicum in Peanut Masala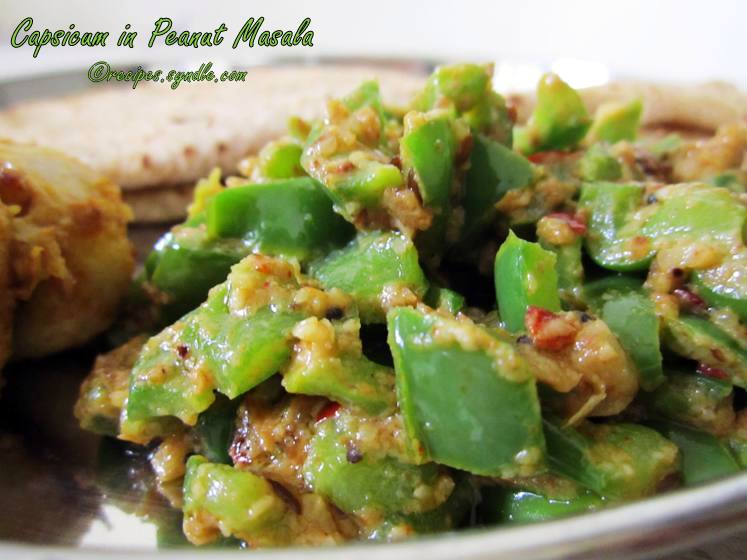 Start by dry-roasting the peanuts on a tawa or griddle till they get tiny brown spots and become aromatic and crunchy. Remove them onto a plate.
Now dry-roast the whole garlic cloves on the tawa for a minute or so on low heat. It will get small brown spots and become aromatic. Remove it onto a plate and allow to cool.
Grind together the roasted groundnuts/peanuts, roasted garlic and red chili powder and water. Make a coarse paste. The tiny bits of groundnuts lend a nice crunch to the dish.
Heat oil in a skillet. Temper it with mustard seeds. Allow it to crackle. Then toss in the cumin seeds and allow them to crackle as well. Add in the hing / asafetida and allow it to sizzle for 4-5 seconds till it gives out a nice fragrance.
Add in the ground paste and saute it on low heat for about 2 minutes.
Add in the capsicum, salt and mix well. Cook on medium to low heat for the next 3-4 minutes or till the capsicum is almost cooked. Stir it occasionally. Don't cover the skillet with a lid or overcook the capsicum or it will wilt and become soggy. We need the capsicum to retain the crunch.
If in between it looks too dry, then sprinkle some water. I didn't need to do that though.
The oil will now begin to separate. Add in the green chili, red chili flakes, lemon juice and coriander leaves. Give it a nice mix.
Switch off the flame and serve it hot with rotis or chapatis.