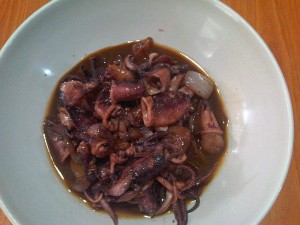 Adobong pusit is another one of my favorite squid dish because it's easy to cook and delicious. I love squid, whether deep fried or grilled I can't get enough of it. So, when I learned how to cook adobong pusit years ago, I always prepare this dish to my family. If you are looking for a new adobo recipe, try my adobong pusit recipe.
Adobo is an amazing dish as you can cook adobo using chicken, pork or seafood. Adobo is made marinating the main ingredient with vinegar, soy sauce and garlic. Well, it is how traditional adobo is cook but my adobong pusit is not. You see, instead of using vinegar as what many people do, I used calamansi. For sautéing the garlic and onion, I used butter instead of cooking oil. It taste better and my husband love my adobong pusit recipe. Actually, my husband loves adobo whether it is pork or squid. Adobo is a perfect dish as it gets even flavorful as time goes by. Reheating adobo makes it even more flavorful and tastier.
By the way, you can use any squid, but I recommend small to medium sized squids. Another piece of advice, when cooking squid, never over cooked the squid because if you do the texture becomes rubbery. Here's my adobong pusit recipe, let me know what you think of my recipe. Enjoy cooking!
Adobong Pusit
Ingredients:
1 kl squid
1 head garlic
Onion, minced
Tomato
Soy sauce
Calamansi
Butter
Direction: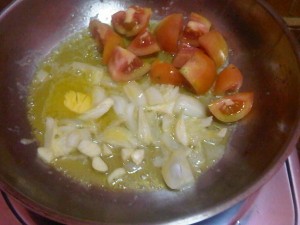 In a small medium sized pan, heat butter over medium high heat then add the onion, garlic and tomato. Sautee until onion becomes translucent.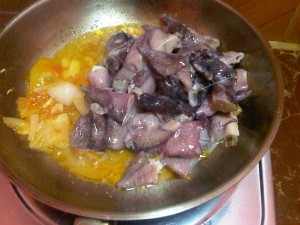 Add the squid and let it cook for 5 minutes.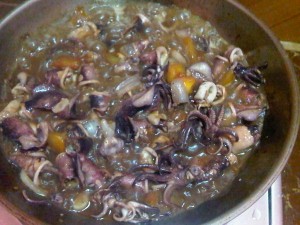 Next, pour in the soy sauce, calamansi then simmer for about 3-4 minutes on low heat.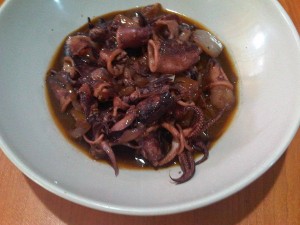 Remove from heat and transfer to a serving dish then serve with rice and enjoy!
See how easy it is to cook adobong pusit. In less than 10 minutes you can serve a tasty dish to your family and friends. With adobo, you can never go wrong because it is an excellent filipino dish. Oh! One more thing, some people want thicker sauce. I also do! So, if you want a thicker adobong pusit sauce, remove the squid from the cooking pot and just let the sauce boil until the sauce thickens. Once done, just top the squid with the sauce.
Before you leave this page, do not forget to bookmark this recipe on your computer so you can go back to this recipe once you are ready to cook adobong pusit.