Chocolate brownie is a baked square dessert that originated in the United States. It was developed at the end of the 19th century and popularized in Canada on the first half of 20th century. This baked dessert is a cross between a cookie and cake in texture and comes in varying forms. This brownie recipe is similar to many brownies recipe online except for the fact that my version is baked in an improvised oven.
I love brownies that are fudgy and chewy and topped with chocolate chips and nuts. When eating brownies I also accompanied it with milk or chocolate drink. Brownies are also great when served with vanilla ice cream or topped with whipped cream.
This brownie recipe is a combination of cakey and fudgy. These brownies when baked in a regular oven will have a top crust.
Brownie Recipe
Ingredients:
1 ½ cup all purpose flour
1 ¼ cups cocoa
4 large eggs
1 tsp baking powder
1 tsp salt
1 tsp espresso powder
1 tbsp vanilla extract
1 cup butter
2 ¼ cups sugar
2 cups chocolate chips
Direction: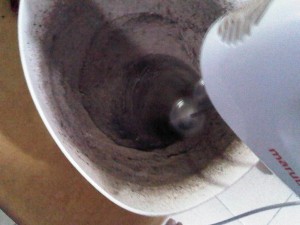 In a large bowl, crack 4 eggs and beat at medium speed together with the cocoa, baking powder, salt, vanilla and espresso for about 4 minutes.
Next, in small saucepan melt butter and sugar over heat, stir until butter is melted or the mixture is hot but not bubble. It should look shiny when you are stirring it. Most of the sugar will dissolve and this will help make your top crust shiny looking.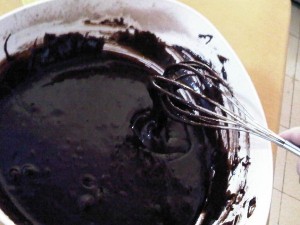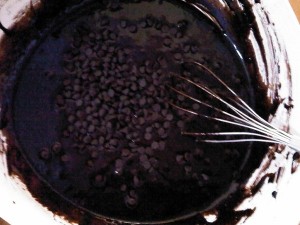 Combine the sugar and butter mixture into the cocoa mixture, stir until smooth. Throw flour the flour and chips into the bowl and stir until well incorporated and shiny.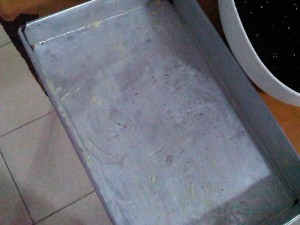 Pour or spoon brownie batter into a greased baking pan.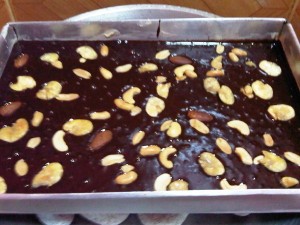 In an improvised oven steam bath brownies for 1 ½ hour or till done. To check the brownies insert a toothpick and if it comes out clean then it's done. Remove from the oven and let it cool a bit before transferring to a cooling rack.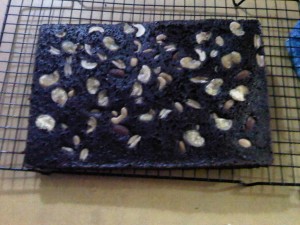 Cut into small squares and serve immediately.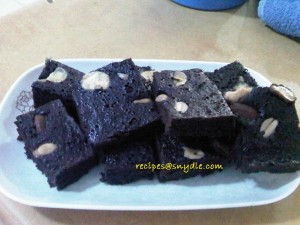 P.S: I have never tried baking in a regular oven before so I have no idea how long it takes to bake brownies.