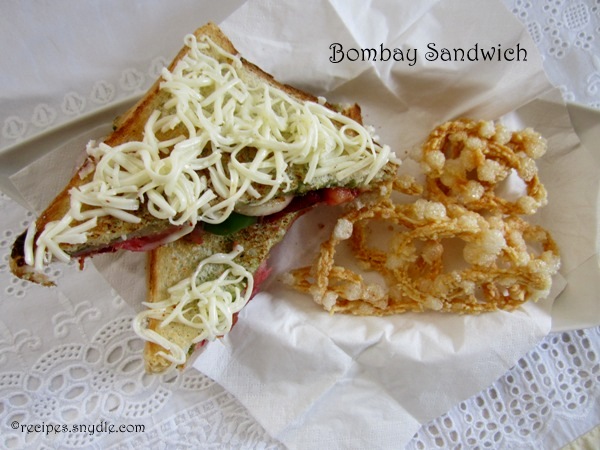 Hello dear readers. I know you are looking forward to a great Sunday tomorrow. To make your Sunday even better, I am sharing with you an easy sandwich recipe that you can make for Sunday brunch in no time. This sandwich recipe is called Bombay Sandwich.
It is very peculiar sandwich that you will find in Mumbai. In fact, it is among the most popular street foods in the city. When I was new in Mumbai, I had heard about this sandwich a lot. I was wondering what the hype is all about. Then I tasted this sandwich for the first time in Andheri . It was a humble sandwich shack and it smelled wonderful. I and my room-mate Deepti ordered the grilled version of Bombay sandwich with cheese. Little did we know about the pure bliss that we were going to experience next. When we first sank our teeth in the hot and freshly-made grilled cheese Bombay sandwich, we couldn't speak. All we could do was utter 'Mmmmm' trying to convey our gastronomic pleasure.
There were several varieties of sandwiches available, each one of it having a different taste. People usually preferred the simple Bombay sandwich, which was not toasted or grilled at all. Some liked it with cheese. I liked it grilled; and of course with loads of cheese. I observed that many sandwich sellers in Mumbai topped the sandwich with grated cheese, which was unusual for me. But the flavor of cheese was very prominent.
It has been more than 3 years since I left Mumbai. This is my humble attempt to replicate this street food delicacy and relive the fantastic memories of good times with Diptee, who is now a very close friend.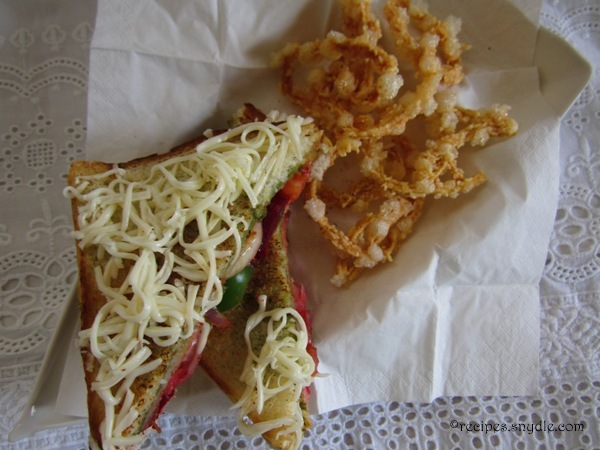 What Adds Spice to the Veg Sandwich?
This sandwich uses a spice mix. From what I could sense chaat masala, red chili powder and salt were the major spices. So I used these together. You can also buy the ready-made sandwich masala available in the market.
I toasted it on tawa this time, since my friend had borrowed my grilling machine. Grilling the sandwich gives it pretty grill-marks, which I love so much. This recipe yields 5 sandwiches. Now let us see how to make Bombay Grilled Vegetable Sandwich.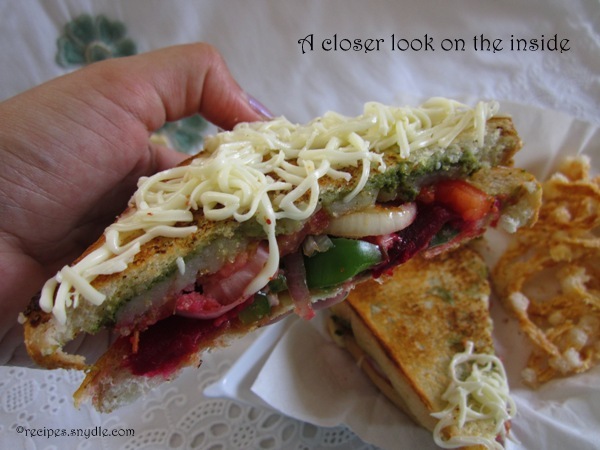 Making step-by-step pictorials is really tough for me, because I have to do it single-handedly. I have to do the preparation, click, cook, click, plate the food, click. Not to mention the fear of ruining my camera. But then all my worries are surpassed by the joy I get from helping the novice who are trying to learn cooking.
I hope you will try this sandwich recipe and that your family will relish it with great delight. I served it with home-made sun-dried potato and sago crispies. You can also pair it with potato chips. This sandwich has everything, so I didn't need any dip or ketchup on the side. Just a glass of Frooti was enough.
The color of beet root is quite prominent. My little sister doesn't like beet root. While she was busy hogging on her sandwich, she happily showed us the other half of it. You can see all the veggies here in the below picture.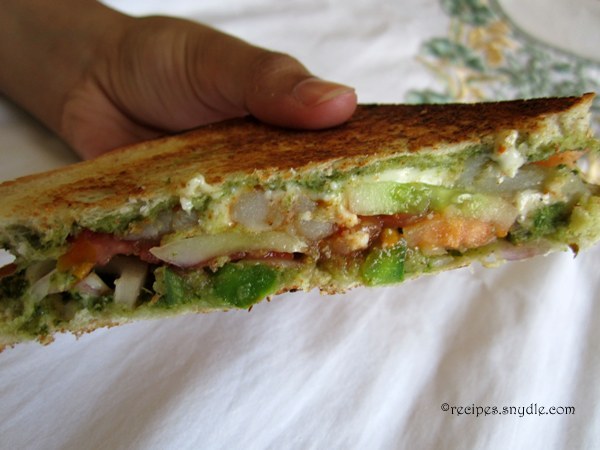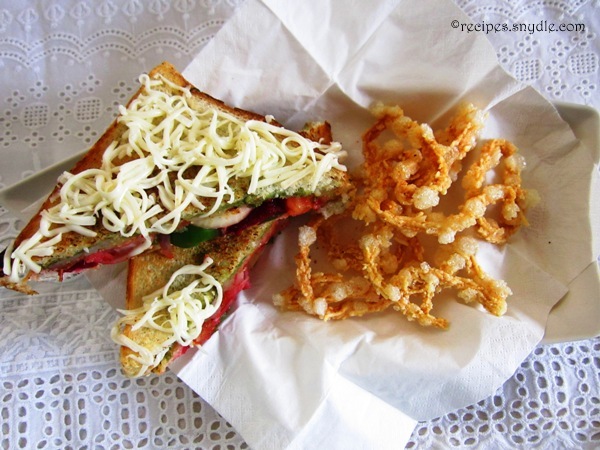 Ingredients
Bread – 10 slices, white or brown
Butter – as needed
Cheddar Cheese – as needed, grated
Mint chutney – as needed
For Making the Mint Chutney (1 cup = 250 ml)
Mint leaves – 1 and 1/2 cup
Roasted groundnuts – 1/3 cup
Onion – 1 medium, diced
Green chilies – 6
Garlic – 4 cloves
Ginger – 1 tsp, chopped
Tamarind pulp – 1 tbsp
Jaggery – A lime-sized lump, or to taste
Salt – To taste
Water – 3 to 4 tbsp
Making the Mint Chutney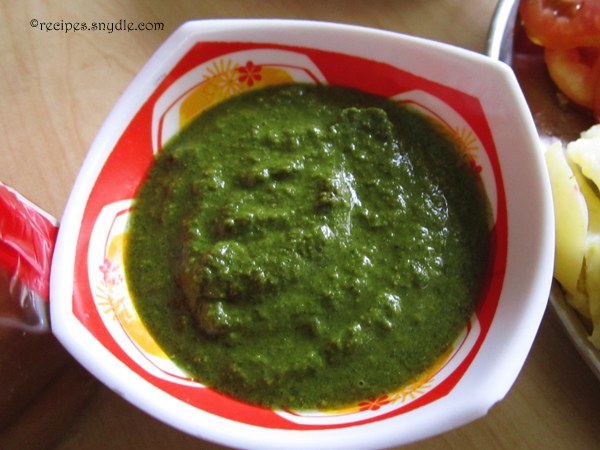 Take all the ingredients in a blender and grind them to form a smooth paste.
Add some water little by little while grinding, whenever needed. It should be thick yet spreadable chutney. It should not be too chunky or watery. Set the chutney aside.
For the Spice Mix
Chaat masala – 1 and 1/2 tsp
Red chili powder – 1 tsp
Salt – 1 tsp
Vegetables for the Sandwich
Onion – 2 medium
Tomato – 2 medium
Cucumber – 1 large
Capsicum – 2 medium
Beetroot – 1 large, par-boiled
Potato – 2 medium, boiled
How to Make Bombay Veg Grilled Sandwich Recipe
Mix together the chat masala, red chili powder and salt. This is our sandwich masala. Set it aside.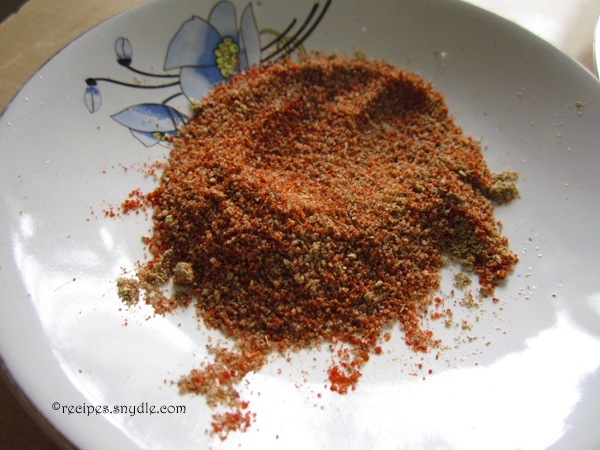 Grate or chop some cheddar cheese. You can also use along some mozzarella for the stings it creates.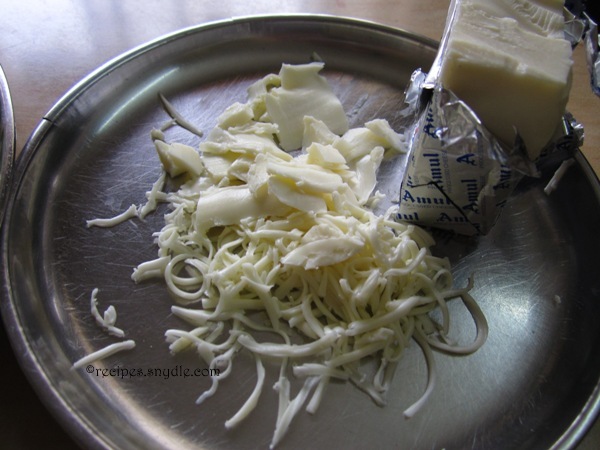 Cut the onions into roundels and separate it into rings. Similarly cut the tomatoes into roundels as well.
Peel the cucumber very nicely else it will taste bitter. Cut it into roundels.
You can cut the capsicum into rings or long slices. I prefer slices, though rings look pretty.
We need par-boiled beet root because it has a nice texture. Raw beet root or completely boiled beet root are not a good choice. Cut it into roundels.
Now chop the boiled potatoes into roundels as well. The potato should be well-cooked.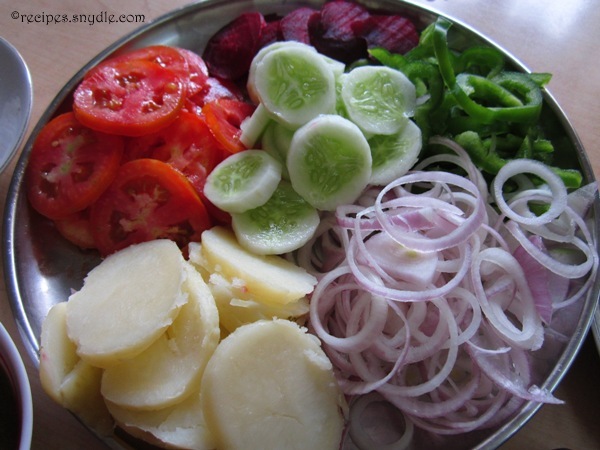 Take the bread slices. You can take all 5 at a time like I did. Apply butter on the bread slices. Do it properly, don't leave out the corners. The butter will work like a moisture barrier and prevent the bread from getting soggy due to mint chutney.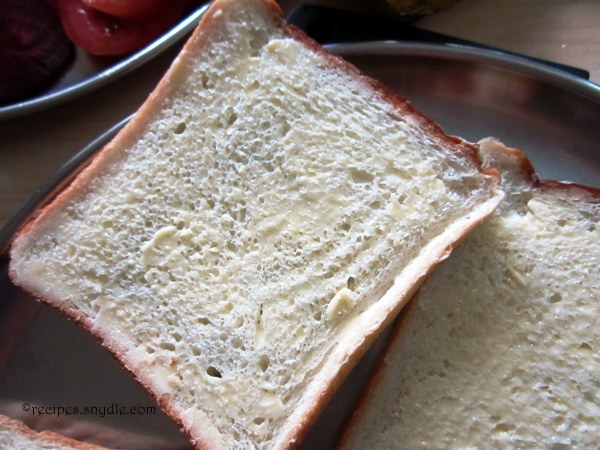 Now apply the mint chutney over the layer of butter with a light hand. We don't want to break the barrier.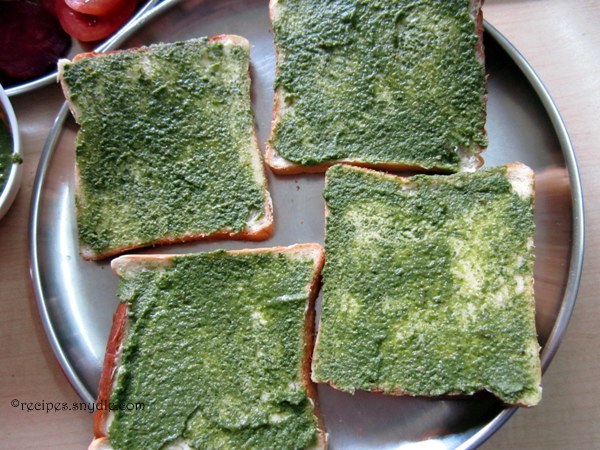 Now place the 5 to 6 onion rings over the chutney layer. Place the rings evenly throughout the bread slice. Sprinkle some spice mix.
Place at least 5 tomato roundels. Now place the cucumber slices and bits of capsicum. Sprinkle some spice mix again.
Finally we add the beet root roundels and sprinkle some more spice mix. If we sprinkle the spice mix only in the end, the seasoning won't be even at all. There are so many layers of veggies, so we add some spice on each layer for an even seasoning.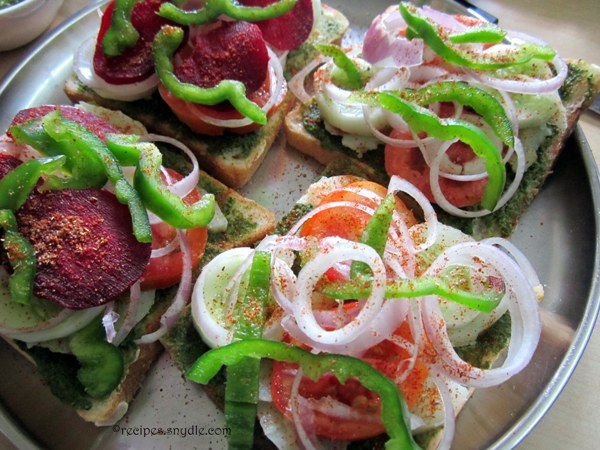 Next we add some shredded cheese. You can use cheese slice as well. In fact cheese slices are better.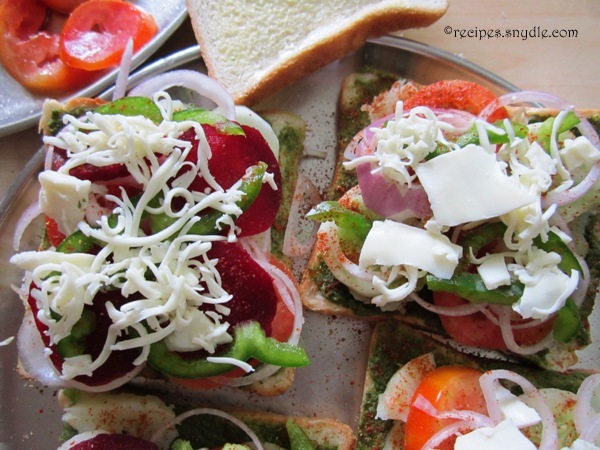 Now take another 5 bread slices and apply butter onto them as well.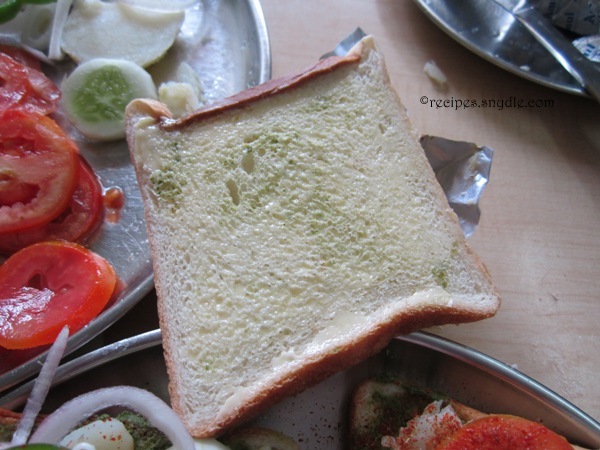 Pack the sandwich with the buttered bread slices.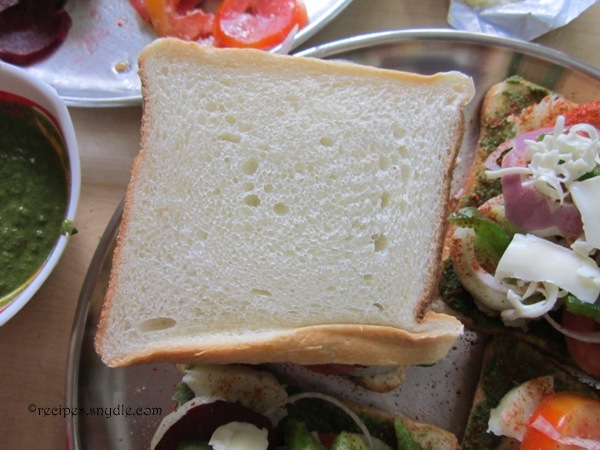 Grill the sandwiches. If you do not have a griller, simply toast the sandwiches on the tawa onlow heat, so that the veggies are nice and hot and cheese melts well. Since the sandwich is fully stuff, it is a bit difficult to toast it on the tawa. Press it with a spatula to pack the sandwich well.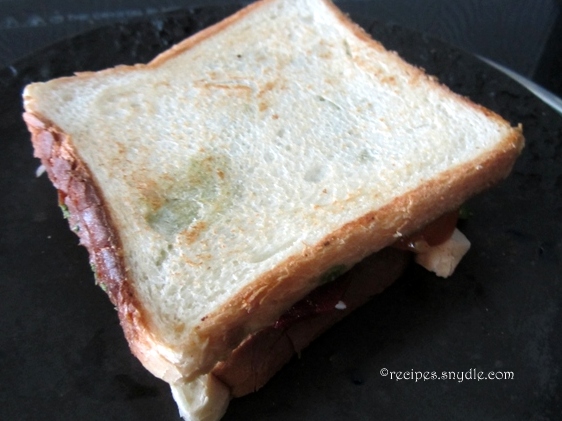 Toasting the sandwich on low heat will give your sandwich a nice golden crust.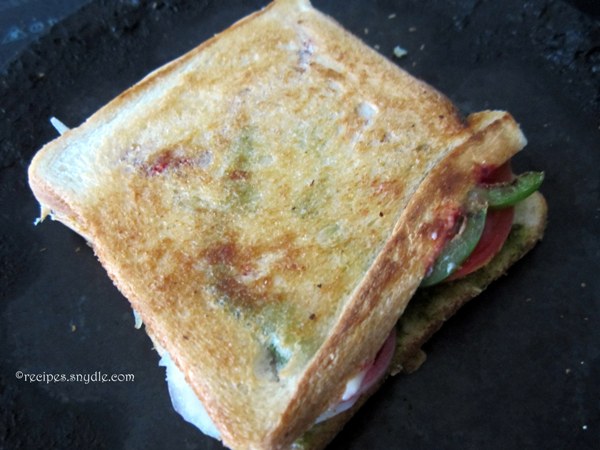 When done, remove the sandwich onto a plate and cut it into 2 triangles. You can also cut into 4 small squares, like they do in Mumbai. But then it might cause your sandwich stuffing to fall apart.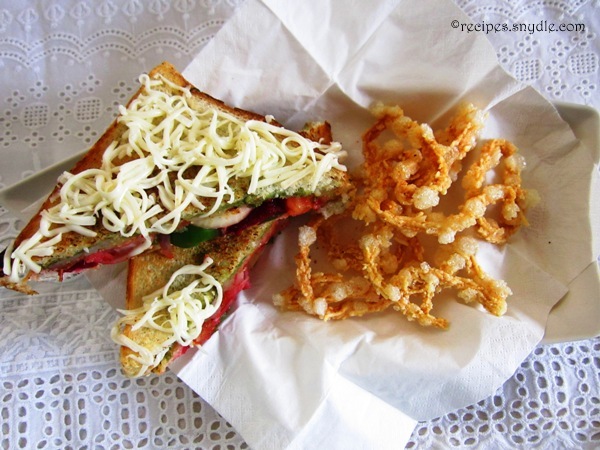 Sprinkle some more cheese on the top and serve hot with fries or chips and on the side and a drink. Enjoy your Sunday brunch with your family.