Caldereta or kaldereta is a very popular filipino dish. This dish is a favorite of many Filipinos because of the richness of its sauce. I love beef caldereta than other caldereta's. I think beef is the best meat for this dish. But if you find beef expensive or just want to use a different meat, you can also use goat meat, pork or chicken meat.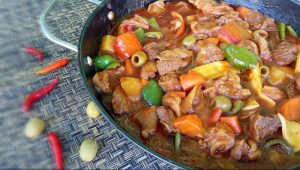 By the way, caldereta is usually served during special occasion such as fiesta, birthday and Christmas. Personally, I only cooked caldereta on regular days because I find this dish time consuming. If you have pressure cooker then you can save time but if you don't have one then you will need to boil the meat for 1-2 hours to make it tender.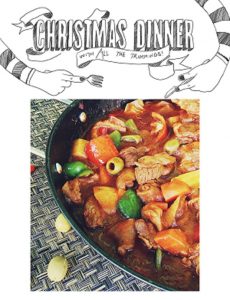 Here's my beef caldereta recipe, let me know what you think of dish or if you have a better version then please share. I love exchanging ideas with fellow food lovers.
Beef Caldereta Recipe
Ingredients:
1 kilo beef, cubed
2 cloves garlic, chopped
2 onion, chopped
1/4 Cup Olives
1 small red bell pepper
1 small green bell pepper
Potatoes
Carrots
Green peas
Chili or red pepper
1 Cup tomato Sauce
1 Piece knorr beef cube
1 Cup beef broth or water
Worcestershire sauce
Liver spread
peppercorn
Cooking oil
Salt and pepper to taste
Cheese
Direction:
Marinate the beef in Worcestershire sauce for about 30 minutes.
In a cooking pot, saute onion and garlic.
Put in the beef, cook until the meat changes color.
Next, pour the broth or water and beef cube. Bring to a boil.
Pour in the tomato sauce, reduce heat. Simmer for about 30 minutes. Add in liver spread.
Add in potatoes, cook for 5 minutes before adding the carrots. Cook for 3 minutes more then add the chili peppers.
Add in bell peppers and olives. Simmer for 2 minutes. Put in the cheese. Turn off the heat and transfer to a serving dish.
Serve hot with steamed rice.