Baguio beans with ground pork also called ginisang sitaw (sautéed string beans) are a Filipino staple food. This dish is easy to prepare that in just 10 minutes you can have a healthy, delicious and balanced meal for your family. My green beans recipe is so easy to follow that you don't have to be an expert in the kitchen to make this dish.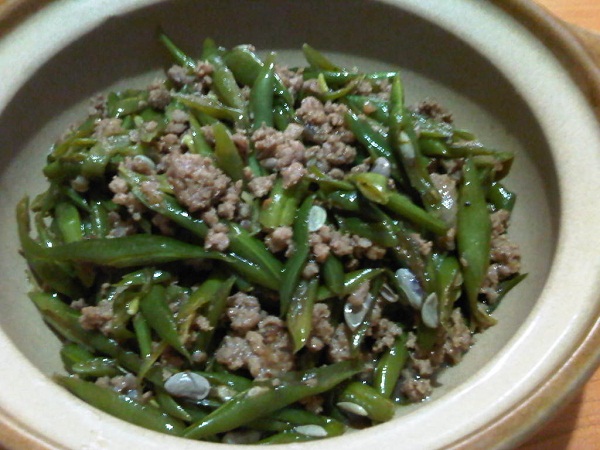 Green beans also known as snap beans or string beans are the protective pod and unripe fruit of cultivars. Green beans are cooked and eaten across the globe, and are marketed as fresh, frozen and canned. Many dishes around the world have green beans such as green bean casserole, tempura and pancit. In many Japanese restaurants in the U.S and Philippines, they also serve green bean tempura along with the carrots and potatoes.
String beans are good source of vitamin K, vitamin C, vitamin B2, folate, manganese and fiber. Additionally, green beans have shown significant amounts of mineral silicon. In other words, they are good to eat every day. If you are looking for a new recipe for green beans, you can try this baguio beans recipe that I have been preparing for my family for many years.
Baguio Beans Recipe
Ingredients:
String beans
Garlic
Onion
Ground pork
Olive oil
Soy Sauce
Salt
Black pepper
Directions: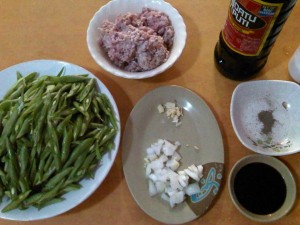 Prior to using the string beans, wash them first under running water. Remove both ends of the green beans by either cutting them using a knife or snapping them off. Cut into bite sizes. Next chop the onion into thin and small slices then mince the garlic.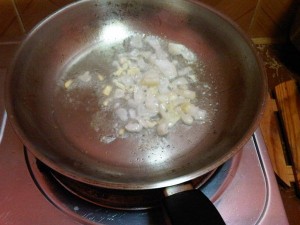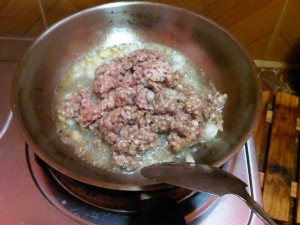 In a medium frying pan, heat oil under low to medium heat. Sauté the onion and garlic then throw in the ground pork. Let it simmer for at least 2 minutes and stir fry. Do not overcook the meat or the pork will become dry. Cook it just until it changes color.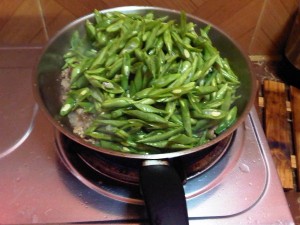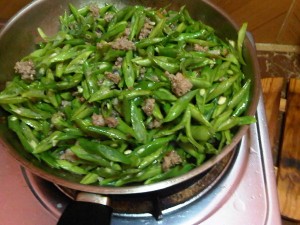 Next, get the green beans and throw into the frying pan. Stir the green beans.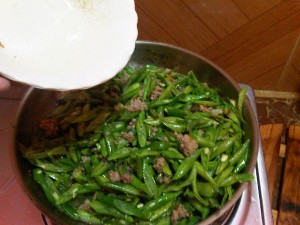 Add water into the pan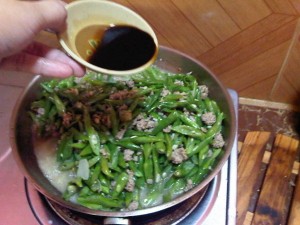 and the soy sauce, the amount of soy sauce depends on how you want the dish sauce to look.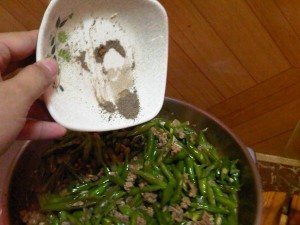 Seasoned with pepper and salt to taste then let it cook for 6-8 minutes.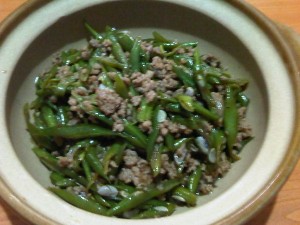 Remove from heat then served with rice.
P.s: Instead of soy sauce you can use fish sauce or patis. My mother used patis but not me, nevertheless both our dish taste good.