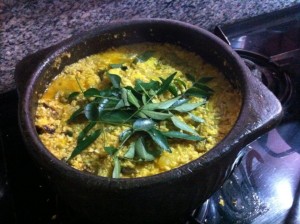 Ingredients
1.  Yam (Chena) – 100gm
2.  Cucumber (Vellarikka) – 250gm
3.   Snake Gourd (Padavalanga) – 100gm
4.  Brinjal – ½
5.  Drumsticks – 1
6.  Raw banana (Ethakka) – 1
7.  Runner beans (achingapayar) – 5
8.  Green chillies – 10
9.  Curry leaves – 4 sprigs
10.  Turmeric powder – ½ tsp
11.  Red chilli powder – 1 tsp
12.  Whole jeera – ½ tsp
13.  Desiccated coconut – 1 full
14.  Coconut oil – 50gm
15.  Salt – to taste
16.  Tamarind – to taste
Method
Grind coconut and jeera, rough consistency.(make sure that you DO NOT over grind and make it smooth).
In a thick bottomed pan add some coconut oil and saute yam for about 5mins and add the remaining vegetables. Add chilli powder and turmeric with one cup of water, green chillies and salt; close the lid and cook till done.
Once the vegetables are cooked to perfection add the ground masala, tamarind and again keep the lid back till the water is completely absorbed. Now add the remaining coconut oil and curry leaves, stir well .