I am sharing an easy and healthy recipe made with arrowroot – arrowroot halwa.  This is a dish which is made during Thiruvathira.  Thiruvathira is a Hindu festival which is celebrated in South Indian states Kerala and Tamilnadu.  This festival falls in the month of Dhanu (Dec 15 – Jan 15) on full moon day and is celebrated as birthday of Lord Shiva.  In Kerala, thiruvathira is a very famous festivals along with other festivals onam and vishu. It is a festival which is mainly for women.  Women observe fast for the well fare of their husband and family. The fast generally involves abstaining from rice and rice products.  The typical meal taken on this day is cooked broken wheat and thiruvathira puzhukku.   Koova kalli or arrowroot halwa is prepared on the auspicious occasion of Thiruvathira.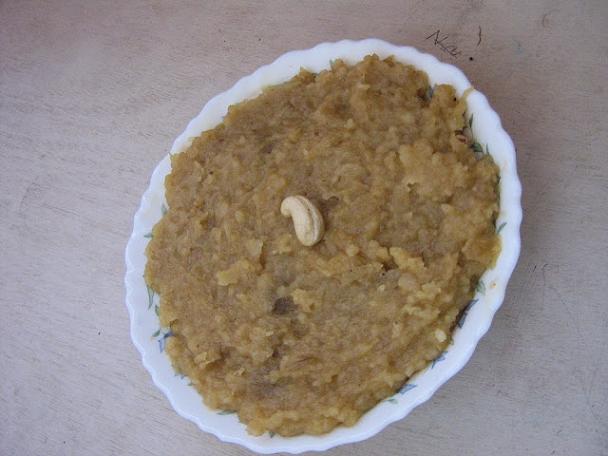 Method
1.  Dissolve jaggery in 1/3 cup of water.  Heat it until it melts completely. Strain it and heat it on medium flame.
2.  In a pan, add arrowroot powder and 1 cup of water.  Dissolve the powder completely in water without lumps.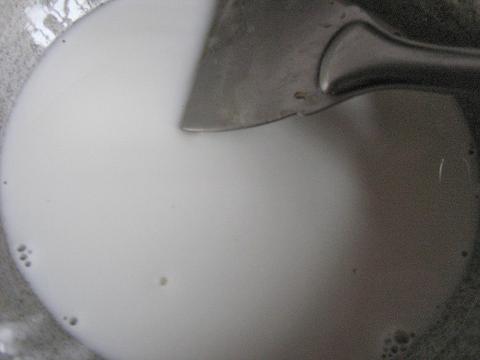 3.  Place the pan over medium heat and keep stirring.  After some time you will find that it is thickening and change colour from white to transparent.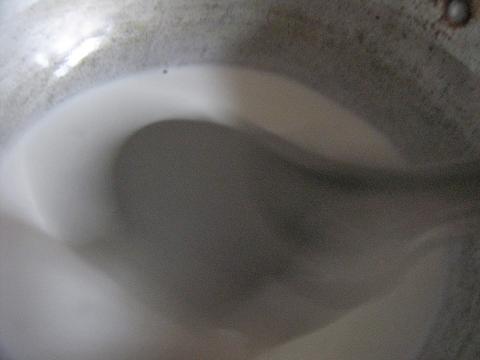 4.  Add the jaggery syrup and mix well.  Don't panic even if you find lumps.  Keep stirring and break the lumps with the back of the spatula.
5.  Now add the scraped coconut, mix well again.  Add ghee and stir.  The mixture will leave the sides and come as a whole mass.  Turn off the stove.
6.  Grease a plate with ghee.  Now spread the halwa onto the plate and level it with the back of the spatula.
7.  You can serve it as such or cut into desired shapes when cool.
8.  Decorate it with cashews.