aloo bonda is a tasty and easy to make snack recipe with potato filling.  It is also called as batata vada.  They are soft in the inner side with potato stuffing and crispy on the outer side.
It is a very popular snack item and is also a very popular street food in mumbai.  Aloo is the hindi name for potato and hence the name aloo bonda.  In Malayalam we just call it as urulakizhangu bonda.  There are three important steps in making potato bonda.  First one is making the stuffing, second one, making the batter and the third is deep frying the bonda.
Making the batter is a very important step in the whole process of making urulakizhangu bonda.  The batter should neither be too thick nor too thin.  If the batter is very thin, then it will be difficult to coat the batter on the stuffing.  If the batter is too thick, the taste will not be good. Also, beat the batter well so that there are no lumps.
Let us see how to make aloo bonda recipe with step by step pics.
aloo bonda recipe
ingredients 
gram flour or kadala mavu – 1/2 cup
rice flour – 1 tablespoon
salt – to taste
asafoetida powder or kayam – a pinch
water  – as required
for filling 
potato – 3 medium, boiled peeled and mashed
onion – 1, finely chopped
oil – 2 – 2 1/2 tablespoon
mustard seeds – 1/2 teaspoon
ginger – 1 teaspoon
green chili –  1 – 2, finely chopped
turmeric powder – 1/2 teaspoon
curry leaves – few
salt – to taste
coriander leaves – 1 tablespoon, finely chopped
how to make aloo bonda recipe
1. Pressure cook potatoes with enough water for 3 – 4 whistles or until potatoes get cooked well.  You can also cook them in an open pan but it will take more time to get cooked.   Allow it to cool.  Then peel off the skin and mash the potato.  Keep aside.
2.  Heat 1 – 2 tablespoon oil in  a pan.  When the oil is hot enough, splutter mustard seeds.  Add finely chopped onion, grated ginger, green chili, curry leaves, and saute well till onion turns pinkish in color.
3.  Add mashed potato, turmeric powder, salt and saute well for a few minutes.  Turn off the flame.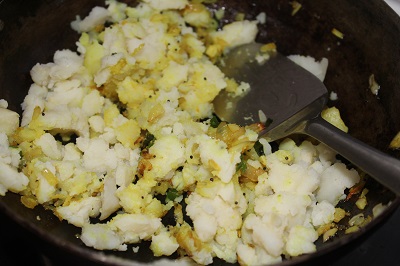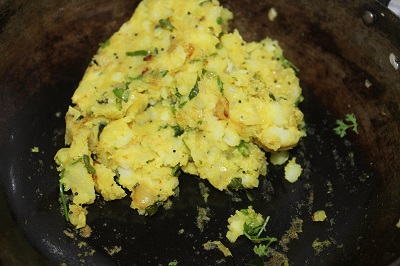 4.  Allow the mixture to cool.  Stuffing for aloo bonda is ready.
5.  Add gram flour, rice flour, salt and hing in a bowl.  Add water little by little and make a batter of flowing consistency.  The batter should neither be too thick nor too thin.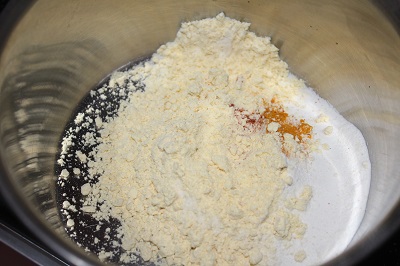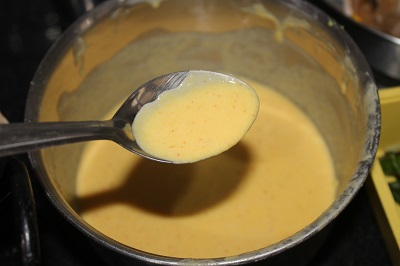 6.  When the stuffing cools down, divide the stuffing into equal sized balls.  Keep aside.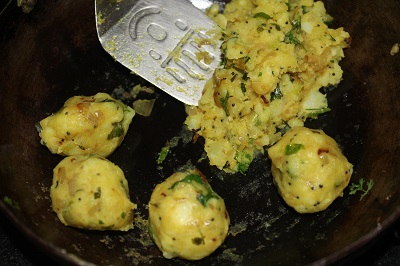 7.  Heat oil in a pan.  When the oil becomes hot enough, take one ball, coat it with the batter and gently slide it into the hot oil.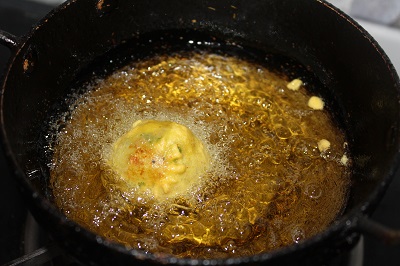 8.  Fry it in medium flame till they become golden brown.  Remove them using a slotted spoon into a serving plate.
9.  Serve aloo bonda hot with coconut chutney.